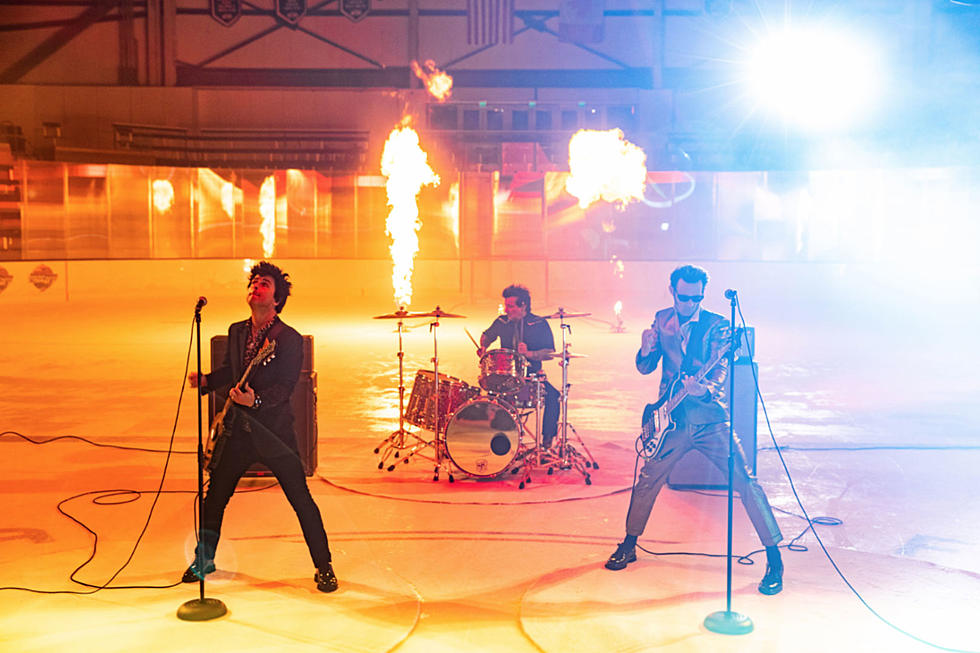 Green Day Tease 'Fire, Ready, Aim' in Promo From New NHL Partnership
Warner Records / Photo by Greg Schneider
Now that September has ended and Green Day have been awakened, the band has announced a two-year partnership with the National Hockey League (NHL). The California band's unreleased new song "Fire, Ready, Aim," which will be featured on their upcoming 13th studio album Father of All…, will be the opening theme song for NBC Sports Network's Wednesday Night Hockey. The song will also be used for NBC's NHL broadcasts throughout the 2019-2020 season.
The Wednesday Night Hockey show open features Green Day playing a portion of the song on an ice hockey rink with action shots featuring over a dozen NHL players including Tuukka Rask of the Boston Bruins, Jonathan Toews of the Chicago Blackhawks, Dylan Larkin of the Detroit Red Wings, PK Subban of the New Jersey Devils, Sidney Crosby of the Pittsburgh Penguins, Vladimir Tarasenko of the Stanley Cup champion St. Louis Blues and Alex Ovechkin of the Washington Capitals among others. Watch a preview of the clip below.
According to a press release, songs from Green Day's upcoming album will be featured in NHL game highlights, broadcast bumpers, tune-in campaigns and in-arena jumbotron content created and distributed by the NHL, its teams and television partners. The partnership will also include performances, appearances and other collaborations with the band.
Green Day released the following statement: "This NHL season is hereby known as LOUD season... where the toughest athletes to ever lace up a pair of skates meet the baddest rock band on the planet. So turn up the volume on your TV sets, fire, ready, aim and enjoy the ride."
NBCSN's hockey season will debut on Wednesday, Oct. 9 at 7:30 PM ET with a game between Metropolitan Division rivals the New Jersey Devils and the Philadelphia Flyers.
The Rock and Roll Hall of Famers have also been tapped to perform at the 2020 Honda NHL All-Star Game in St. Louis, Mo., which will air on Saturday, Jan. 25 at 8PM ET on NBC.
Green Day will embark on a 2020 global stadium tour with Fall Out Boy and Weezer. The Hella Mega Tour kicks off June 13 in Paris and will stop in cities around the world. Check out all the tour dates here.