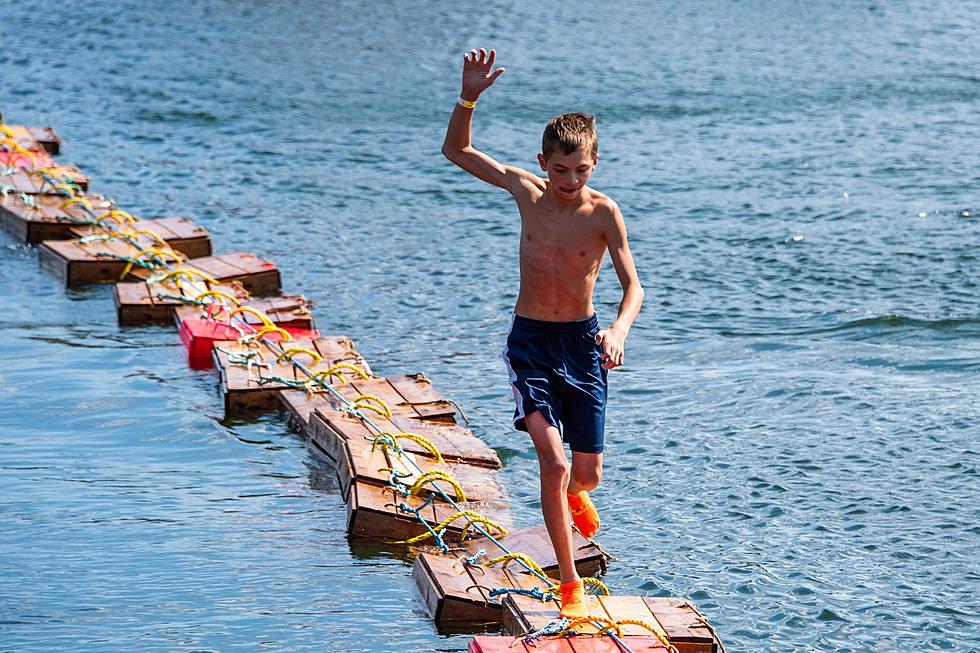 Is the International Lobster Crate Race the Most Maine Thing Ever or What?
Courtesy of the Maine Lobster Festival
This is the most Maine thing I have ever seen.
I have lived in New England all my life and have never heard of the International Great Crate Race.
This is a competition where a string of 50 lobster storage crates stretch across a section of Rockland's inner harbor. Competitors must race across the crates as fast as they can, and if successful, turn around and run back.
According to the Maine Lobster Festival website:
The Maine Lobster Festival's International Great Crate Race is the original crate race, invented by William Atwood in the 1970s and managed by him and his family for more than 20 years. Taking the challenge of scampering across a string of floating wood lobster crates is, without a doubt, among the biggest splashes at the annual Maine Lobster Festival. This test of balance and endurance — and sometimes a bit of theatrics — is a major attraction that regularly draws hundreds of spectators.
So this has been around for 50+ years, and I have never seen it. Check out the video below to see what takes place:
Even more shocking to me was that the line to begin the great race begins forming before five in the morning. If it's 5 a.m., that is early, probably dark, and certainly cold for those who fall in.
The crowd does not disappoint and cheers on every competitor, making it an awesome and communal event.
What I need to see is a state vs. state competition. I mean, picture the fastest male and female from Maine going up against the fastest male and female from Alaska...that would be something to watch.
Sit down Alaska, you got nothing on Maine!
Oh, and there's even another crate race, which is separate from the International Great Crate Race, in Cutler, Maine, and you can see how that goes down in this Instagram video.
There are probably other crate races out there, so just let me know about 'em! What a great competition.
Correction: An earlier version of this story incorrectly stated that The International Crate Race, which is put on by the Maine Lobster Festival in Rockland, awards $50 to children who make it across. There is another separate crate race in Cutler, Maine, from which the Instagram video by @christiholmes indicates there is a $50 prize for kids who make it across their crate race.
These New Hampshire and Maine Hiking Spots Are Perfect for Beginners
New Hampshire and Maine Goodwill Stores Do Not Accept These 21 Items
Can you donate it? Check this list before you bring it to your local Goodwill Store.