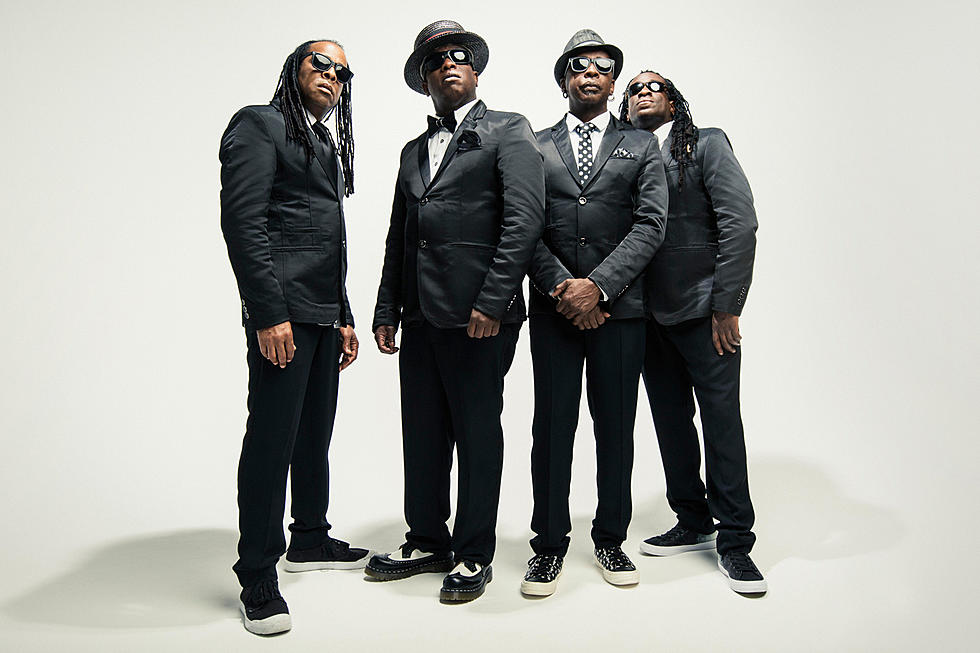 Living Colour Announce Fall 2017 Headlining Tour
Megaforce Records / Photo by Travis Shinn
Living Colour have been a legendary force in rock music for over 30 years, blending a forward thinking jam of funk, soul, heavy metal, hard rock and a whole lot more. Best part is they're imparting that kind of music not just into their albums, but into everything they bring live, and the band has announced tour dates so fans can see it all go down in person.
The tour hits a cross section of the United States that begins in Pennsylvania, working its way up and through the center of the country, before a final day in Tennessee. The run comes as the band celebrates their newest album Shade, their sixth studio album and first band in eight years following their 2017 album The Chair in the Doorway. 
The band has been putting in work over the past couple months in the lead up to Shade. Back in September, the group appeared on Late Night With Seth Meyers to perform one of their new songs, "Come On." It showed they still have the funk and grooves that made them stars to begin with, sounding as excellent as ever.
Recently we spoke to singer Corey Glover about the album, and how he was originally inspired by blues music. "When I was younger, I tell the story every now and then, I got into the blues and this is when the band first started," Glover says. "During the time that we were working with Mick Jagger — this is not a shameless namedrop at all, I swear to you. But I was talking to him about the blues and how I loved the blues and how I was really getting into it at that particular point in time. I was reading a lot of books about it. I was studying it, really, as an intellectual exercise. We were in the studio with him and I saw him the next day and he came to me and gave me this mixtape. He made me a mix tape — all the blues records he had in his house, in New York City, and gave it to me. This is the stuff that he listened to that made him want to do what he was doing."
Check out tour dates below!
Living Colour Fall 2017 Tour Dates
Oct. 12 - New Hope, Pa. @ Havana Room
Oct. 13 - Jim Thorpe, Pa. @ Penns Peak
Oct. 14 - Pittsburgh, Pa. @ La Creme Music & Arts Festival
Oct. 15 - Kingston, Mass. @ Pinz
Oct. 17 - New Haven, Conn. @ Toad's Place
Oct. 19 - Charlottesville, Va. @ Jefferson Theatre
Oct. 20 - Leesburg, Va. @ Tallyho
Oct. 21 - Dayton, Ohio @ Oddbody's
Oct. 23 - Detroit, Mich. @ The Magic Bag
Oct. 24 - West Dundee, Ill. @ Rockhaus
Oct. 25 - Memphis, Tenn. @ New Daisy Theatre
Oct. 27 - Ft. Lauderdale, Fla. @ Culture Room
Oct. 28 - Ponte Vedra Beach, Fla. @ Ponte Vedra Concert Hall
Oct. 29 - St. Petersburg, Fla. @ State Theatre
Oct. 31 - Raleigh, N.C. @ Lincoln Theatre
Nov. 1 - Asheville, N.C. @ Orange Peel
Nov. 2 - Atlanta, Ga. @ The Loft
Nov. 4 - Orlando, Fla. @ Disney
Nov. 5 - Orlando, Fla. @ Disney
Nov. 7 - Destin, Fla. @ Club LA
Nov. 9 - Nashville, Tenn. @ City Winery
See Where Living Colour's 'Vivid' Ranks Among Our Top 80 Hard Rock + Metal Albums of the 1980s
Get Tickets to the 2017 Loudwire Music Awards