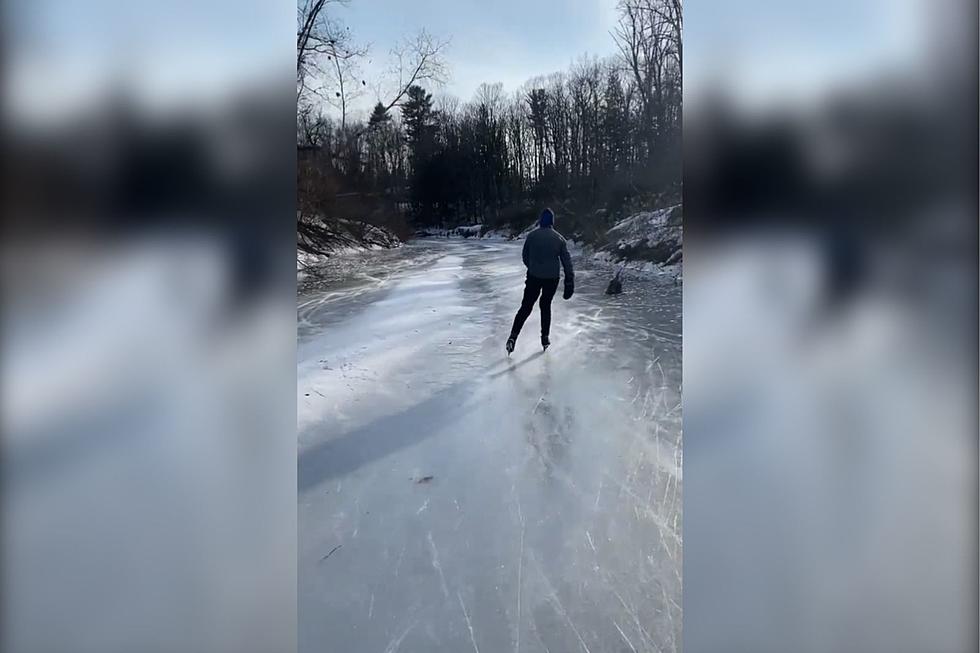 Maine Photographer Captures Stunning Video Ice Skating on the Royal River
Benjamin Williamson via Twitter
Maine is a magical wonder of beauty, especially in the winter. There's nothing like seeing the state's landscape covered in snow and ice. It's even better when you can experience it for yourself.
Benjamin Williamson experienced this very thing, with a pair of skates and a camera. See, Ben is a photographer for Down East Magazine, so he is no stranger to capturing incredible imagery.
Benjamin told me he and his friend, Don, put in at the Yarmouth Historical Society, on East Elm Street, just steps from the Royal River. They went on a Sunday, which meant they were certainly not alone.
"There were a lot of people on the ice, which was actually pretty cool," Benjamin told me. "There was a super festive atmosphere, and everyone seemed very happy. We saw a lot of hockey sticks. There were kids as young as 4 all the way up to 84."
Benjamin and Don were on the ice for nearly two hours, covering some serious ground on the frozen river.
We went all the way up to Route 9 and to Wescustogo Park, then we headed back down and took the other fork to the railroad trestle just past North Road in North Yarmouth and then back down to Yarmouth.
The two skated for 16 miles before calling it a day. Benjamin absolutely loved the experience, and even told me it was hitting close to home.
My mom is a huge Joni Mitchell fan and I would be lying if I didn't say I had her favorite song "River" in my head as we went along. 'I wish I had a river, I could skate away on'. It was an amazing experience.
I must admit, I have lived in Maine the majority of my life and have never even knew skating on a frozen river is a thing. It's incredibly ignorant of my part, I know. However, I have seen the light and ready to lace 'em up. And, if you see me on the river, say hello.
A big thank you to Ben. Feel free to check out his incredible work at Down East Magazine or his website.
These 17 Photos Reveal How Amazing Maine's Funtown Splashtown Looks Covered in Snow
Mainers Show Off Their Coolest Ice And Snow Formations
Ice and snow doing super cool things, captured in photos.