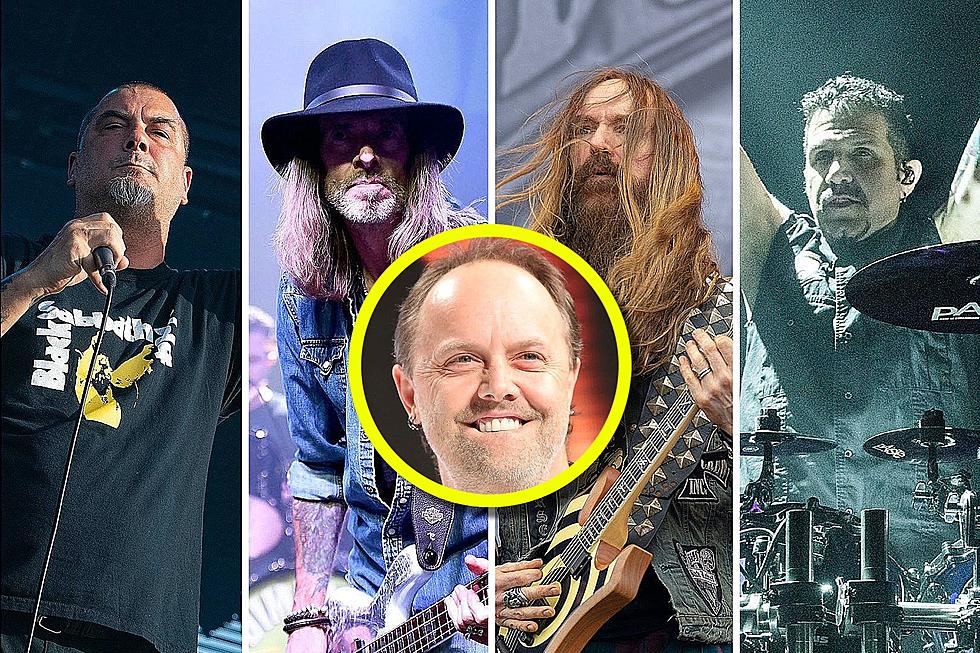 Metallica's Lars Ulrich Weighs in on Pantera Reunion Controversy
Zarraoa / Dudelson / Okpako / Bennett, Getty Images / Spencer Platt, Getty Images
Ever since it was announced several months ago, Pantera's reunion has remained controversial, with countless diehard fans and fellow musicians either championing or condemning it. Now, Lars Ulrich has shared his views on both their revised line-up – Phil Anselmo, Rex Brown, Zakk Wylde and Charlie Benante – and Pantera opening for Metallica on their upcoming North American stadium tour.
In a new conversation with Revolver (published on March 17), Ulrich was blunt and brief as he offered support to the newly reformed thrash quartet:
I think that the idea that they're out celebrating the music and the magic of Pantera is ... I know there's been a lot of talk in the community about whether people support that or not. But I'm the type of person, if Glenn Hughes wants to go out and play a Deep Purple set, I'd support that. I'm always in favor of people following their musical and creative ambitions; so this Pantera reunion, I think, is good. And obviously having Charlie [Benante] up there is great.
As for Pantera supporting Metallica during the North American leg of their 2023 – 2024 "M72 World Tour" (in honor of their latest LP, 72 Seasons, which arrives on April 14), Ulrich commented: "I saw a video from one of the Mexico shows that felt like they were in the pocket. It'll be fun to have them out."
His enthusiasm isn't too surprising given the two bands' history. During the same interview,  Ulrich reflected:
We met the [Abbott] brothers on the Ride the Lightning tour and became friends with them. This was in Dallas in — what — 1622 or something? It was about 400 years ago. We obviously loved both of them, and they had a posse down there, and we would see them whenever we came through Texas. We watched the band evolve over the years from more rock vibes into that creative, unique force that they became. So, we've had a relationship with them for decades and decades.
Read More: Fans react to first Pantera show with Zakk Wylde + Charlie Benante
In other news, Metallica just bought a vinyl pressing plant (to the delight of Jack White). They've also shared new artwork from The Metallica Black Box exhibit of their virtual museum, as well as debuted the third single from 72 Seasons, "If Darkness Had a Son." Of course, we've got you covered when it comes to the song's lyrics, as well as how Twitter reacted to it.
There's plenty going on with Pantera, too! For instance, they'll be joining Godsmack, Rob Zombie and Limp Bizkit as headliners at the 2023 Rocklahoma festival this September.
So, what do you think of Ulrich's thoughts on Pantera? Let us know!
You can see the full list of upcoming dates on Metallica's "M72 World Tour" below, as well as preorder it here. Also, be sure to subscribe to the Loudwire newsletter and download the Loudwire app to stay up to date with the latest Metallica news.
Metallica 2023 World Tour Dates
April 27 – Amsterdam NL @ Cruijff Arena
April 29 – Amsterdam NL @ Cruijff Arena
May 17 – Paris FR @ Stade de France
May 19 – Paris FR @ Stade de France
May 26 – Hamburg DE @ Volksparkstadion
May 28 – Hamburg DE @ Volksparkstadion
June 16 – Gothenburg SE @ Ullevi Stadium
June 18 – Gothenburg SE @ Ullevi Stadium
Aug. 4 – East Rutherford, N.J. @ MetLife Stadium
Aug. 6 – East Rutherford, N.J. @ MetLife Stadium
Aug. 11 – Montreal, Quebec @ Stade Olympique
Aug. 13 – Montreal, Quebec @ Stade Olympique
Aug. 18 – Arlington, Texas @ AT&T Stadium
Aug. 20 – Arlington, Texas @ AT&T Stadium
Aug. 25 – Inglewood, Calif. @ SoFi Stadium
Aug. 27 – Inglewood, Calif. @ SoFi Stadium
Sept. 1 – Glendale, Ariz. @ State Farm Stadium
Sept. 3 – Glendale, Ariz. @ State Farm Stadium
Nov. 3 – St. Louis, Mo. @ The Dome
Nov. 5 – St. Louis, Mo. @ The Dome
Nov. 10 – Detroit, Mich. @ Ford Field
Nov. 12 – Detroit, Mich. @ Ford Field
May 24, 2024 – Munich DE @ Olympiastadion
May 26, 2024 – Munich DE @ Olympiastadion
June 7, 2024 – Helsinki FI @ Olympic Stadium
June 9, 2024 – Helsinki FI @ Olympic Stadium
June 14, 2024 – Copenhagen DK @ Parken Stadium
June 16, 2024 – Copenhagen DK @ Parken Stadium
July 5, 2024 – Warsaw PL @ PGE Narodowy
July 7, 2024 – Warsaw PL @ PGE Narodowy
July 12, 2024 – Madrid ES @ Estadio Cívitas
July 14, 2024 – Madrid ES @ Estadio Cívitas
Aug. 2, 2024 – Foxborough, Mass. @ Gillette Stadium
Aug. 4, 2024 – Foxborough, Mass. @ Gillette Stadium
Aug. 9, 2024 – Chicago, Ill. @ Soldier Field
Aug. 11, 2024 – Chicago, Ill. @ Soldier Field
Aug. 16, 2024 – Minneapolis, Minn. @ US Bank Stadium
Aug. 18, 2024 – Minneapolis, Minn. @ US Bank Stadium
Aug. 23, 2024 – Edmonton, Alberta @ Commonwealth
Aug. 25, 2024 – Edmonton, Alberta @ Commonwealth
Aug. 30, 2024 – Seattle, Wash. @ Lumen Field
Sept. 1, 2024 – Seattle, Wash. @ Lumen Field
Sept. 20, 2024 – Mexico City, Mexico @ Foro Sol
Sept. 22, 2024 – Mexico City, Mexico @ Foro Sol
Sept. 27, 2024 – Mexico City, Mexico @ Foro Sol
Sept. 29, 2024 – Mexico City, Mexico @ Foro Sol
All Metallica Songs Ranked