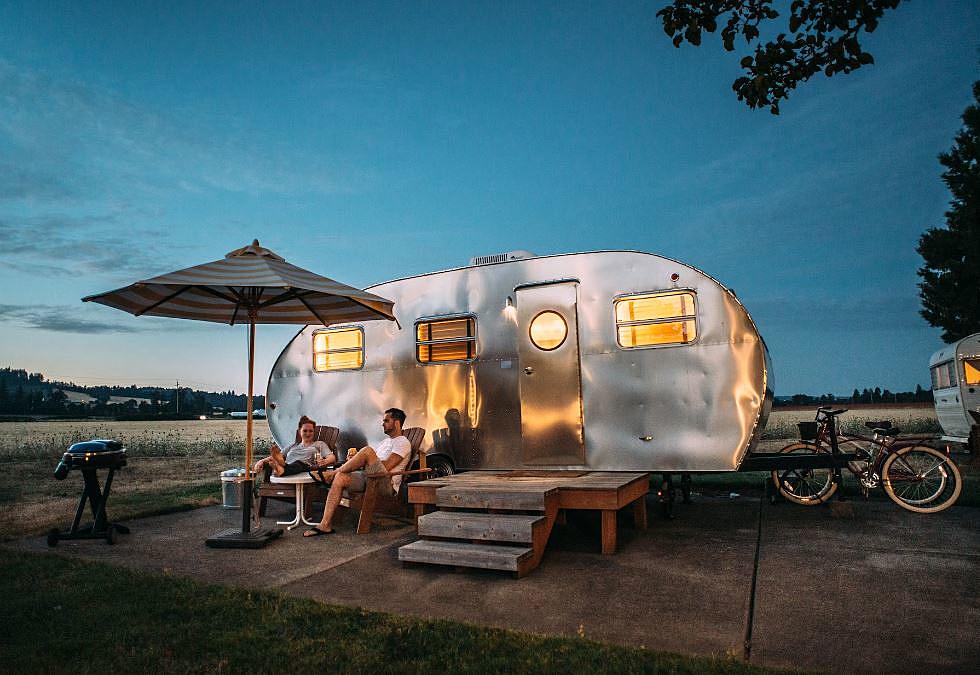 One Of The Oldest Campgrounds In The US Is In Coastal Maine
Blake Wisz / Unsplash
It is kind of funny to think that, even though people have been camping for recreational purposes for well over a century, the activity is probably as popular as it has ever been.  Each year, millions of Americans take to the road to rough-it in nature.
Well, considering what many of these campers and RVs are like, maybe "rough it" is not the best way to put it.  Regardless, you are visiting a spot in nature.
Why do we have campgrounds?
According to an exhibit at the Owls Head Transportation Museum, the first campgrounds sprung up in the early 1900s because of the bad behavior of visitors.  When towable campers first became popular in the first few decades of the 20th century, people would just park them wherever they could find a spot.  They'd park long the side of a road, at a farm, near a beach.  In many cases, these campers did not ask for permission before they set up camp and they often did not pick up after themselves.
As a result of these issues, some bright entrepreneurs got the great idea to use a plot of land, located near desirable vacation spots, as a place for campers to park.  For a nominal fee, these campgrounds offered visitors a place to park their camper, optional electricity, toilets, showers, a store, and more.
Not surprisingly, some of the oldest campgrounds in the country are right here in New England.  In Maine alone, we have dozens of campgrounds that have been in business for decades.
One of the oldest campgrounds in the United States
We're pretty sure one of the oldest campgrounds in the country is on Maine's mid-coast.
According to their website, the Moorings RV Resort has been in business since the late 1930s.  Since the beginning, the place has been located on the shores of Penobscot Bay in beautiful Belfast, Maine.
Of course, the place has changed a lot over the decades.  Currently, the resort has over three dozen sites, many of which have a great view of the ocean.  Each site includes: electric (up to 50 amp service), water / sewer hookups, campfire ring, free wifi, cable TV, and a picnic table.
The company also has a campground in Searsport.
---
What is your go-to campground?  Why?  Let us know by sending us a message inside our app.
Camping for the Non-Campers: 10 Glamping Sites in Maine That Will Exceed Your Needs
If you love the idea of being in the great outdoors, but you are not a fan of "roughing it" these glamping resorts are perfect!