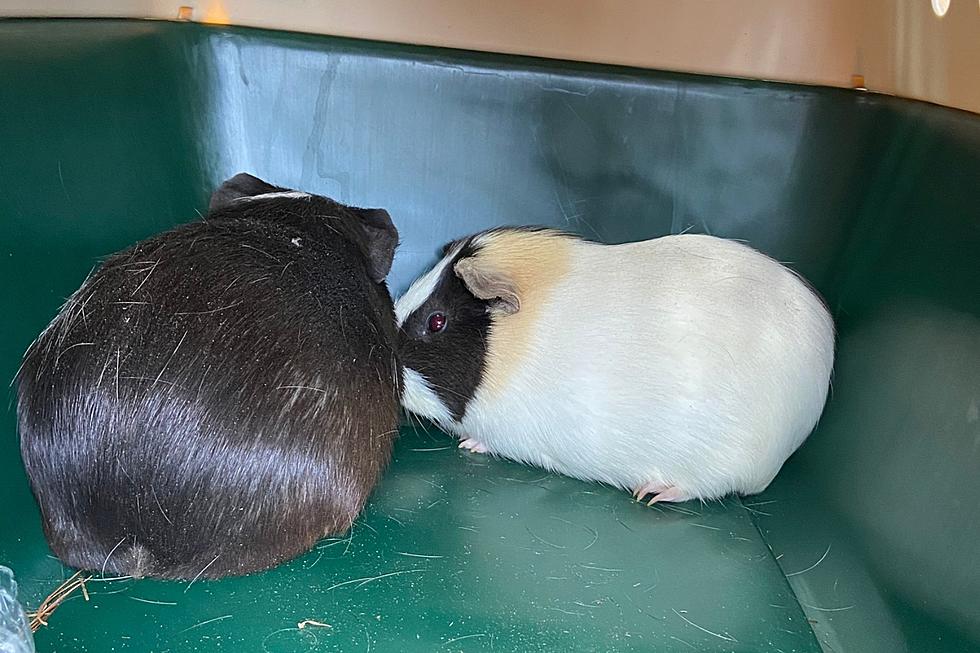 Police Say Someone Abandoned These 2 Guinea Pigs on a Maine Trail in Sanford
Sanford Maine Police Department via Facebook
Can't keep your pet anymore because your new apartment won't let you? Or maybe you've got allergies? Or maybe you just decided you can't take care of a pet?
There may be a number of reasons you need to part with your furry friend, but just know that there are options out there in that circumstance that don't involve abandonment.
Unfortunately for two Maine guinea pigs, someone decided their best choice was to just leave them, according to a Facebook post from the Sanford Police Department.
It's just sad that someone would do that.
The Humane Society of the United States provides a variety of suggestions you can do in trying to find your pet a new home from using your social media to get it adopted to getting help from some shelters and rescue groups.
Police said the guinea pigs were "abandoned on the trail from Gowen Park to the small pond adjacent to No1 Pond."
It's lucky someone found them because guineapig101.com said that survival in the wild is low. The website notes that they don't have skills for survival on their own and they are "unaware of the danger that they can face by their predators."
Basically, they could have been some other animal's snack.
According to the Maine Legislature, abandoning an animal is a crime. In part, the verbiage of cruelty to animals states that
"Except as provided in subsections 1‑D and 1‑E, a person, including an owner or the owner's agent, is guilty of cruelty to animals if that person intentionally, knowingly or recklessly: ...

"Injures, overworks, tortures, torments, abandons or cruelly beats or intentionally mutilates an animal; gives drugs, including, but not limited to, a scheduled drug as defined in Title 17‑A, section 1101, subsection 11, to an animal with an intent to harm or intoxicate the animal; gives poison or alcohol to an animal; or exposes a poison with intent that it be taken by an animal. The owner or occupant of property is privileged to use reasonable force to eject a trespassing animal. Violation of this paragraph is a Class D crime."
Maybe we can hope for the best and that by some crazy chance, the guinea pigs just happened to accidentally get away during a road trip or an afternoon picnic.
What's that saying again? Hope for the best and prepare for the worst?
Hopefully, the Sanford police can get to the bottom of the situation. They noted in a comment on the Facebook post that the guinea pigs are currently being housed at Pope Memorial Humane Society in Dover, New Hampshire.
If you are the owner or know the owner, police ask you to give them a call at 324-3644.
LOOK: Here are the pets banned in each state
Because the regulation of exotic animals is left to states, some organizations, including The Humane Society of the United States, advocate for federal, standardized legislation that would ban owning large cats, bears, primates, and large poisonous snakes as pets.
Read on to see which pets are banned in your home state, as well as across the nation.
Bring the Whole Family: 11 Pet-Friendly Lodging Options in Maine
Take the whole family for a trip around Maine, even the four-legged members.