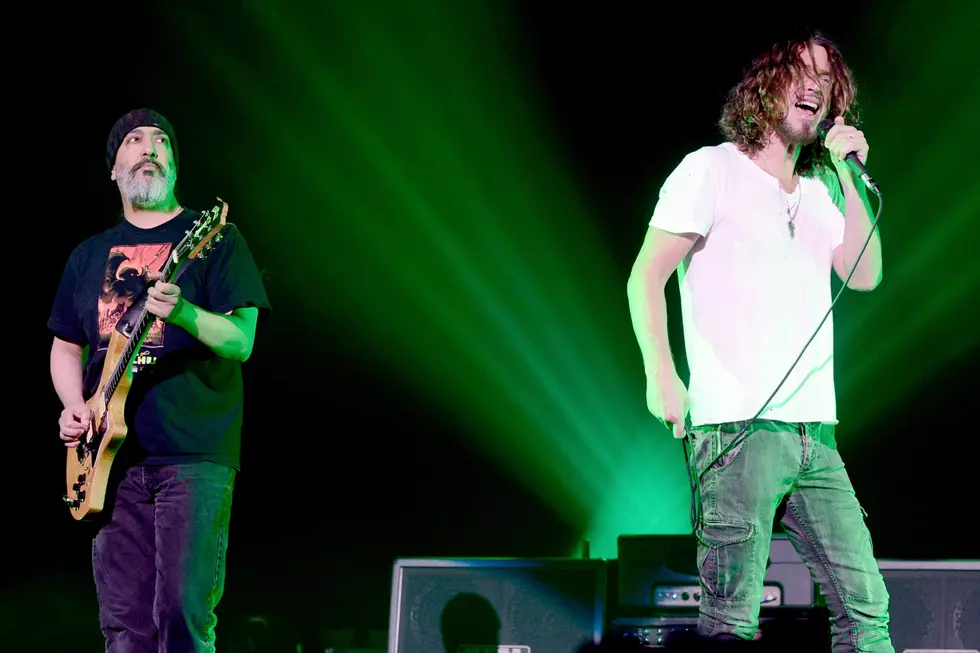 5 Reasons Soundgarden Should Be in the Rock and Roll Hall of Fame
Kevin Winter, Getty Images
Is there a more obvious pick for the Rock & Roll Hall of Fame than Soundgarden? As the organization has continued to expand its parameters, opening its doors to more and more hip-hop, pop and country artists, the seminal grunge act feels like a throwback to a simpler time — one where inductee announcements were greeted with a collective "Yeah, of course!" rather than social media bickering over the definition of "rock."
But if there were such thing as a tangible Rock Hall résumé, Soundgarden's would rise to the top of the pile, almost by default. They were equally adored by critics and fans, wrote a handful of songs that gracefully aged into modern rock standards (like "Black Hole Sun") and influenced almost every subsequent band that featured a drum kit and a distortion pedal.
Soundgarden was first nominated for the Rock Hall in 2020 — which is absurd, as they've been eligible since 2011. But it's time to rectify that oversight. Here are five reasons they deserve induction into the Rock & Roll Hall of Fame.
Chris Cornell Is the Greatest Rock Singer of His Generation 
Chris Cornell had it all: the gusto of Freddie Mercury, the raw sensuality of Robert Plant, the dynamic range of his friend Jeff Buckley and a rare level of soul for a frontman most closely linked to the brooding Seattle scene of the early '90s. For a definitive summary, look to his vocal from 1994's "The Day I Tried to Live," which builds from a bluesy moan to a shrieked, mirror-shattering vibrato massive enough to block out the sun. An induction would honor the elite talents of the late singer, who died from suicide in 2017 at age 52. "I thought this is important, especially for the legacy of Soundgarden, and for Chris' legacy," guitarist Kim Thayil told Billboard upon the band's first nomination. "It's really important now to understand this from the perspective of the fans and to understand Soundgarden as both a current enterprise as well as a posthumous exercise."
They Helped Create Grunge, Then Expanded Way Beyond It
Once a grunge band, always a grunge band — at least on paper. And while Soundgarden did emerge during the pivotal Seattle onslaught, becoming the first band from that loose scene to sign with a major label, they were immediately weirder, heavier and more adventurous than their contemporaries. By their third LP, 1991's Badmotorfinger, Cornell and company had seamlessly integrated their brutal and psychedelic sides, weaving proggy time signatures ("Outshined") and trippy production techniques ("Rusty Cage") into their pulverizing sound. On 1994's chart-topping Superunknown, they even tossed chiming, Beatlesque melodies into the stew: "Black Hole Sun" is an eerie and instantly hummable anthem your churchy aunt and devil-worshiping brother can both enjoy.
They Recorded Zero Average Albums — and Multiple Masterpieces
Soundgarden didn't need a warm-up on their path to greatness. The band's first LP, 1988's Ultramega OK, flirts with the majesty that flourished on their five subsequent albums. (For the sake of comparison, Nirvana's 1989 debut, Bleach, only occasionally previews the combo of melody and murk they perfected on their breakthrough masterpiece, Nevermind.) Most Soundgarden fans agree on the untouchables, particularly the game-changing back-to-back volleys of Badmotorfinger and Superunknown. But these guys never stumbled: Even their two least-heralded albums, 1996's Down on the Upside and their final project, 2012's King Animal, are full of jolting moments, like "Pretty Noose" and "By Crooked Steps."
They Sold Millions but Remained Edgy
They packed arenas and ascended the Billboard charts, but Soundgarden was blatantly experimental for a band of platinum status. It would have been easy for these guys to crank out formulaic heavy rock in an era of shameless copycats, but they actually challenged their fan base with each album. Just take "Spoonman," one of the strangest rock singles of its era, selected as the lead single from their biggest-selling LP, Superunknown. The track balances 7/4 and 4/4 time, boasts mysterious lyrics about a street performer and abruptly weaves in a percussive spoon breakdown — yet it remains accessible enough for Rock Band and Guitar Hero jams.
Their Massive Influence Extended Even Beyond Rock 
You can detect Soundgarden's influence just about anywhere: nu-metal acts like Deftones, prog bands like Tool, heavy-hitting rockers like Queens of the Stone Age. But after Cornell's death, a deluge of tributes flooded in from sources both obvious (Pearl Jam's Eddie Vedder, Metallica, Foo Fighters) and much less so (pop star Miley Cyrus, jazz-folk songwriter Norah Jones, country singer Chris Stapleton). When — not if — they get inducted, the entire industry will celebrate the band's legacy.
 
Top 30 Grunge Albums
From Nirvana and Neil Young to Melvins and Mudhoney — the best works to come from the '90s movement.