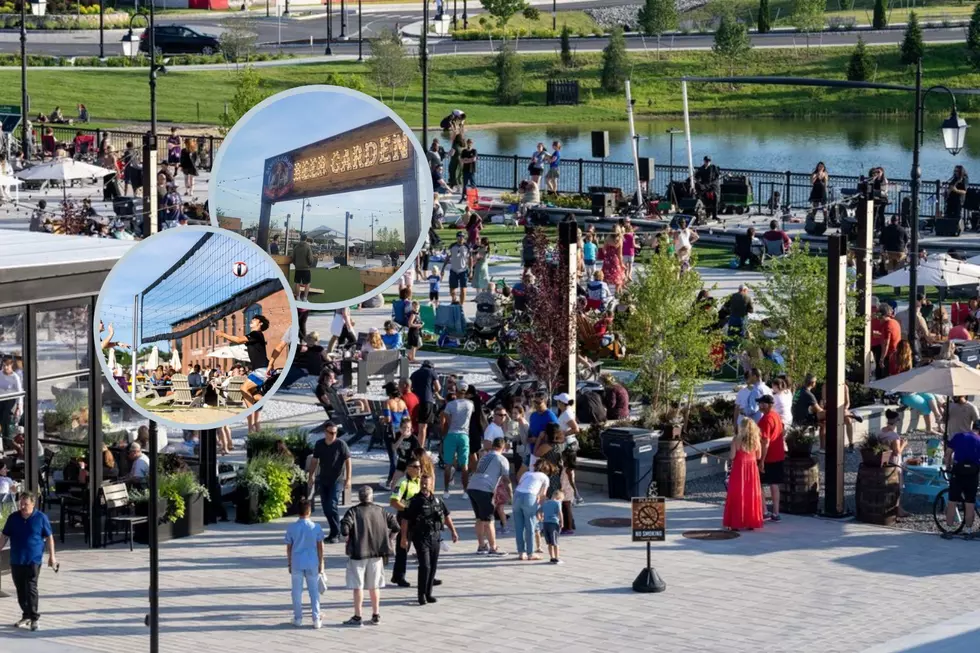 Find a Beer Garden, Beach Volleyball, Family Fun at This New Hampshire Hot Spot
Tuscan Village Salem New Hampshire
Here's a day trip or weekend getaway for you, since we all love to find those unique outings, great date places, or enjoy a day out with friends and family that's not a full-on vacation.  For me, it's fun to discover new locations or be reminded of places I've always wanted to check out.  Here's one place to add to your summer fun.  Whether you're doing a date night, couples outing, or looking for that lawn-style, block party feel filled with family fun, this place has it all.
Tuscan Village in Salem, New Hampshire, grabbed me because it has such a cool vibe and so much to offer for everyone without being one of those crowded vacay destinations.
Doesn't this look like fun with that casual vibe?  You can enjoy cornhole, beach volleyball, fire pits, Adirondacks, live music, and food trucks, all in a festival-style atmosphere.  Find your spot for the day and just be.  Tuscan Village is at Lake Park, so you get some water vibes going, too.
What's cool about this inviting atmosphere is that you can kick back with live music, enjoy your choice of restaurants and food trucks, relax with some day drinking, play games with your children, or make it a night out under the lights and stars.  Meanwhile, someone else can go shopping.
Talk about the unique energy that makes this one of many hot spots for fun with a relaxed vibe to thrive and pick your pleasure in New England.  You decide how you want your day to go, and can even bring your four-legged, furry friends.
Visit These Mini-Fenway Parks in New England
These miniature Fenways host everything from Little League to wiffleball.
Movie Actors Who Used Body Doubles For Nude Scenes
Seeing is not always believing when it comes to movie sex scenes...