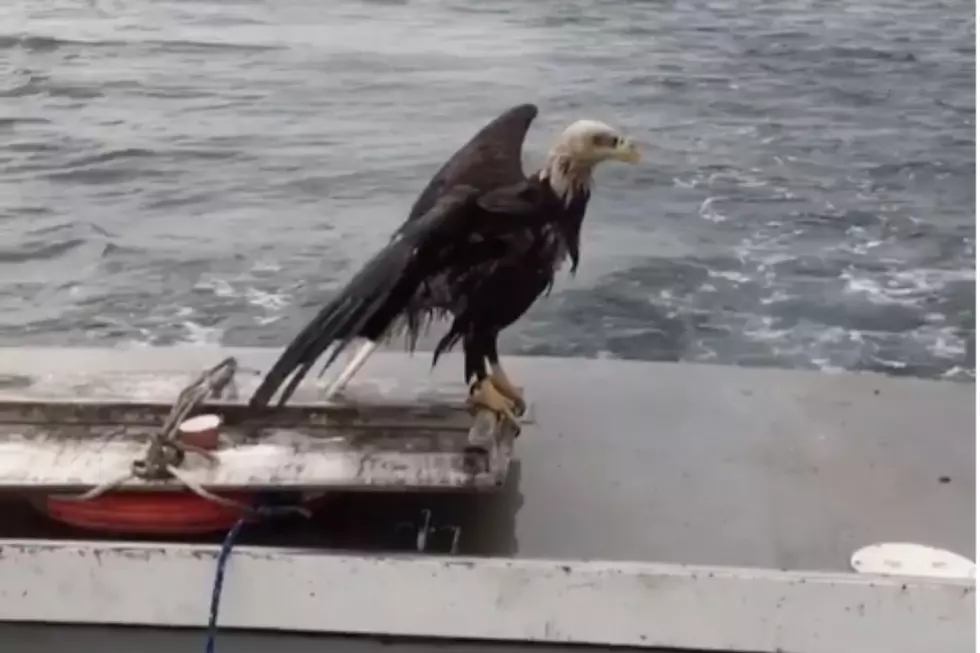 WATCH: Amazing Rescue of Drowning Bald Eagle by Lobstermen Off the Coast of Maine
Instagram via lobstahlady
A couple weeks ago, everyone was drawn to a video of lobstermen saving a seal pup who has been entangled in some traps. It was one of those feel good moments of humanity and nature working together to exist. Another one of those feel good moments has surfaced, this time involving a bald eagle on the precipice of drowning.
According to the Bangor Daily News, lobstermen John Chipman Jr. and Kevin Meaney were off the coast of Maine when they spotted a bald eagle struggling to stay afloat in the ocean current. The eagle appeared to be working hard to swim ashore, but it looked tired and in danger of drowning amongst the waves. That's when instinct kicked in for the lobstermen.
They put together a makeshift life raft in hopes the eagle would perch itself on top of it, the newspaper reported. And that's exactly what the eagle did. The lobstermen then pulled the eagle onto the boat, where the eagle and the lobstermen shared some up close and personal moments. The exhausted eagle even allowed one of the lobstermen to pet its head.
The eagle spent 40 minutes aboard the ship, named the "Theresa May" before flying away towards land as the boat approached Bunker's Harbor in Gouldsboro, Maine, according to the BDN. Biologists who reviewed the video came to the same conclusion, without the lobstermen's help, the eagle likely would have drowned.
Eagles are susceptible to hypothermia, and often can get caught in the strong current of the ocean while fishing. If the eagle is weak or hurt, they can perish in the cold waters.
The lobstermen consider it an experience they'll never forget and a chance to lend a helping hand to nature when nature gives so much back to them.