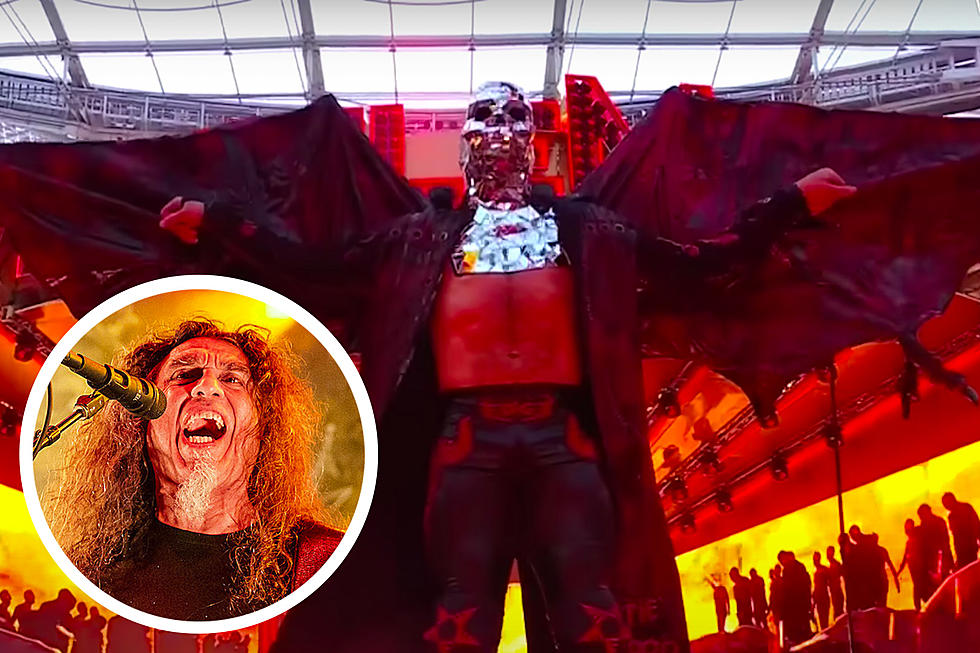 WWE's Edge Used a Slayer Song During His WrestleMania Entrance
YouTube - WWE / Scott Legato, Getty Images
WWE's Edge made quite an entrance last night (April 2) during his 2023 WrestleMania entrance. Not only did he bring back his "Brood Edge" persona, but he used a Slayer song as he rose up from the stage surrounded by flames.
Edge was up against Finn Balor, also known as "The Demon," for the match, so it's only appropriate that his entrance was as intense as it was. Slayer's "South of Heaven" from their 1988 album of the same name played as the WWE legend emerged, wearing a mask that looked like a combination of Clown's new Slipknot mask and a disco ball. He sported a long leather jacket, which had "The Brood" embroidered into it, and spread his demonic angel wings as the crowd cheered.
He won the match against The Demon, so perhaps Slayer should be his good luck charm going forward. Check out the clip below.
READ MORE: WWE Legend Edge Won His First Singles Title By Accident (Wikipedia: Fact or Fiction?)
The Brood gimmick was first introduced in the late '90s, and consisted of Gangrel and Christian, in addition to Edge. The trio acted as a clan of vampires, and they'd often perform acts such as drinking "blood" from a chalice and taking "blood" baths.
Edge has been a fan of rock and metal music since he was very young, telling Metal Injection in 2021 that his introduction to it was his mom playing The Beatles and Led Zeppelin when he was a kid. However, his "gateway into metal," as he put it, was KISS. From there, he ventured into the world of Black Sabbath, and he's been a metalhead ever since.
WWE's Edge Used Slayer's 'South of Heaven' During His 2023 WrestleMania Entrance
25 Awesome Celebrity Metalheads