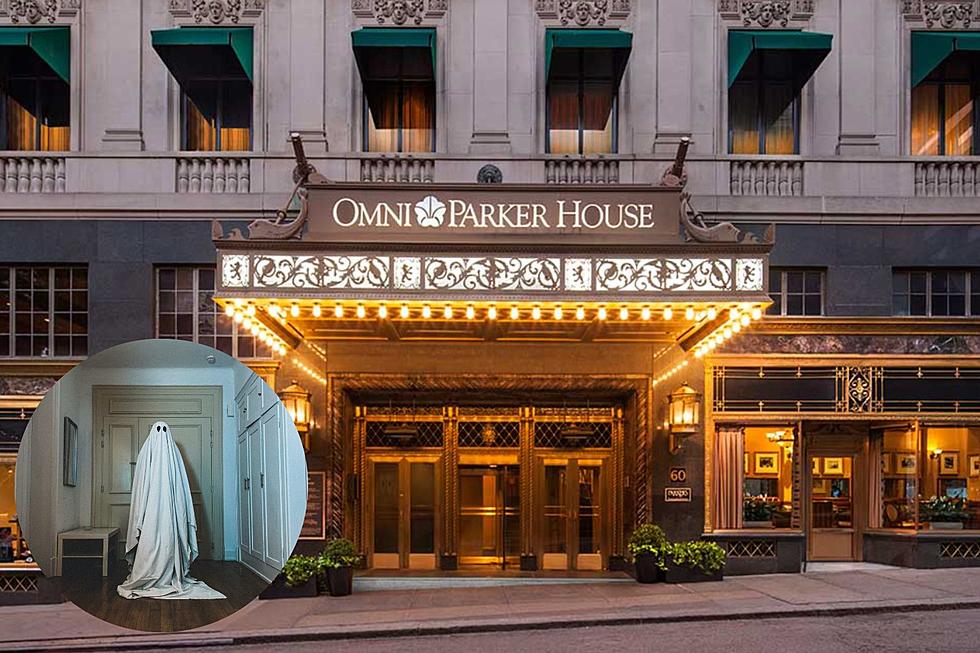 6 Haunted New England Hotels You Can Stay at, if You Dare
Omni Parker House via Facebook; Getty Images
Have you ever stayed at a friend's house, hotel, or inn where you felt something was off? Well, I'm here to tell you that your feelings are incredibly valid, and that you probably were being followed by a ghost.
If you do not believe in ghosts, then I am wondering, why not? I have had some pretty scary interactions with ghosts in a few of the New England hotels that I have listed below.
To all the ghost believers, I wish you good luck this Halloween, and suggest you keep reading.
I am here to share that there are such things as ghosts, and many people have confirmed that within these six hotels.
---
If you love to have your hair touched in the middle of the night, then you should check out The Kennebunk Inn and Tavern in Kennebunk, Maine. I got the heebie-jeebies just looking at the pictures.
According to The Kennebunk Inn and Tavern, Silas Perkins is the name of the ghost that has been haunting the halls of the hotel since the 20th century.
To learn more about The Kennebunk Inn and Tavern, click here. 
Don't be fooled. There have been some renovations to Concord's Colonial Inn, but it seems the ghosts don't mind the new improvements.
Have you heard of the infamous room 204? Concord's Colonial Inn highlights "apparitions of the caretakers still roaming the halls" when talking about the hotel.
If you want to stay in the Concord, New Hampshire, area, you should check out this haunted hotel. Click here to learn more. 
---
The Salem Inn is located in Salem, Massachusetts. This haunted hotel is perfect for you if you enjoy learning about the history of the Salem Witch Trials.
Don't worry, the Inn also lets pets stay overnight, so you can feel protected at all hours.
The Inn even lists a "Haunted Room"amongst its booking rooms, where guests have reported strange occurrences.
To learn more about The Salem Inn, click here.
---
Long before The Liberty Hotel came to be, it was a jail for criminals. If you are interested in staying in the Boston, Massachusetts, area and coming face-to-face with a past inmate, you should look into this hotel.
Nightly Spirits stated that there were some "eerie encounters" at this hotel, including mysterious voices yelling and former prison employees appearing out of nowhere.
---
This Omni Parker House is located in Boston, Massachusetts, and is 100 percent scarier than your average haunted hotel. I was dragged into staying here when I was younger, and let me tell you I did not sleep a wink.
Of course I turned out okay but even the workers shared terrifying stories about seeing people in the windows of empty rooms.
According to the Omni website, there are a number of ghostly encounters at this hotel, like strange whisperings, elevators going to the third floor without the button being pushed, or sounds of rocking chairs creaking all night.
To learn more about The Omni Parker House, click here. 
---
The Green Mountain Inn is located in Stowe, Vermont. This hotel was built in 1897, and has many ghosts reportedly lingering in the halls. I don't know about you, but I need to have peace as I fall asleep at night.
According to the Green Mountain Inn's website, the legend of one particular ghost's "rooftop tap dancing steps can still be heard today during a snowstorm."
To learn more about The Green Mountain Inn, click here. 
Are you willing to stay at one of these hotels and risk a good night's sleep? Let me know!
Try not to Wet Yourself at These 7 Haunted Houses in Maine and New Hampshire
Are You Brave Enough to Visit These 12 Haunted Places in Maine?