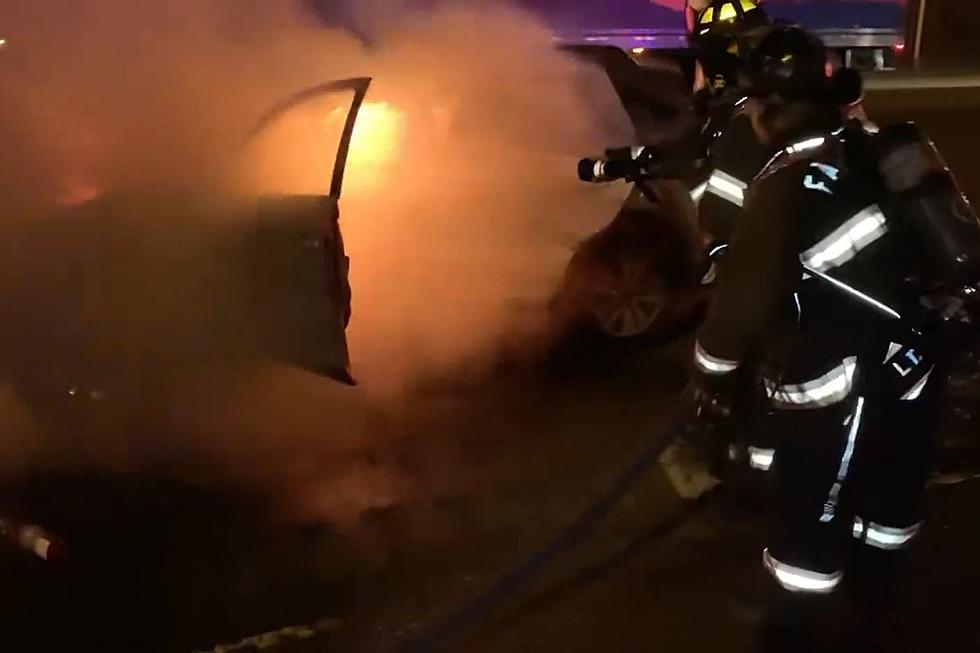 Daring Rescue: Maine Trucker a True Hero After Rescuing a Man and Dog From a Burning Car
Marissa Alter News 12 via Facebook
Cue the melting hearts and phews, because who doesn't love a story with a happy ending to restore humanity?
This all happened during a multi-vehicle crash in Southport, Connecticut, just south of Fairfield on I-95 Southbound. According to News 12 Connecticut, it's thanks to a Mainer named Charlie Lane, who's been trucking for 34 years, that a man and his dog are alive.
News 12 says Charlie was on his way to New Jersey when he saw the car ablaze.  Emergency crews weren't on the scene yet, so he pulled over.  We love you Charlie!
When I opened the door to the car, there was a man, and the flames were starting to get pretty big. I had a hard time getting him unbuckled. I mean, he was kind of dazed and confused, but I was relieved when I heard that seatbelt thing release.  While I was dragging him out, I see something moving in the back. It was a dog.
Charlie says it was all so scary, and his adrenaline was pumping as he went back for the German Shepherd, who we now know is named Stella, according to News 12.
According to Fairfield County Fire Assistant Chief George Gomola, people eventually joined Charlie on the side of the road. They attempting to use portable extinguishers to put the fire out to no avail, while emergency crews were on their way.
This made Charlie even more of a hero for sure.  We love you Trucker Charlie from Maine!
We found out that a truck driver from Maine was the true hero in this. He had stopped when no one else had. He used his tractor-trailer to protect the scene. He went up to the vehicle that was starting to burn.
Chief Gomola says when they arrived on the scene and assessed it, they knew this would have been a very different outcome if not for Charlie, but Charlie isn't having any of it.
It was just the right thing to do. I done what I'd want someone to do for my family.  I'm no hero.
Yes you are, Charlie.
News 12 spoke with the wife of the man pulled from the car, and both are doing just fine thanks to Charlie.  Her husband is recovering with broken ribs and clavicle.
My husband and I are eternally grateful to the truck driver who was there last night to help him and our dog. God bless him, we are overwhelmed by his bravery and courage. He is definitely our hero and angel. We also wish to thank all the emergency crews who were on the scene so quickly, and Fairfield Animal Hospital for taking such good care of our shepherd. My husband is currently in the hospital recuperating and is doing well.
A crash investigation continues. Meanwhile, here's hoping Charlie realizes that not everyone would have pulled over and run toward a burning car not just once, but twice so yes, you're a hero.
See How School Cafeteria Meals Have Changed Over the Past 100 Years
Using government and news reports,
Stacker
has traced the history of cafeteria meals from their inception to the present day, with data from news and government reports. Read on to see how various legal acts, food trends, and budget cuts have changed what kids are getting on their trays.
LOOK: 25 must-visit hidden gems from across the US
From secret gardens to underground caves,
Stacker
compiled a list of 25 must-visit hidden gems from across the United States using travel guides, news articles, and company websites.