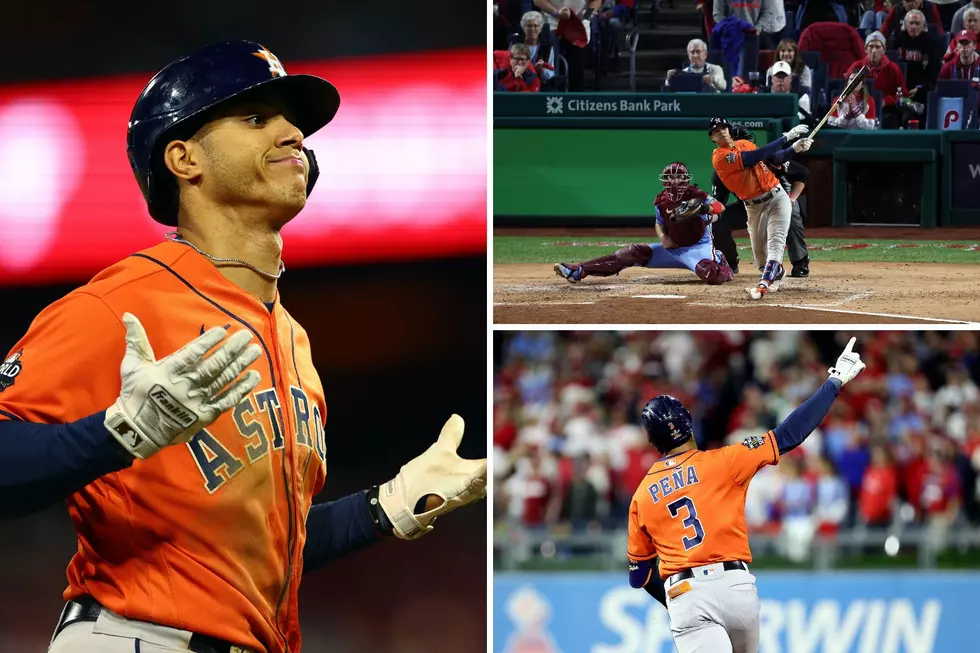 Former UMainer Stars in Game 5 of World Series, Astros Game Away From Title
Getty Images: Canva
The hits just keep coming for former University of Maine Baseball standout and current Houston Astros starter Jeremy Peña. He's had his fair share of home run highlights this year, and you can now add "home run in the World Series" to that list.
It was another titanic blast for the rookie, whose big night helped propel the Astors to a 3-2 World Series lead over the Philadelphia Phillies. Along with the home run, Peña went 3 for 4 on the night with 2 RBI. He's now hitting .381 in the World Series. Not bad for a rookie.
Peña's story is a tremendous one to begin with. The Rhode Islander was drafted out of high school in the 39th Round of the 2015 MLB Draft by the Atlanta Braves. However, Peña opted to go to college in hopes of improving his game and chances. He would play three years in Orono and was an absolute stud.
After an exceptional run at UMaine, Peña was drafted in the 3rd round of the 2018 Draft by the Houston Astros. Three years of solid play in the minors gave him the opportunity to take over for the exiting All-Star Carlos Correa at starting shortstop. Those are quite the gigantic shoes to fill.
However, Peña performed solidly in his rookie season. He finished with a batting average of 2.53, with 22 home runs and 63 RBI. He also had one of the highlights of the year when he went yard for his first career home run as his parents were being interviewed.
Peña joins a nice list of former UMaine baseball players that have reached the Major League level. It includes Billy Swift, Mike Bordick, and Mark Rogers, just to name a few.
The Astros are now just one win away from winning another World Series. A lot of credit certainly deserves to go Peña's way. Game 6 and Game 7 (if necessary) are back home in Houston.
16 Famous People You Probably Didn't Know Were Born In Maine
From accomplished newspeople to actors and actresses to pro wrestlers, here are some very famous people that you may not realize were born in Maine
Here Are Some Of The Nastiest Nicknames For Towns and Cities In Maine