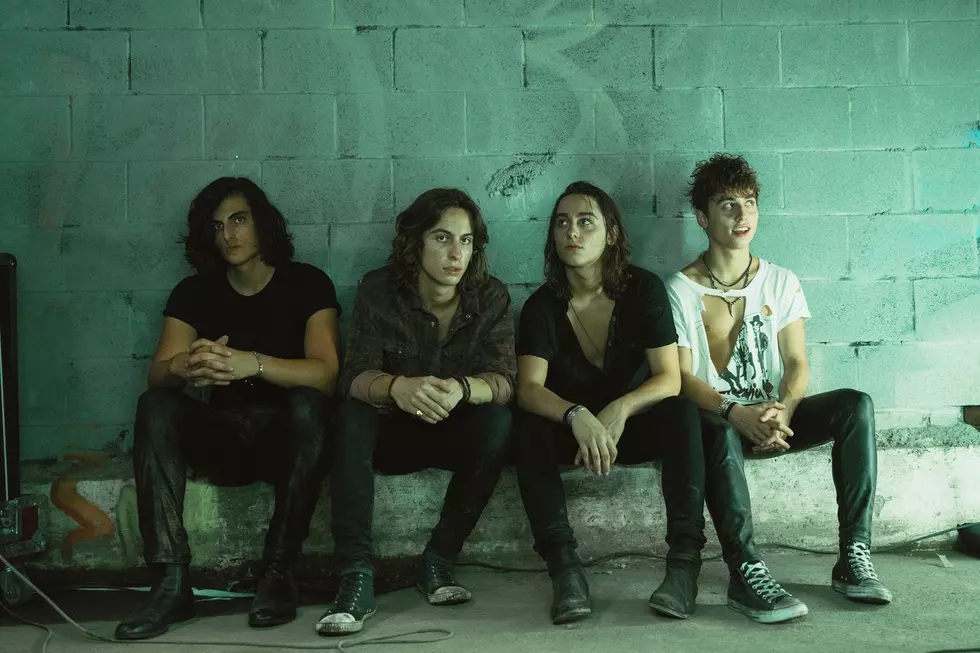 Greta Van Fleet's Band Name Muse: 'I Kind of Laughed It Off'
Ford Fairchild
This past Wednesday (May 23), the stars aligned, and 87-year-old Gretna Van Fleet reunited with the young band Greta Van Fleet who borrowed from her name and have found great success over the past year.
Van Fleet and her husband Dale were invited to join the band at their sold-out show at the Fillmore in Detroit, meeting up with the band members for the first time in five years.
"They've matured, I'll say that," Van Fleet told Billboard. "It was mostly 'Glad to see you again' and congratulations on their accomplishments and so forth. We had seen the parents in between, but not the boys. I hadn't met the drummer (Danny Wagner) yet, so it was nice to meet him."
Speaking about how the unique name came about, Greta Van Fleet's Sam Kiszka explained that it was the grandfather of their previous drummer who came up with the idea. "They were at breakfast and his grandpa told him that he needed to go cut wood for Gretna Van Fleet," said the bassist. "He heard it thought, 'That's an interesting name.' He brought it to the rest of us and I think it was (frontman) Josh who said, 'Let's drop the 'n' out of Gretna, so it was Greta Van Fleet, and that rolls off the tongue better. I think it's an interesting name because it's different. You don't really know what kind of music is going to be produced by this group. I really like that aspect of the name."
Van Fleet, who has a music background herself having once played saxophone and piano in her family's dance band in the '50s, stated, "[I enjoyed it] as much as I could. It's not really my kind of music, but people enjoy it and the boys did a good job of presenting it."
Van Fleet says her name was inspired by a character in a book her grandfather had read. She says she's enjoyed the notoriety but admits she's surprised the name stuck. "When they told me they were going to do that I kind of laughed it off. When I found out they really did it I thought, 'That won't last long. That's not a name for a band.' But they just kept growing and more people ask me about it and I've been far more involved than I expected," said the great-grandmother. "But so far it's been fun, and I just wish the boys well and keep doing what they're doing."
Greta Van Fleet have been busy splitting time between the studio where they just recently finished their debut full-length album and the road where they continue to build their fanbase. Details on the forthcoming disc are expected to be released soon.
10 Greatest Rock Songs of 2017