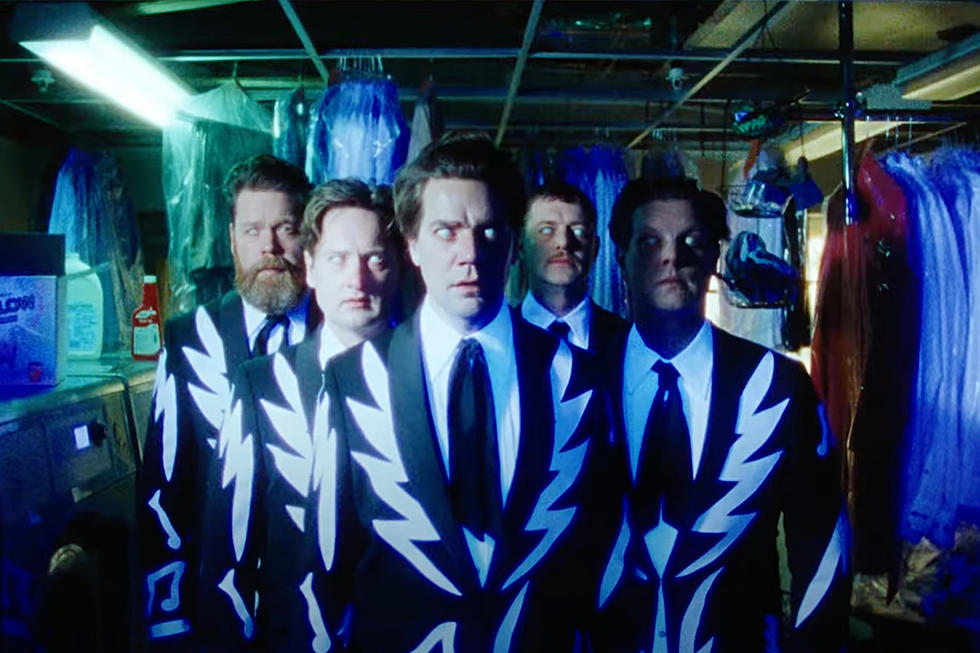 The Hives Drop Doomy Anthem 'Bogus Operandi,' Announce First New Album in Over a Decade
YouTube: TheHivesTV
Now here's something to howl about! Howlin' Pelle Almqvist and his cohorts in The Hives are on their way back after an 11-year gap between albums. Though once at the forefront of the early 2000s garage rock wave, The Hives go a little darker and more aggressive on their new single, serving up some doomy fun with the song "Bogus Operandi," which is the first tease of their forthcoming album, The Death of Randy Fitzsimmons.
Though known for having a more punk vibe to their sound, The Hives command your attention with Rage Against the Machine-esque solitary heavy note attention grabbers to start the song. It paints a doomy, dark vibe, especially when paired with the winter forest set music video for "Bogus Operandi."
The clip itself is a horror story, finding the band's members on the receiving end of a possessed shovel summoned to track them down in the desolate forest night and command them to do its rock and roll bidding. You can check out the Aube Perrie-directed video below.
The Hives, "Bogus Operandi"
It should be noted that the horror theme in the video is not by accident. Per a press release on the new album, which has been titled The Death of Randy Fitzsimmons, "As the album's macabre title hints, the band's extended absence from the studio has been no hiatus but rather a horror story," suggesting there may be darker themes at work here.
READ MORE: The "Big 4' Bands of 10 Rock + Punk Subgenres
That said, the bravado The Hives have always displayed has not gone away. In fact, singer Howlin' Pelle Almqvist says, "There's no maturity or anything like that bullshit, because who the fuck wants mature rock 'n' roll? That's always where people go wrong, I feel. 'It's like rock 'n' roll but adult,' nobody wants that! That's literally taking the good shit out of it. Rock 'n' roll can't grow up, it is a perpetual teenager and this album feels exactly like that, which it's all down to our excitement — and you can't fake that shit."
The Hives' The Death of Randy Fitzsimmons is due Aug. 11, with pre-orders being taken here. Check out the album artwork and track listing below and look for the band returning to touring in Europe this spring. Catch them live here.
The Hives, The Death of Randy Fitzsimmons Album Artwork + Track Listing
1. Bogus Operandi
2. Trapdoor Solution
3. Countdown To Shutdown
4. Rigor Mortis Radio
5. Stick Up
6. Smoke & Mirrors
7. Crash Into the Weekend
8. Two Kinds of Trouble
9. The Way the Story Goes
10. The Bomb
11. What Did I Ever Do To You?
12. Step Out of the Way
Most Anticipated Rock + Metal Albums of 2023
2023 is looking good for rock and metal albums already.