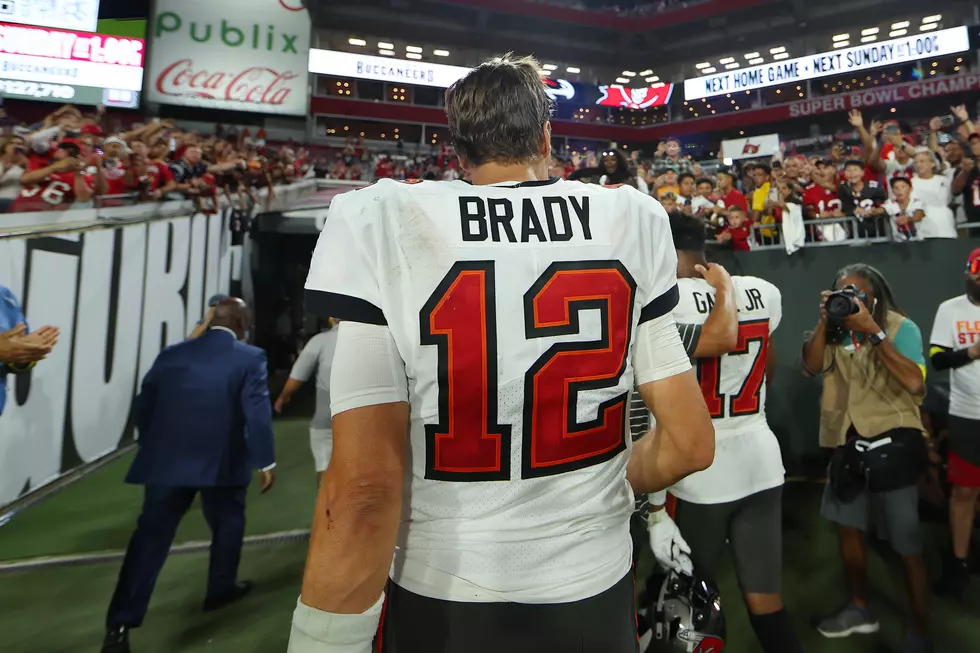 Is it Time to Explore the Unthinkable? A Tom Brady Return to New England
Getty Images
We've heard of the "Hail Mary" and the "Statue of Liberty." But the Patriots' unfathomable loss to the Las Vegas Raiders marked the first time we've ever seen the "Benny Hill."
Whether it's Hill's famous theme song "Yakety Sax" with a sped-up clip of the team's botched lateral, or the theme to "Curb Your Enthusiasm" as you zoom in slowly on Bill Belichick, you've no doubt seen many interpretations of The Worst Patriots Play Ever.
It was enough for some to wonder if Hartford still had interest in a Patriots relocation.
So maybe it's time to stop being proud and say "why not" to a rumored return...
In case you missed it, Tom Brady's 2022 has been…less than ideal. First there was his bizarre, delayed arrival at training camp in Tampa Bay. Then came his unfortunate divorce from Gisele Bündchen.
The good news? They'll be seeing each other soon. The bad news? It'll most likely be in a courtroom as they face claims they mislead investors in a cryptocurrency scandal. (Maybe while they're there, they'll run into the New Jersey man who tried to sell some of Tom's Super Bowl rings.)
Meanwhile, Brady's Buccaneers led their division…but actually had a worse record 14 games into the 2022 season. Brady has looked slower, older, and angrier as the season progressed.
It was just a matter of time before someone such as The Athletic's Jeff Howe suggested that perhaps Brady could come home to New England to finish things out in 2023.
There are two interesting comparisons when it comes to whether to get the gang back together or continue down the same treacherous paths. And each involves another beloved New England institution.
In the late-70s, before they were Boston's most famous rock band, Aerosmith broke up following a backstage dispute. For five years, Steven Tyler and Joe Perry went their separate ways before ultimately deciding to, ahem, Come Together once more.
Out of that mending of fences came a string of hits that turned a "what if" in the world of music into a Rock and Roll Hall of Fame induction.
On the other hand, consider the case of Boston's favorite bar (where everybody knows your name). In 1987, Shelley Long expressed her desire to leave "Cheers" at what was seeming its peak, and the show let her go. They gambled on the idea that moving forward with a new character and tone was better than trying to talk Long out of leaving.
The result was the late, great Kirstie Alley – and a run that exceeded that of Long's and led to more Emmys and acclaim than anyone could count.
Here's the issue, though: who is the Patriots' Kirstie Alley? It sure doesn't seem to be Mac Brown or Bailey Zappe.
So to those still opposed to just seeing what happens if you get Brady and Belichick in a room, I direct your attention to a man who grew up spending summers in nearby Ipswich – the great Chevy Chase:
The Many Deep Thoughts of Patriots' Coach Bill Belichick
It's been said that Patriots' coach Bill Belichick is fairly "emotionless." But that's not true. He's actually a very deep guy, and if you look closely enough, you can actually see what he's thinking. Don't believe it? Just take a look at these photos and the thoughts going on behind them.
Eight Great New England Toms
All of these Toms are beloved in New England.