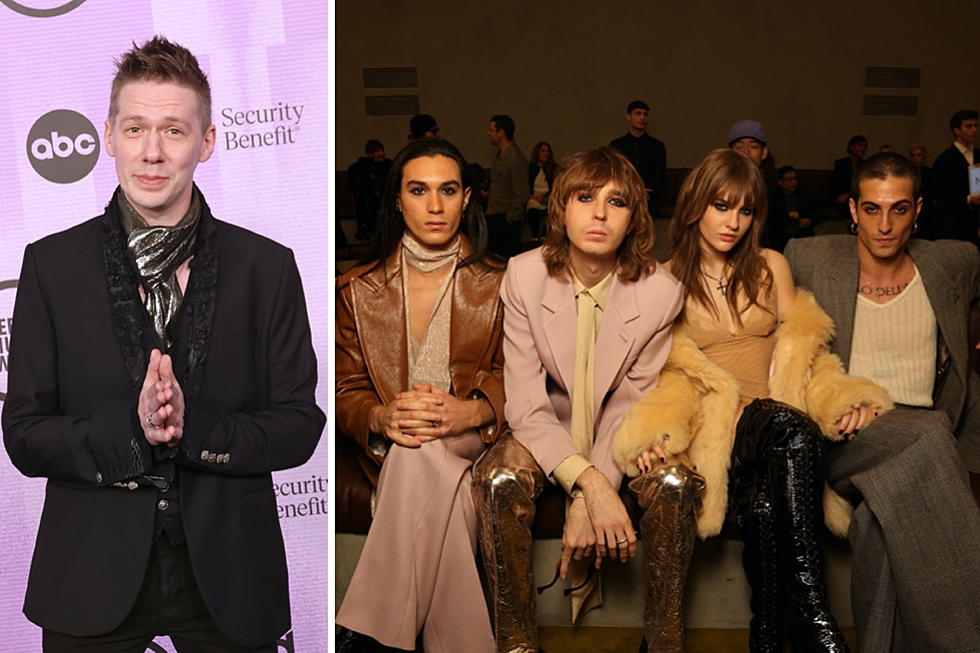 Ghost's Tobias Forge Points to Maneskin as an Indicator of Rock's Future
Taylor Hill / Delphine Achard, Getty Images
In a new interview, Ghost's Tobias Forge (AKA Papa Emeritus IV) suggested he expects new bands such as Maneskin to pave the way for rock's future.
Indeed, the rock singer estimated that newer "bands we don't know" will take the reins going forward in rock and metal, rather than already established acts.
The Ghost bandleader, speaking to NME in a joint chat with the Def Leppard singer Joe Elliott, also mused how "hard rock has always been similar to horror" as far as its reception by the old guard. "Especially nowadays," the Swedish leader of Ghost opined.
How are rock and metal similar to horror? Considering the current state of music and film, Forge said the "stigma" still attached to rock is akin to horror movies being overlooked for Academy Awards.
"You have these blockbuster horror films that would never, ever be considered for an Oscar because it's a horror film, so it's automatically seen as not that good," he relayed. "That might change in time, but that is the stigma that metal and rock still have."
Forge continued, "It's seen as not being as sophisticated as other things. You can't have an argument against that, but you can still sell records, you can become big on streaming, and you can sell tickets. You don't have to be on daytime radio to be successful."
Signaling to a recent success in rock, he added, "Look at a band like [the Italian rock group] Maneskin. That's a sign people don't shy away from organic music."
Forge explained, "When we speak about the well-being of rock, there's a common misunderstanding that if there's going to be a resurgence, the classic bands are going to come back around. I'm counting on bands we don't know leading the way."
Elliott recently appeared on a new version of Ghost's "Spillways" from the Forge-led band's latest studio album, Impera. ("I played the shit out of Ghost's music on my [Planet Rock] radio show," Elliott gushed about the theatrical heavy rockers to NME.)
Ghost's "RE-IMPERATOUR" kicks off later this year. See the dates underneath a recent Ghost clip featuring Elliott. Get Ghost concert tickets here. Maneskin just released their new album Rush!, and they previously talked to Loudwire about their reception.
Ghost - "Chapter 15: Meanwhile In Dublin"
Ghost Summer 2023 U.S. Tour Dates
Aug. 2 – Concord, Calif. @ Concord Pavilion
Aug. 4 – Auburn, Wash. @ White River Amp.
Aug. 5 – Airway Heights, Wash. @ BECU Live
Aug. 7 – West Valley City, Utah @ USANA Amp.
Aug. 8 – Denver, Colo. @ Fiddler's Green Amp.
Aug. 11 – St. Louis, Mo. @ Hollywood Casino Amp.
Aug. 12 – Milwaukee, Wis. @ American Family Amp.
Aug. 14 – Clarkston, Mich. @ Pine Knob Theatre
Aug. 15 – Chicago, Ill. @ Huntington Pavilion
Aug. 16 – Cincinnati, Ohio @ PNC Pavilion
Aug. 18 – Syracuse, N.Y. @ St. Joseph's Amp.
Aug. 19 – Mansfield, Mass. @ Xfinity Ctr
Aug. 20 – Bridgeport, Conn. @ Hartford HC Amp.
Aug. 22 – Indianapolis, Ind. @ TCU Amp.
Aug. 23 – Burgettstown, Pa. @ The Pavilion
Aug. 24 – Bristow, Va. @ Jiffy Lube Live
Aug. 25 – Camden, N.J. @ Freedom Pavilion
Aug. 27 – Nashville, Tenn. @ Ascend Amp.
Aug. 29 – Simpsonville, S.C. @ CCNB Amp.
Aug. 30 – Jacksonville, Fla. @ Daily's Place
Aug. 31 – Tampa, Fla. @ MIDFLORIDA Amp.
Sept. 2 – Woodlands, Texas @ Mitchell Pavilion
Sept. 3 – Austin, Texas @ Germania Amp.
Sept. 5 – Irving, Texas @ The Pavilion
Sept. 7 – Albuquerque, N.M. @ Isleta Amp.
Sept. 8 – Phoenix, Ariz. @ Talking Stick
Sept. 11 – Los Angeles, Calif. @ The Forum
Maneskin, "Beggin'" (Music Video)
We Asked an AI Chatbot Why 20 Classic Albums Are So Great - Here's What It Said
Here's what an AI Chatbot had to say about classic rock and metal albums.