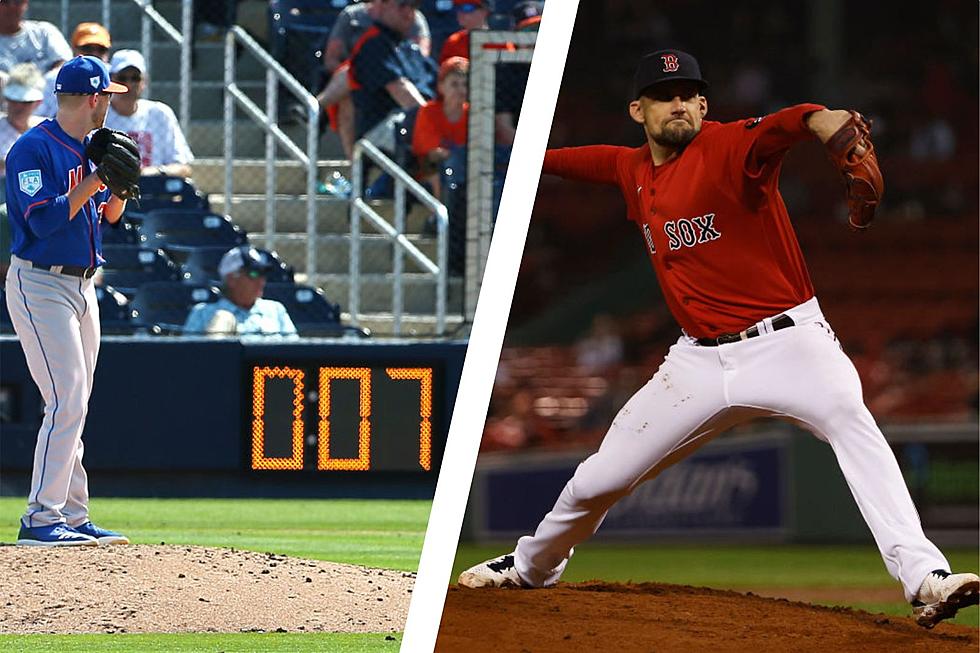 Letter to Boston Red Sox, and All Baseball Fans, About New Pitching Rule
Getty Images, Canva
CHAOS took place during the first baseball game of spring training for the Boston Red Sox when a new Major League Baseball rule was put into practice.
Let's start with the rule:
"MLB has instituted a pitch clock for 2023 and beyond, according to an NBC Sports article. "A pitcher has 15 seconds to deliver the ball with the bases empty or 20 seconds with the bases occupied. A hitter must be in the box and facing the pitcher with no less than eight seconds remaining."
Well, it did not take too long (one game) for this rule to really shake things up in baseball.
The Red Sox and the Braves were tied 6-6, in the bottom of the 9th, with a full count when batter Cal Conley took too long to get ready to face a pitch.
The rule states that Conley had to be in the batter's box, ready to bat, with eight seconds left in that 20-second countdown...he was hardly ready with five seconds left.
That was it. Game over.
Need a visual? Below is a breakdown and exactly what took place.
Terrible way to end the game? Sure. For sure, actually.
But, make no mistake about it, this is an AWESOME rule.
Baseball games, on average, are two hours and 56 minutes, according to a National Arms Race article. Let's call it three hours for easy conversation. Of that three hours, only 10% is live-action...under 18 minutes.
So you have to sit through three hours of boring to get 17+ minutes of real gameplay.
That is terribly boring.
As a sports fan, I want more, and am extremely happy with anything speeding up the pace of play.
I think making pitchers and batters step up to move it along is brilliant.
Regardless of what team won, this rule is for the better of the entire sport.
"I think there might be some growing pains the first few weeks of April when the season starts," said Jim Bowden, a baseball analyst for CBS Sports HQ, and a former general manager for the Cincinnati Reds and Washington Nationals in a CBS News article. "But I think by May, I think most pitchers will be in a rhythm, and it will not be a factor."
We'll see if it affects regular season games, which I am sure it will, and what kind of chaos takes place after that.
What do you think? Do you like the rule or think that it takes something away from the game?
25 Classic Commercials Featuring Legendary New England Athletes
Long before Gronk was kicking field goals, athletes from the region appeared in these classic TV ads.
10 Highest Paid Athletes in the World in 2022
Between the 10 of them, they will bring in a total of more than $992 million in 2022.