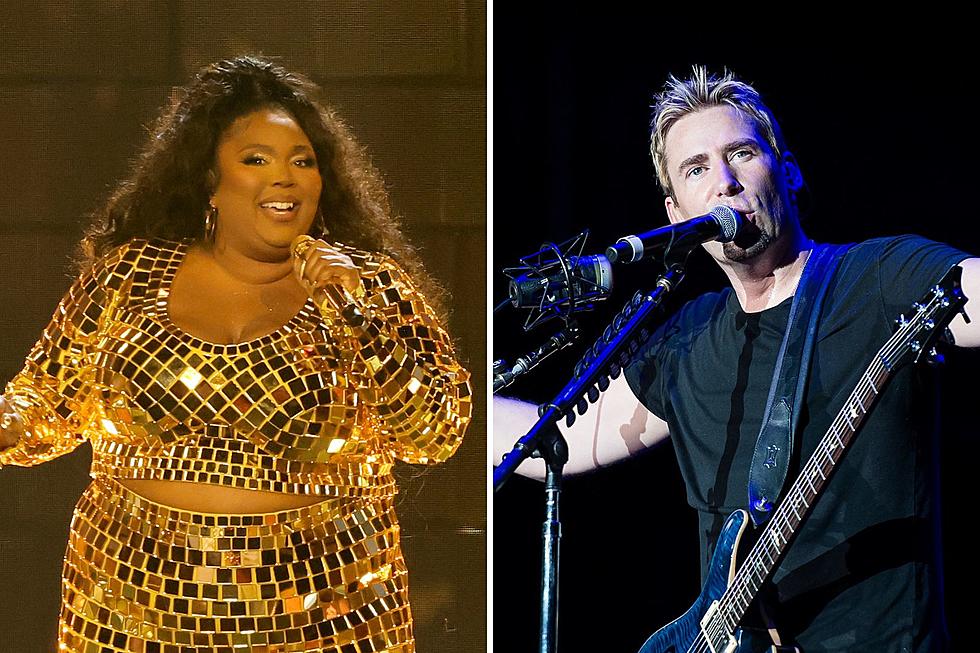 Lizzo Has a Theory for Why Nickelback 'Get a Lot of Sh-t'
Kevin Winter / Buda Mendes, Getty Images
Did you know Lizzo defended Nickelback?
In 2019, the pop star and hip-hop artist theorized why Nickelback "get a lot of shit," per her estimation. The four-year-old video of Lizzo discussing the Chad Kroeger-led rock band is making the rounds again after she repped Rammstein in concert this year.
See the video near the bottom of this post.
So why does Lizzo think Nickelback attract so many haters? It hall as to do with Kroeger's hair during the rock band's early-2000s rise, she gauged.
READ MORE: Rapper T-Pain Covers Black Sabbath
"Why do people not like Nickelback?" Lizzo asks CBC's Jam or Not a Jam as the rock band's 2001 hit "How You Remind Me" fills her headphones.
Lizzo's Defense of Nickelback
"Nickelback gets way too much shit," Lizzo continues. "I think that this is a jam. … It has a beautiful climax."
Singing along to the melody but missing some of the lyrics, Lizzo adds, "I don't know the words, but everybody knows this melody. … The beat dropout? Shit. … I think they get a lot of shit because he [Kroeger] had a curly blonde perm. That's the only reason why they get shit. Because this is an amazing song."
To wit, Lizzo wowed a German audience in February when she sang Rammstein's signature song, "Du Hast," during a performance in their home country. She reprised the metal cover with her band the next month.
You can go here to get Nickelback concert tickets — the rock group is touring North America all summer.
Sign up for Loudwire's newsletter and download the Loudwire app to stay abreast of the latest rock and metal news.
Lizzo Plays Jam or Not a Jam (2019)
Nickelback, "How You Remind Me" (Music Video)
We Asked an AI Chatbot Why 20 Classic Albums Are So Great - Here's What It Said
Here's what an AI Chatbot had to say about classic rock and metal albums.