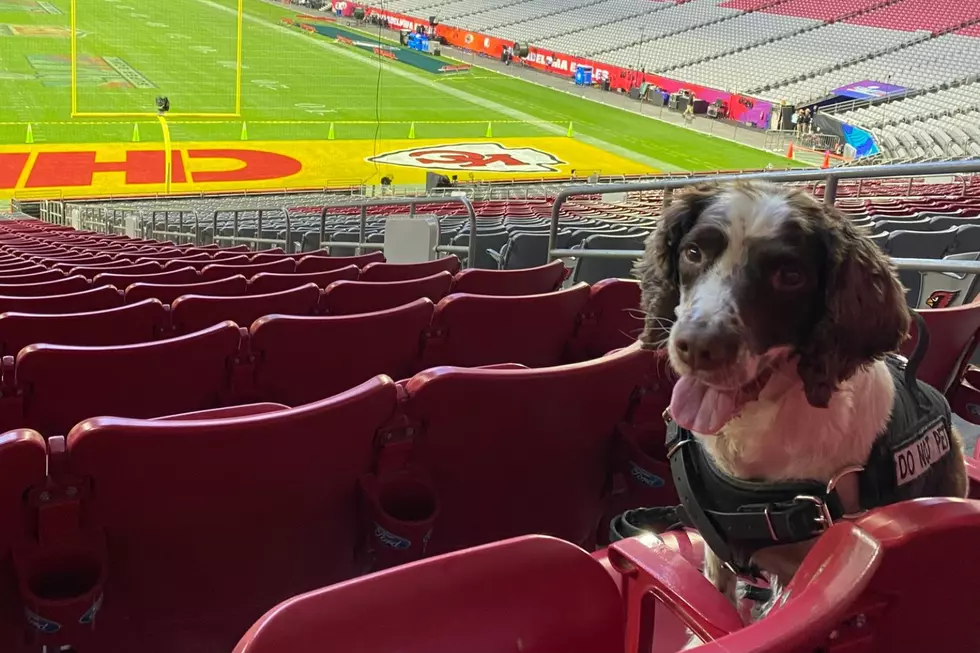 Meet Alfie, the Heroic Portland, Maine, Dog That Helped Keep the Super Bowl Safe
Portland Maine Police Department via Facebook
Awww.  Who doesn't love a fantastic, four-legged-furry-best-friend story?  Dogs are the best, and just look at those adorable, floppy ears. This cutie traveled from Portland to Glendale, Arizona, right outside Phoenix, with a serious job to do that was clearly not about looking cute and fun with a wagging tail and sweet puppy dog eyes.
Meet K9 Alfie.  He and Officer Stacey Brooker left our random, chilly-not-so-chilly New England winter for the balmy desert air of sunny Arizona to help protect Super Bowl LVII at State Farm Stadium where, in the end, the Kansas Chiefs ended up beating the Philadelphia Eagles 38-25 in a last minute field goal with mere seconds to go. But I digress.
Yes, the biggest, most popular sporting event in America had this Mainer, Alfie, on high alert doing his job for the country, according to the Portland Police Department Facebook page.
Officer Stacey Brooker and her K9 Alfie represented the Portland Police Department during Super Bowl week in Glendale, Arizona. The pair provided security support at the hotel, stadium and convention center, conducting searches of several spaces at each venue.
Alfie, donning his 'Do Not Pet' vest, roamed the grounds using his safety skills and talents as a Portland Police K9.  It is always tough when you see an adorable dog just like Alfie that you want to go up and pet and hug, but are deterred by the harness warning that they're a working police dog.
We're so used to seeing German Shepherds doing K9 police work, so I think it's fun to see Portland Police K9 Alfie, who is an English Springer Spaniel.
Thank you, Officer Stacey and Alfie.
12 Best BBQ Pit Stops in New Hampshire
In no particular order, here are the 12 best places to eat BBQ in New Hampshire
Tour Time: Boston's Mark Wahlberg Put His Nearly $80 Million Manse on the Market in Beverly Hills