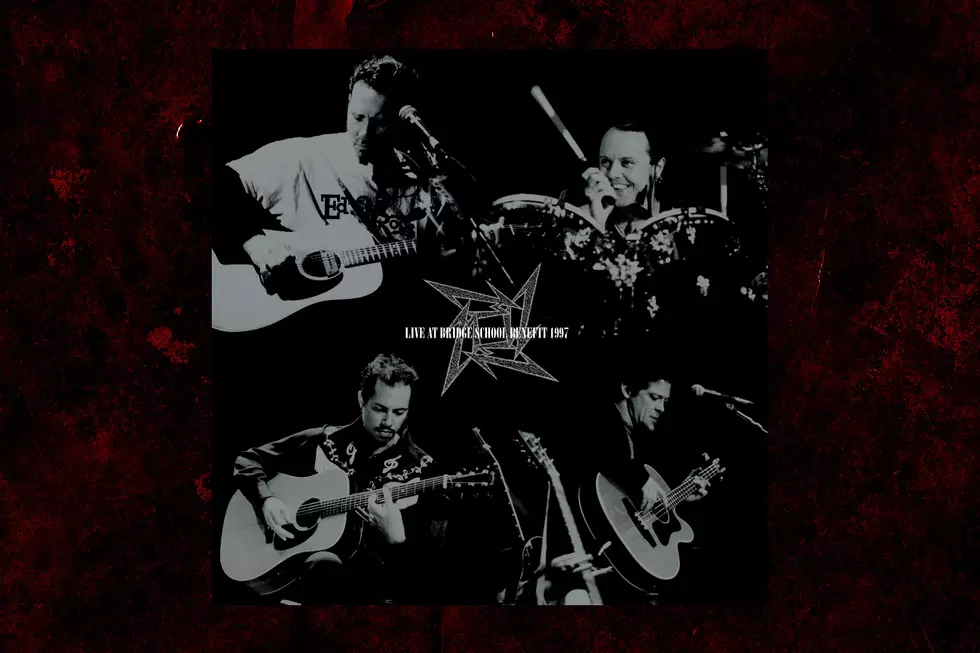 Metallica Share Details on Third Release in Vinyl Club 2.0
Blackened Recordings
Metallica reached out to members of their Vinyl Club last week to alert them that the next album would be shipping very soon. In anticipation of the record landing in mailboxes any day now, the band has also released details of what fans can expect.
No surprise here, but this next 12-inch is going to be killer.
The Metallica Vinyl Club — Release No. 3 — Oct. 21, 2022
Just like St. Anger Live Rarities—the second offering in Metallica's Vinyl Club 2.0—the next exclusive record features another four live tracks. The official title of the new release is Live at Bridge School Benefit 1997 and highlights Metallica's acoustic performance at the Bridge School Benefit at Shoreline Amphitheatre in Mountain View, Calif., on Oct. 19, 1997.
Neil Young and his wife, Pegi, started the benefit shows in 1986 to support California's Bridge School, which is "an innovative organization educating children with severe speech and physical impairments." For three decades, they organized huge concerts every October to raise money and awareness for the work of Bridge School; in 2016, following the 30th benefit, Young announced that he would no longer be hosting the concerts due to personal reasons. (He filed for divorce in 2014 and on Jan. 1, 2019, Pegi died following her battle with cancer.)
While Metallica performed at the 2007 show as well as the final concert in 2016, their first appearance at the Bridge School Benefit was in 1997, and that performance is now forever captured on wax courtesy of the new Vinyl Club disc.
They performed eight songs at the '97 benefit; the four they are releasing on this record are "Low Man's Lyric," "Poor Twisted Me," "The Four Horsemen" and "Fade to Black." "Low Man's Lyric" features David Miles on the hurdy-gurdy; Miles played the instrument on the studio recording of the song, too.
Metallica had some other special guests join them onstage during the full set, like Jerry Cantrell on guitar for "Tuesday's Gone" and John Popper on harmonica for "Last Caress," but those tracks—as well as "Helpless" and "Nothing Else Matters"—are not featured on the new record.
Billy Joe Bowers mastered the record at Casa de Amor and executive producer Greg Fidelman is credited with making the recording "listenable." Both Bowers and Fidelman handled similar duties for St. Anger Live Rarities.
The cover of Live at Bridge School Benefit 1997 features photos from Mark Leialoha and the entire release is designed by Alex Tenta.
As with other Vinyl Club releases, fans will not know what the liner notes, always written by Lars Urlich, say, and they also won't know what the special extra gift is until they open their package; previous records were packed with goodies like stickers, slipmats or posters.
Live at Bridge School Benefit 1997 Album Cover
Earlier this year, Metallica announced that they were beginning work on a deluxe box set reissue of Load and Reload, originally released in 1996 and 1997, respectively. With the news of Live at Bridge School Benefit 1997, it's exciting to imagine what other things from that era may soon be unearthed.
In the meantime, enjoy this performance of "Enter Sandman" from the 2016 Bridge School Benefit show.
Watch Metallica Perform "Enter Sandman" Live at 2016 Bridge School Benefit
Look: Metallica Just Made the Most Metal Looking Vinyl Turntable
Here's a look at Metallica's new $1599.00 turntable that's coming soon.
The 10 Highest-Charting Metallica Songs on the Hot 100