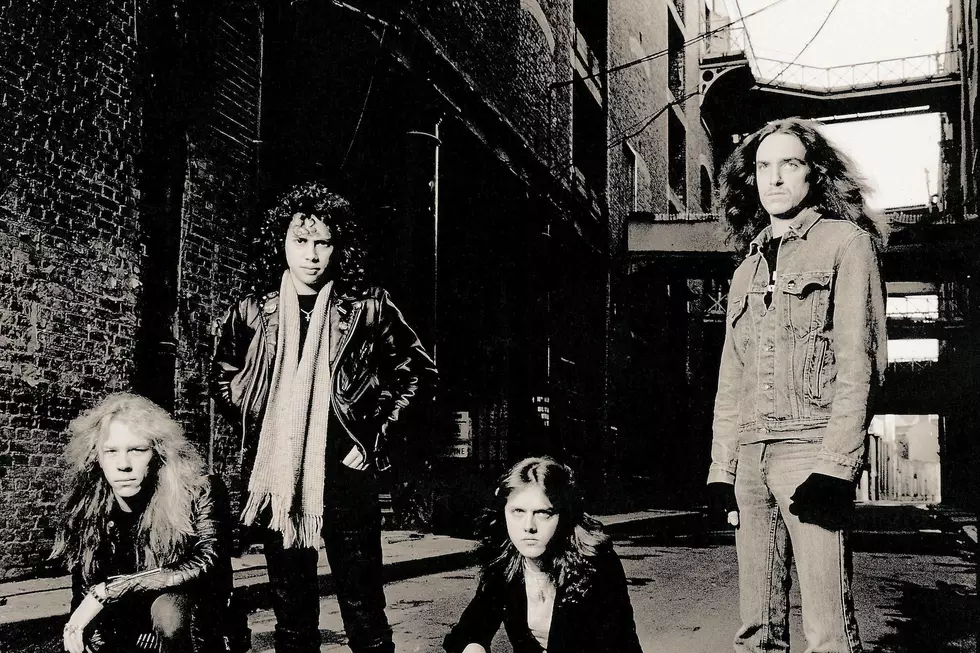 'The Ultimate Metallica Show' Recap: Celebrating the Life + Legacy of Cliff Burton
Ross Halfin, Official Metallica Website, Metallica.com
On Friday, Feb. 10, 2023, the heavy metal world celebrated what would have been Cliff Burton's 61st birthday. The Ultimate Metallica Show joined in on the celebration all weekend long with a full hour of nothing but songs that honored the Major Rager's life and legacy.
The bulk of the hour featured live performances from throughout Burton's time with Metallica, including two different recordings of "(Anesthesia) - Pulling Teeth," that always-evolving, never-the-same bass solo he was and still is so well known for; the first performance came from his first-ever show with Metallica in 1983 and the second was recorded at what would be his final show in 1986.
While we could have spent days honoring Burton, in the second hour we shifted gear just a bit as we put our focus on the latest—and final—release in the Metallica Vinyl Club: Leftovers From the Black Album Box Set. We listened to the record in full and then finished out the hour with a few other tracks from other Vinyl Club releases.
If you missed the show, you can stream it right here; check out the full playlist and recap below.
The Ultimate Metallica Show — Hour 1
"(Anesthesia) - Pulling Teeth" — Live at The Stone, San Francisco, California, March 5, 1983
"Damage, Inc." — Master of Puppets
"For Whom the Bell Tolls" — Live at Monsters of Rock, Donington Park, England, Aug. 17, 1985
"Ride the Lightning" — Ride the Lightning
"Master of Puppets" — Live at Aragon Ballroom, Chicago, Illinois, May 25, 1986
"Creeping Death" — Live at The Meadowlands, East Rutherford, New Jersey, April 21, 1986
"(Anesthesia) - Pulling Teeth" — Live at Solnahallen, Stockholm, Sweden, Sept. 26, 1986
"Whiplash" — Live at Metro, Chicago, Illinois, Aug. 12, 1983
The Ultimate Metallica Show — Hour 2
Don't forget, if you want to have a say in what I play on The Ultimate Metallica Show—or if you just want to share some of your favorite 'Tallica memories—drop me a line in the Ultimate Metallica app.
Watch Metallica Perform Live in Chicago on Aug. 12, 1983
10 Facts About Metallica's 'Master of Puppets' Only Superfans Would Know
In so many ways, Metallica would never be the same after Master of Puppets hit the streets on March 3, 1986.
Because fans already know a lot about the record—like how the title for "Leper Messiah" was inspired by lyrics to David Bowie's "Ziggy Stardust" or that "The Thing That Should Not Be" has roots in H.P. Lovecraft's writings—we decided to dig deep into the history of Master of Puppets to pull out 10 facts that only superfans would know.
Everything We Know About Metallica's '72 Seasons' So Far
What all do we know about 72 Seasons, Metallica's latest studio album that arrives on April 14, 2023? Here are all the details we can gather right now. Check them out below.