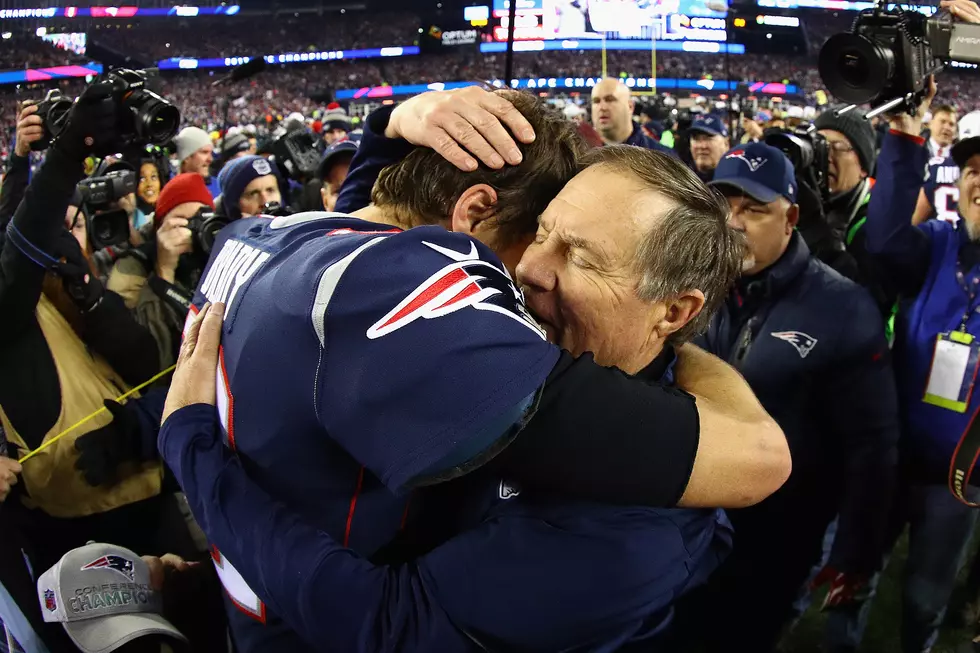 New England Patriots Coach Bill Belichick Makes Surprise Appearance on Tom Brady's Podcast
Getty Images
We all kinda saw it coming when it came to Tom Brady retiring. We all knew people would be skeptical that it's "for real" this time.
But what few predicted was the special guest who would crash Brady's podcast this week to offer praise that nearly brought the "GOAT" to tears.
No, it wasn't Gisele. Even crazier.
Bill Belichick.
After a behind-the-scenes feud rivaled only by the Market Basket Cousins, it seemed the best we could hope for was a dude-bro half-hug at Brady's halftime jersey retirement, from which Belichick would presumably bail to go watch game film.
Instead, The Hoodie was as vulnerable and affectionate as we've ever heard him (though still very much Bill). He held nothing back in sharing what Brady meant to him.
"The greatest player, the greatest career. A great, great person. It was such an opportunity and an honor for me to coach Tom. I guess it's gotta end at some point. But it's the greatest one ever. So, congratulations, Tom"
But it didn't end there. Belichick lent credence to the idea that, perhaps, he needed Brady just as much as Brady needed him (if not more):
"I learned so much from him, because nobody sees the game better than Tom Brady sees it or saw it, and I was so lucky to learn from him and his vision that — no other coach will get that experience."
Good for Belichick. For a coach often portrayed as power-hungry and bitter, it speaks volumes that he not only offered such kind words about Brady (and to his face), but right after his retirement.
It's just the latest display of what seems to be a less-rigid Patriots organization, following Robert Kraft treating a fan to a game in the owner's box after he remained calm while a Raiders fan berated him in a viral video.
Or, perhaps Belichick the Mentor simply recognized the many recent challenges faced by his one-time protégé (and now all-time great) and wanted to permanently show his support. Or, just wanted a discount on some of the Brady retirement sand on eBay.
You can listen to the entire interview here:
Bargain: You Can Rent Tom Brady's Tampa Home for $60K a Month
For
$60K a month,
you can enjoy six bedrooms and seven bathrooms located in the exclusively high-end Davis Island section of Tampa. You will enjoy breathtaking views of Tampa Bay from every angle of the home along with a pool, a spa, and a covered double deck which comes with a private boat dock and lift. There is also a custom wine cellar too. Check out how the G.O.A.T. lives.
29 Foods That "The Greatest Of All Time" Tom Brady Eats and Does Not Eat