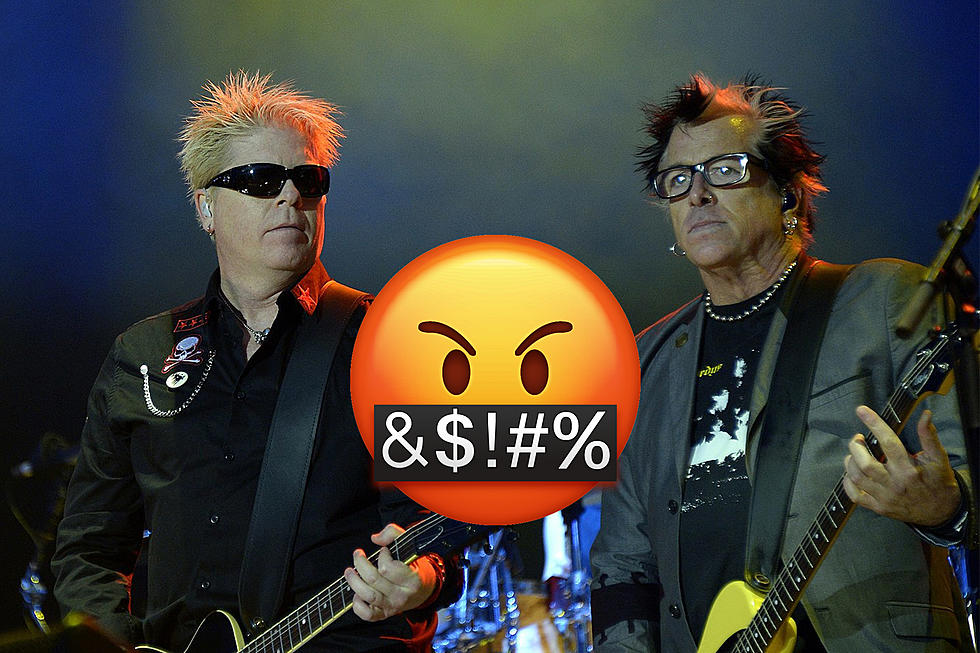 The Offspring Give Expletive Laden Apology For Anniversary Vinyl Reissue
Bertrand Guay, Getty Images
What the f--k? The Offspring have given an expletive laden apology for the anniversary vinyl reissue of their 2008 album Rise and Fall, Rage and Grace, as it apparently features all clean versions of the songs and they don't know why.
We've never seen quite an apology like this before, but don't read it out loud when the kids are around. For whatever reason, the 15th anniversary reissue of the band's eighth record doesn't have any swears on it, and the band is (hilariously) furious about it.
Any fan of The Offspring knows that we enjoy cussing on occasion, because sometimes there's just no substitute for a properly placed curse word. So you must understand how we were completely fucking horrified to find out that the 15th anniversary re-issue vinyl release of 'Rise and Fall, Rage and Grace' had the 'clean' versions of 'You're Gonna Go Far, Kid,' 'Nothingtown' and 'Stuff Is Messed Up' on it. We have no idea how this shit happened, we didn't even know there was a clean version! We and Roundhill are working to fix this bullshit ASAP. We will let you all know how and when this will be remedied but rest assured, goddamnit., that it will be fuckin' fixed! Thank you all for your patience, and please accept our deepest fucking apologies.
"Heartfelt words!" Noodles wrote in a tweet quoting the band's statement.
The reissue is currently still available on The Offspring's website, which includes a black vinyl LP of the album, as well as a 7" translucent red vinyl with live versions of "You're Gonna Go Far, Kid" and "Hammerhead" from their performance at Hellfest 2022. The set became available June 16 and is priced at $39.99.
READ MORE: Former Suicidal Tendencies, Marilyn Manson Drummer Brandon Pertzborn Joins The Offspring
Stay tuned if you're one of the individuals who's understandably unhappy with your copy of the album — they'll fuckin' fix it.
In the meantime, The Offspring have an upcoming tour booked for later this summer with Simple Plan and Sum 41. The 24-date run kicks off Aug. 1 and wraps up Sept. 3, but you can check out the full tour itinerary here.
15 Maligned Rock Albums of the 2000s That Deserve a Second Chance