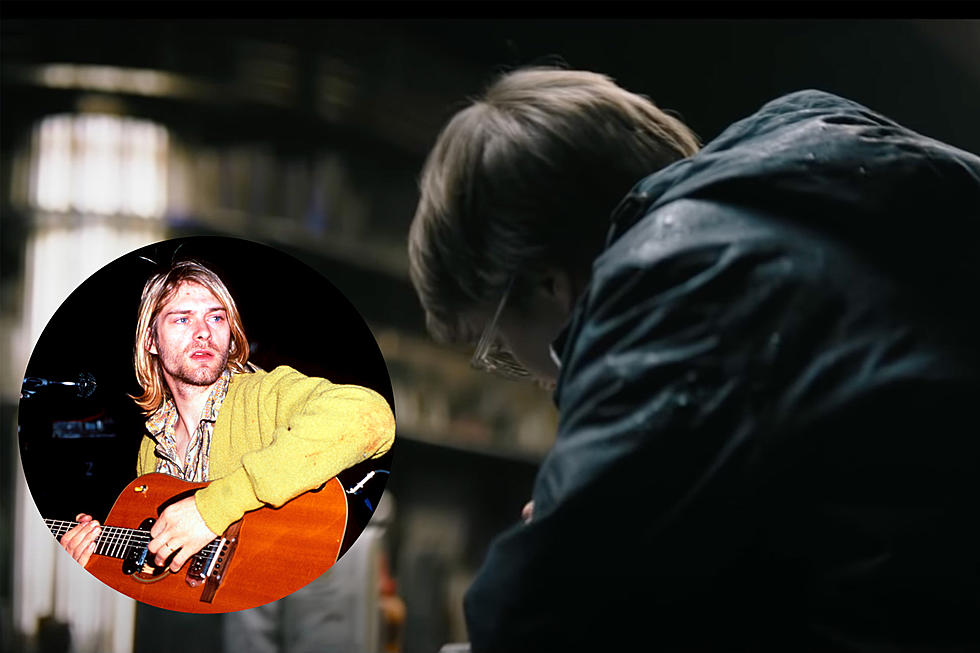 Paul Dano's Riddler Inspired by Nirvana in 'The Batman' Film
YouTube: Warner Bros. Pictures / Kevin Mazur, Getty Images
One of the first glimpses we got of the latest Batman adaptation in 2020 featured a chilling version of Nirvana's "Something in the Way" soundtracking the initial trailer. But it turns out that Nirvana had more ties to the Gotham universe than just the titular character. During an interview with NME, actor Paul Dano revealed that he utilized the band's music to stay in character as the film's central villain, The Riddler.
This latest version of Batman, from director Matt Reeves, definitely appears darker in tone than past adaptations and that darker tone also applies to its villain. While Batman is trying to eliminate criminals throughout Gotham, the Riddler has an even more cynical view hoping to wash the city clean by eliminating the criminals who hare hidden and embedded within the city. The mysterious figure often appears in silhouettes or shadows throughout the film, his identity often just out of reach.
"His sense of intent and purpose is greater than just being a serial killer," says Dano. "It's not just nature. You're not just born a psycho. The city of Gotham represents the nurture that he didn't receive."
While explaining what informed his character, Dano offered, "The first conversation Matt [Reeves] and I had was about hero and villain and the two sides of trauma they represent. That's sort of the seed from which everything grew. There were other things. Matt mentioned the Zodiac Killer (who left clues to his identity but was never caught), but that only got me so far. I read about other serial killers and blah blah blah…"
He then added, "There were other things that I read. There was music. There were tons of comic books."
The actor revealed that he always listens to music in between takes to remain in character, and his soundtrack for The Riddler started with Nirvana. "In the script Matt had actually mentioned 'Something In The Way' by Nirvana. So that right there, that song, those words, that refrain, became hugely important to me. Nirvana became a part of that [character]."
The song itself opens telling the story of a man living under a bridge where the animals he's trapped have become his pets, offering a certain sense of isolation to the character.
The actor also added that the orchestral piece "Fanfare for the Common Man" also inspired the character in a unique way. "There's almost a sort of irony there. It's this big, American horn sound, and The Riddler is playing on that." Both songs have made the film's soundtrack, but the actor kept his other inspirations "private and personal."
The Batman, starring Robert Pattinson, Zoe Kravitz and Dano, is in theaters now.
The Batman Trailer
25 Actors Who Transformed Into Real Life Rock Stars