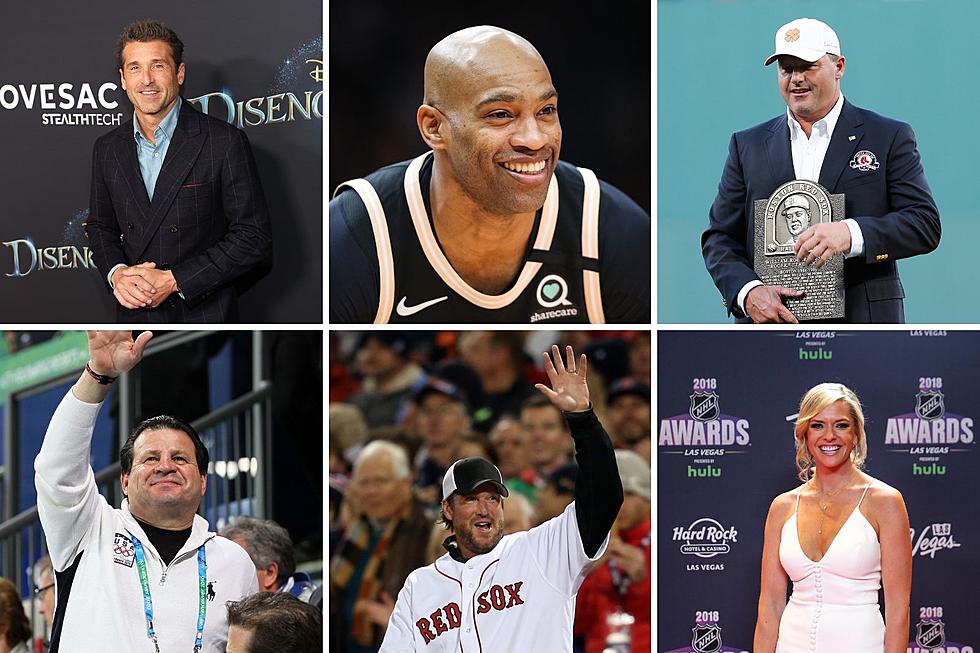 Tee Times Set for Celebs Playing This Week's Benefit Golf Tournament in Maine
Getty Images
Celebrities from the entertainment, music, and sports worlds will be hitting the links in Maine this summer for what should be one heck of a benefit tournament that kicks off later this week.
After two successful years of hosting the PGA Korn Ferry Tour, Shamrock Sports & Entertainment announced a celebrity golf tournament to be held starting on June 21, 2023. The event will once again be hosted by the Falmouth Country Club, just a short drive from Portland.
Brian Corcoran from Shamrock has spoken enthusiastically about the upcoming tournament, which includes an amazing charitable benefit for the Barbara Bush Children's Hosptial at Maine Med.
"We are committed to driving significant charitable, community and economic impact to our region," said Brian Corcoran, Chief Engagement Officer and Founder of Shamrock Sports & Entertainment and Executive Director of Drive Fore Kids. "We are proud to partner with The Barbara Bush Children's Hospital and have set a goal to raise $100,000 for them through tournament net proceeds and special events throughout the tournament week."
The celebrity field had been steadily filling up with exciting announcements over the past few months. Now we finally have a look at the total field, and it's impressive. Patrick Dempsey, Roger Clemens, Michael Pena, Kathryn Tappen and many others are ready to tee off for golf supremacy and for a great cause.
The total prize purse for the celebrities is $250,00, with the winner bringing home $50,000. That's not a bad chunk of coin for a weekend of work. Plus, is golf really work?
This is a very exciting opportunity for golf fans here in Maine. As great as it was having the PGA feeder tour here for a few years, this has the potential of being downright huge.
But we all know what it's truly about, and that's giving back. Kudos to all the players, sponsors, and folks behind the scenes for putting together such a beautiful event for the Barabra Bush Children's Hospital.
Shamrock has released the tee times for both the Thursday's Celebrity Pro-Am and the First Round on Friday.
Here is a closer look at Friday's First Round pairings.
10a
Tim Wakefield
Kevin Millar
10:12a
Derek Lowe
Clay Buchholz
10:24
Taylor Twellman
Tuukka Rask
10:36a
Katheryn Tappen
Noelle Lambert
10:48a
Ronnie Russell
Robbie Gould
11a
Michael Pena
Chad Pfeifer
11:12a
Jack Sock
Harrison Smith
11:23a
Roger Clemens
Jeremy Roenick
11:36a 
Vinny Del Negro
Vince Carter
11:48a
Ronde Barber
Marshall Faulk
12p
Mike Modano
T.J. Oshie
12:12p
Sterling Sharpe
Eric Weddle
12:24p
Jack Wagner
Mike Vrabel
12:36p
Doug Flutie
Mike Eruzione
12:48p
Blair O'Neal
Patrick Dempsey
To buy tickets or learn more details about the event, visit the tournament's website, or follow them of their Facebook and Instagram pages.
Here is a look at the upcoming schedule of events.
Thursday, June 22
-9a: Gates Open
-10a: VIP Lounges open & Celebrity Pro-Am
Friday, June 23
-9a: Gates Open
-10a: VIP Lounges Open & Celebrity Tournament Start of Play
-5:30p: Projected End of Play
-6:00p: Dunkin Karaoke & Hello Newman will Perform
Saturday, June 24
-9a: Gates Open
-10a: VIP Lounges Open & Celebrity Tournament Start of Play
-5:00p: Projected End of Play
-5:30p: Champions Ceremony on 18th Green
Take a look below to see a closer look at this loaded field. It's going to be exciting to see so many stars up close and on the course. This is an event you won't want to miss.
Complete List of Celebrities Playing in The Maine "Drive Fore Kids" Golf Tournament
Here is a closer look at the celebrities who will be teeing it up at Falmouth Country Club June 21-24 for the "
Drive Fore Kids
" Charitable Tournament.
Where to Play Miniature Golf in Maine
The golf season is upon us. The mini golf season that is. Here's a comprehensive list of where you can go drop those hole-in-ones across Maine.