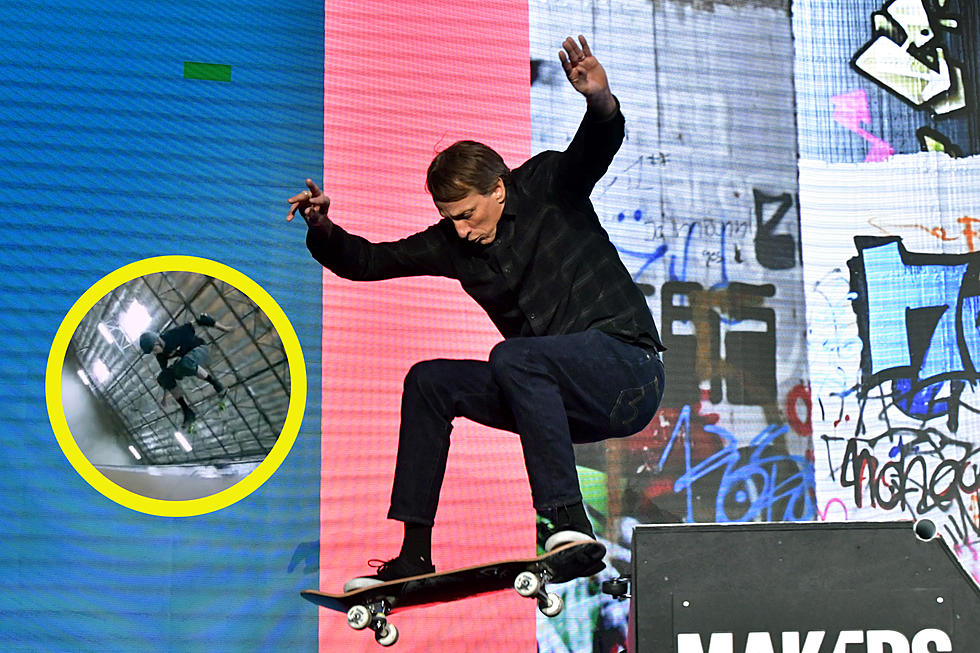 Tony Hawk Shares Update One Year After 'Most Traumatic Injury of My Life'
Emma McIntyre, Getty Images / Twitter: Tony Hawk
March 7, 2022 is a day that skateboarding legend Tony Hawk won't forget. This time last year he was just starting the recovery from what he called "the most traumatic injury of my life." Now, a year later, Hawk has posted a series of tweets and some video providing an update on the highs and lows of the past year recovering from his broken femur.
Hawk is not only known as a skateboarding icon, but his name also brands one of the most popular skateboarding video games in the history of video games. He's also parlayed his success into the commercial world, even playing upon his recovery in a TikTok commercial that aired just a few months ago.
But in March of last year, Hawk took a spill that resulted in a broken femur. In an Instagram message to fans at the time, the skateboarder offered, "I broke my elbow 20 years ago and managed to make a full comeback; this recovery for a broken femur will be much harder because of its severity (and my age). But I'm up for the challenge."
He later added, "I'll be back... maybe not at full capacity but I resigned to that notion years ago as I approached 'mid-life.' Thanks to my unyieldingly supportive, tolerant family—and all of you—for the love and support through the years; I wouldn't be here without you. See you on the other side."
Now, a full year removed from the injury, Hawk has provided an update, reflecting on his late 2022 setback that resulted in a second surgery and sharing video of himself back on a skateboard as he attempts to resume his recovery in a manner that doesn't result in another setback.
READ MORE: Tony Hawk Shares Incredible Story of Iron Maiden Skateboard Painted by Kurt Cobain
"A year ago I had the most traumatic injury of my life. It hasn't been the recovery I wished for, more like the recovery I deserve for trying to cheat a realistic timeline," writes Hawk. "My first comeback attempt was shattered early on because I ignored warning signs that my body wasn't ready. I was in denial for months, pushing through constant pain and trying to force skating even though I literally didn't have a leg to stand on. I put my close ones through regretful, worrisome times in those cavalier days, and I can only apologize for being too rushed and careless."
He continues, "My leg was realigned during a second surgery in Nov and it has been a gift of modern medicine. I've been patient & disciplined in my approach this time. So here is the state of things: I'm back, sorta. My skills aren't ready for prime time but I'm happy to share my progress here."
The skateboarder then shared video of himself on a skateramp getting some air, but not pushing himself too vigorously.
"I'm still standing… and leaning into a proper recovery, both figuratively & literally," says Hawk. "Thank you for all of the support through this tumultuous journey. To those struggling with recovery of any sort: stay strong, patient & be kind to yourself. Our wheels have not fallen off yet."
The 10 Best Video Game Soundtracks, Ranked