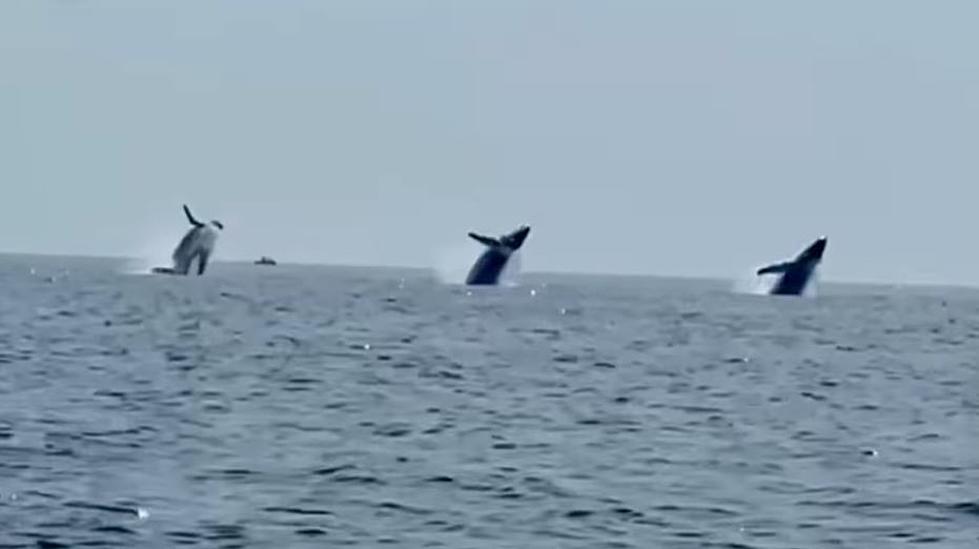 Unbelievable Video of 3 Whales Breaching Off New England Coast at the Same Time
Courtesy Robert Addie via Boston 25 News
One lucky Portsmouth, New Hampshire family caught a Seaworld show in the wild.
Robert Addie from New Hampshire was with his family fishing off the coast of Provincetown, Massachusetts when the most amazing thing happened in view of his boat. 3 beautiful whales breached the water all in unison and all in view. What a catch! Better than any fish on a line.
It was shared on Boston 25 News. This happened back on July 24. Robert was out with his daughters and son-in-law and just happened to be filming at the perfect time! A young whale then did his own solo act about 500 yards away from their boat.
While fishing Robert told Boston 25 News that he's had whales approach and even rub up against his boat, but nothing compared to what he caught. It really is stunning. Robert is not a novice in the water. He told Boston 25 News,
I've been on the water a long time. I've worked sword and tuna out of Gloucester. I worked fishing in Alaska as a young man and I've seen a lot of whales. I'll tell ya, I've never seen a triple in sync like that...Every time I take my phone out to take a picture of these guys, they go away. And bang. Just pure luck. Wow, what a sight!
It was confirmed that they are humpback whales. Although it's not uncommon for humpbacks to breach together, three at once is a bit rarer.
It's always such a treat to see a whale. I don't know why it's shark week, it should be whale week!
LOOK: The largest lottery jackpots in US history
Stacker
compiled a list of the 15 largest lottery jackpots in U.S. history from news reports and lottery press releases.
[This list is current as of July 25, 2023.]