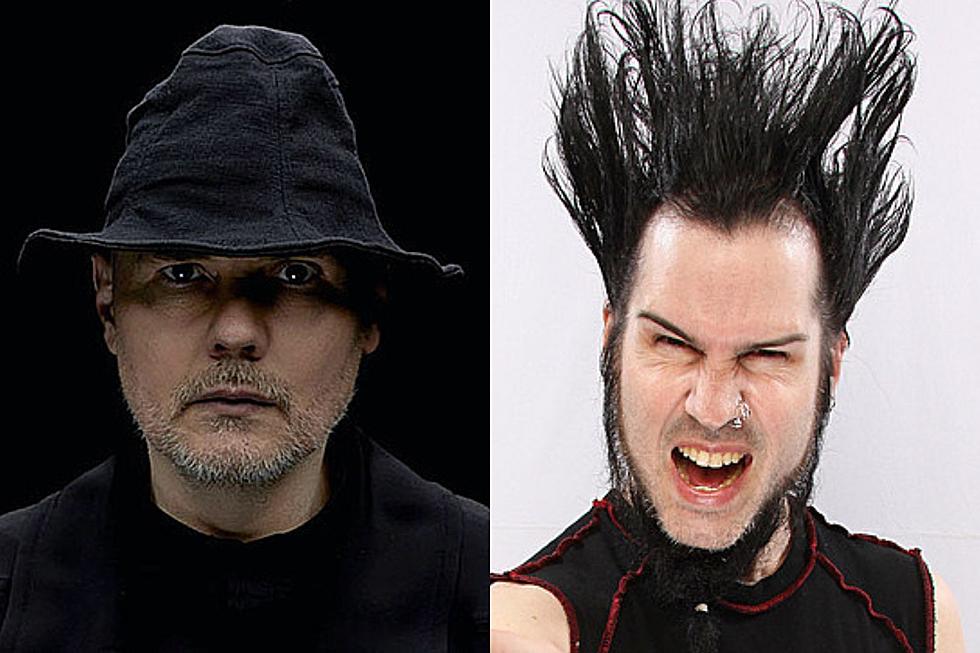 Wayne Static, the Smashing Pumpkins' Billy Corgan Were Almost in a Band Together
Reverb/Billy Corgan, Mick Hutson, Redferns/Getty Images
The history of rock and metal is littered with bands that could have been and supergroups that almost happened. One of these never-to-be bands caught our eye recently: a group with Wayne Static and the Smashing Pumpkins' Billy Corgan.
Corgan recently appeared on Sirius XM Jose Mangins Metal Ambassador Podcast. During the interview, Corgan opened up about his friendship with Static, how he turned down an offer to be in a band together, and the impact Static had on music.
The year is 1987. Static had long, straight black hair and was in Deep Blue Dream —a band named after a lyric by the Doors that, according to Corgan, "would've been successful as an alternative band if they'd stayed with it." Corgan was starting his own band at the time, and the two shared some rehearsal space.
Corgan told SiriusXM how Static asked him to join Deep Blue Dream one day. "I said, 'Well, I'm just starting this other band called The Smashing Pumpkins.'" However, Corgan did perform at some gigs with Deep Blue Dream when the Pumpkins were just starting out.
Eventually, there came a point where Deep Blue Dream were drawing a lot of attention locally and nobody knew who the Pumpkins were. Static came to Corgan and said, "Why don't you join our band? We're gonna be big." Determined to have his own band, Corgan refused. The two eventually lost touch, though they always remained friendly with each other.
Fast forward to the mid-1990s. Corgan is standing in the balcony at a Pantera show when a man comes up to him dark black hair sticking straight up, as though he'd just been struck by lightning. "Billy, it's Wayne," the man says.
Corgan told  SiriusXM: "I was like, 'Oh my god, what happened to you?' He's like, 'I'm just starting this band,' and he was telling me about it and I remember thinking, 'Oh man...This is the height of grunge. You're starting a metal band. That's gonna be a tough one,' but I knew Wayne was talented, and so we had a nice conversation. I wished him luck, said, 'Stay in touch.' Next thing you know, a couple years go by and there's Wayne on MTV with the crazy hair and what's interesting is, I always knew Wayne was a talented guy, but I think what's cool is I think people now realize that Static-X was one of those bands that was way ahead of the curve because Wayne was that type of dude."
"I was so happy for him," he continued, "because he was just a great dude and if anybody ever knew Wayne, he's just solid gold and his life ended too soon like a lot of people's do in this horrible business that we're in, but I could just sit here and say forever I knew the man and he was just a great person."
Corgan is currently on The World Is A Vampire tour with the Smashing Pumpkins. Make sure to grab your tickets here.
53 Rockers Who've Been in Multiple Successful Bands