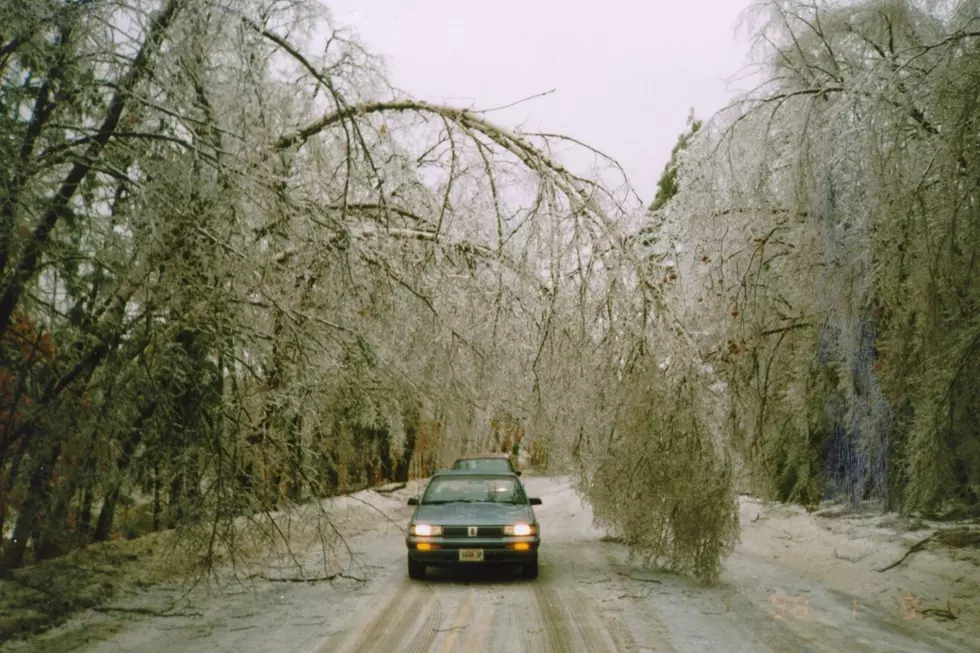 Where Were You? 25 Mainers Share Stories of the Ice Storm of 1998 on Its 25th Anniversary
Maine DOT via Facebook
It only seems like yesterday for me and many Mainers who were there during the ice storm of 1998, one of the worst natural disasters in Maine history.
Hundreds of thousands of Mainers were without power as a storm system parked over Maine for three days straight, dumping freezing rain that coated trees and power lines with over an inch of ice. Unable to bear the weight, trees and utility poles came crashing down. Eight people died due to storm-related incidents.
I remember it very well as I was in my second year at Q97.9 and was living at my grandmother's home on Sebago Lake, where you drove over a small dirt road through the woods to get it. Except no one was going over the river and through the woods to grandma's house after a tree fell and blocked the route out. I couldn't get to work until the tree was cleared.
Power was out for about 10 days, but luckily the house was fine, unlike many others who had pipes burst or worse, a tree fall on their house.
When I finally got out, it was hard to believe what I was seeing in pictures like these posted by the Maine DOT.
Governor Angus King declared a state of emergency and fleets of utility trucks and crews flew into Maine on cargo jets to help restore power.
We've had hurricanes and blizzards in Maine, but nothing has compared in my lifetime to the ice storm of 1998.
Several Mainers recalled their memories of this epic storm on the MaineDOT Facebook page. Here are a few of them.
Where Were You? 25 Mainers Share Stories of the Ice Storm of 1998 on Its 25th Anniversary
On the MaineDOT Facebook page, several Mainers recalled their memories of this epic storm. Here are 25 of them.
25 Places People Want to See at Rock Row in Westbrook, Maine