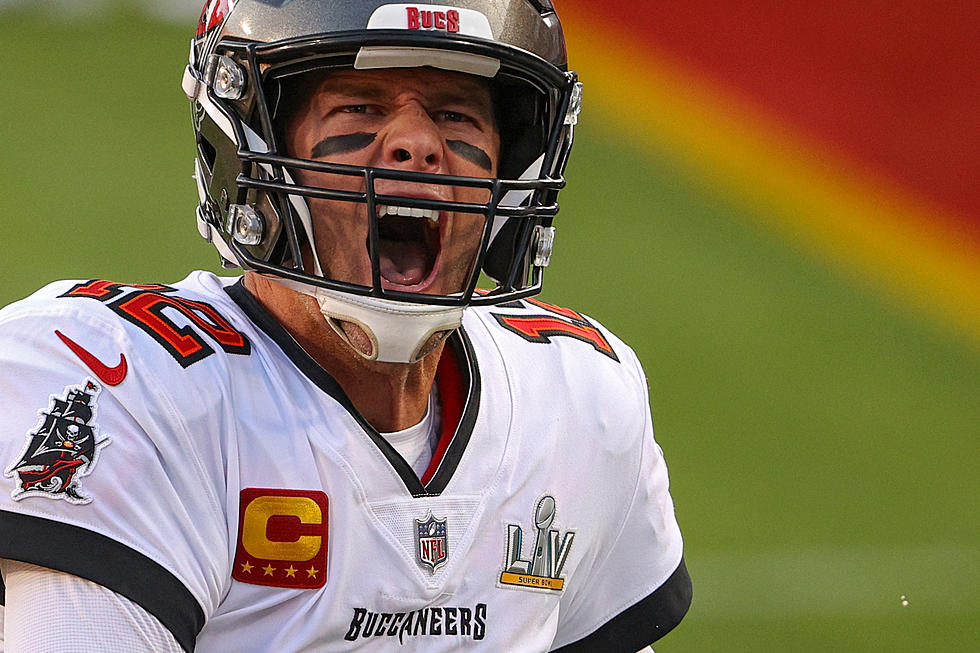 You Mainers Want Tickets to See Tom Brady's Return To Gillette? It's Going To Cost You Big $$$$
Getty Images
The NFL released the New England Patriots 2021 schedule this week, so we now know for sure when Tom Brady and Rob Gronkowski will be making their return to their old stomping grounds of Gillette Stadium. The Super Bowl Champion Tampa Bay Buccaneers will take on our Pats on October 3rd, in a Sunday night prime time matchup. This will be a historic game, and if you want to watch it in person, you better be ready to break the bank.
We looked at the latest prices for this game on the secondary market, and they are incredible. The cheapest ticket is going to cost you over $1,110. If you want to be near the action on the 50-yard line, that will cost you $12,000. That's per ticket, bub. That's pretty much Super Bowl level prices. 
The 12 grand per ticket pales compared to some of the most expensive sporting event tickets of all time. Tickets to the Floyd Mayweather/Conor McGregor fight in 2017 cost over $100,000 PER ticket.
The Return of Brady to Pats Country game could also be historic for another reason. TB12 enters the 2021 season, 1,154 yards behind the all-time career passing record that the now-retired Drew Brees currently holds. However, if Brady keeps up his normal passing yards per game rate, he would be poised to break that record at Gillette on October 3rd. Talk about motivation for Tom!.
NEW ENGLAND PATRIOTS 2021 SCHEDULE
Thursday August 12 vs. Washington 7:30 Preseason
Thursday August 19 at Philadelphia 7:30 Preseason
Sunday August 29 at New York Giants 7:30 Preseason
Sunday September 12 vs. Miami Dolphins  4:25 p.m.
Sunday September 10 at New York Jets 1 p.m
Sunday September 26 vs. New Orleans Saints 1 p.m.
Sunday October 3 vs. Tampa Bay Buccaneers 8:20 p.m.
Sunday October 10 at Houston Texans 1 p.m.
Sunday October 17 vs. Dallas Cowboys 4:25 p.m.
Sunday October 24 vs. New York Jets 1 p.m.
Sunday October 31 at Los Angeles Chargers 4:05 p.m.
Sunday November 7 at Carolina Panthers 1 p.m.
Sunday November 14 vs. Cleveland Browns 1 p.m.
Thursday November 18 at Atlanta Falcons 8:20 p.m.
Sunday November 28 vs. Tennessee Titans 1 p.m.
Monday December 6 at Buffalo Bills 8:15 p.m.
Sunday December 12 Bye Week
Flex Game (Saturday or Sunday December 18/19) at Indianapolis Colts TBD
Sunday December 26 vs. Buffalo Bills 1 p.m.
Sunday January 2 vs. Jacksonville Jaguars 1 p.m.
Sunday January 9 at Miami Dolphins 1 p.m.
LOOK: What are the odds that these 50 totally random events will happen to you?
Stacker
took the guesswork out of 50 random events to determine just how likely they are to actually happen. They sourced their information from government statistics, scientific articles, and other primary documents. Keep reading to find out why expectant parents shouldn't count on due dates -- and why you should be more worried about dying on your birthday than living to 100 years old.

."}" data-sheets-userformat="{"2":33555201,"3":{"1":0},"11":4,"12":0,"28":1}">
10 Fun Facts You Might Not Have Known About Maine