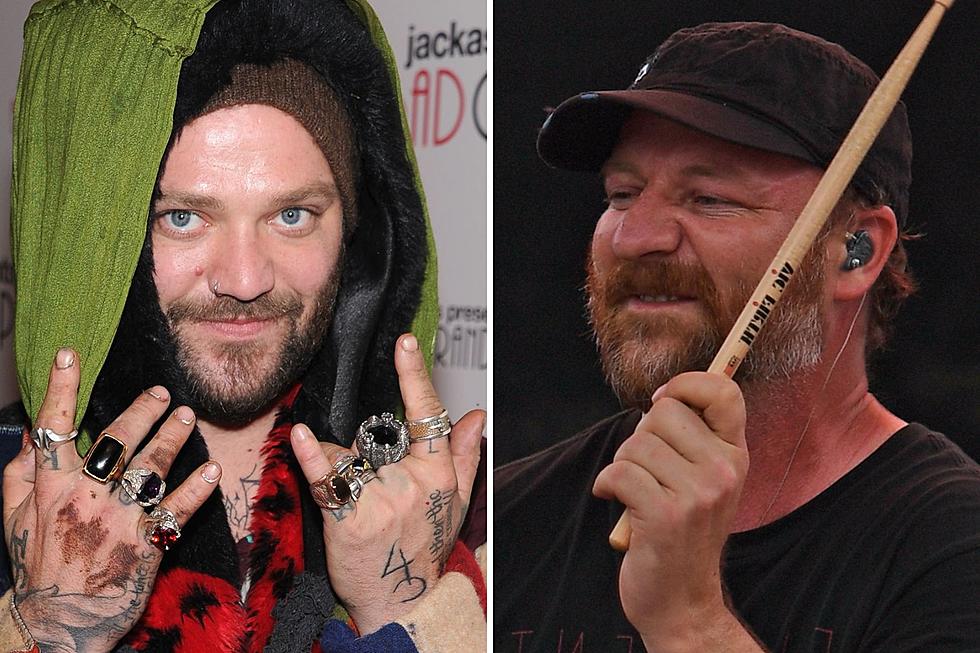 Bam Margera Turns Himself in After Reportedly Threatening Brother, Fleeing
Dimitrios Kambouris / Corey Perrine, Getty Images
UPDATE (April 27, 2023): Bam Margera has turned himself in to authorities after reportedly threatening his brother, Jess Margera, and fleeing from his home. That's according to WCAU NBC 10, the Philadelphia NBC affiliate, which reported that a judge had arraigned the reality star on Thursday before he was released on $50,0000 bond, as recent court records show.
Bam faces a preliminary hearing in May.
"On April 23, at 11:00 a.m, troopers from the PSP Avondale Station responded to the 400 block of Hickory Hill Road, in Pocopson Township, Chester County, for a reported disturbance," Pennsylvania State Police said in a statement this week, via WGAL News 8. "The investigation determined Brandon 'Bam' Margera, age 43, of Thornton, PA, was involved in a physical confrontation with the victim, who suffered minor injuries."
Per Yahoo!, Bam reportedly commented in an Instagram post following the arraignment. According to The Pit, Bam wrote that the accusations were "false" and that he would sue his brother for "defamation."
Bam added, "This happened … because I read his phone saying he wants me back in California and he wants to find a way to 302 me." A 302 is evidently a dispatch code for a mental health crisis.
Bam stands charged with simple assault, harassment and four counts of terroristic threats. Read Loudwire's original report from April 24 under the video below.
Bam Margera is wanted by police after the embattled Jackass star reportedly threatened his brother, CKY's Jess Margera, and then fled into the woods near his Pennsylvania home, per TMZ.
As laid out in a police report obtained by the celebrity tabloid, Bam allegedly began knocking on Jesse's bedroom door in the home at approximately 8AM on April 23 before apparently leaving behind a signed letter that told Jesse, "If you even f***ing think of calling the police on me I will officially f*** you up."
READ MORE: HIM's Ville Valo Offers Comment on Bam Margera's Recent Struggles During Interview
From there, Jesse reportedly went downstairs to find Bam allegedly peeing in a sink, and a fight apparently broke out between the two.
Per TMZ:
In the docs, Jesse claims Bam wailed on him and struck him multiple times in the head — and cops make a note of this in their report, noting visible injuries they say they observed.

After the brawl, Jesse goes on to allege that Bam said, 'I'll kill you. I'll put a bullet in your head.' Jesse also told police that Bam allegedly said he'd also kill everyone in the house … the occupants of which, at the time, included his dad Phil and two other women. Jesse told police that Bam fled into the woods behind their house after this … and cops say they came up short when they went looking for him.
Bam is now wanted on a "slew of criminal charges," the tabloid said after State Troopers responded to the disturbance near Pocopson Township around 11AM that day. Bam was already gone when they arrived. A warrant has been issued for Bam's arrest.
Bam Margera's Past Troubles
In the past, Bam's behavior has caused concern. Last month, the celebrity also known for Viva La Bam and CKY was arrested on suspicion of domestic violence.
In January, Bam addressed his history of addiction struggles. The star said he was "pronounced dead" after being hospitalized with COVID-19 and pneumonia last year. Before that, he was in and out of rehab, and he also entered a 12-month rehab program.
Bam first found fame skating in films such as 1999's CKY. He hit peak popularity in the 2000s when he starred in his own show, Viva La Bam. Bam is also in 25 episodes of the original Jackass series. He appears in the first three Jackass films and makes a brief cameo in Jackass Forever, the latest Jackass film.
Please be aware that if you or someone you know is struggling with drugs or alcohol, help is available through Substance Abuse & Mental Health Services — dial 1-800-622-HELP (1-800-622-4357).
If you or someone you know is facing domestic abuse, please contact the National Domestic Violence Hotline — call 800-799-SAFE (800-799-7233).
35 Important Rock + Metal Albums Turning 20 in 2023
Two decades later and these rock and metal albums released in 2003 still hold up.