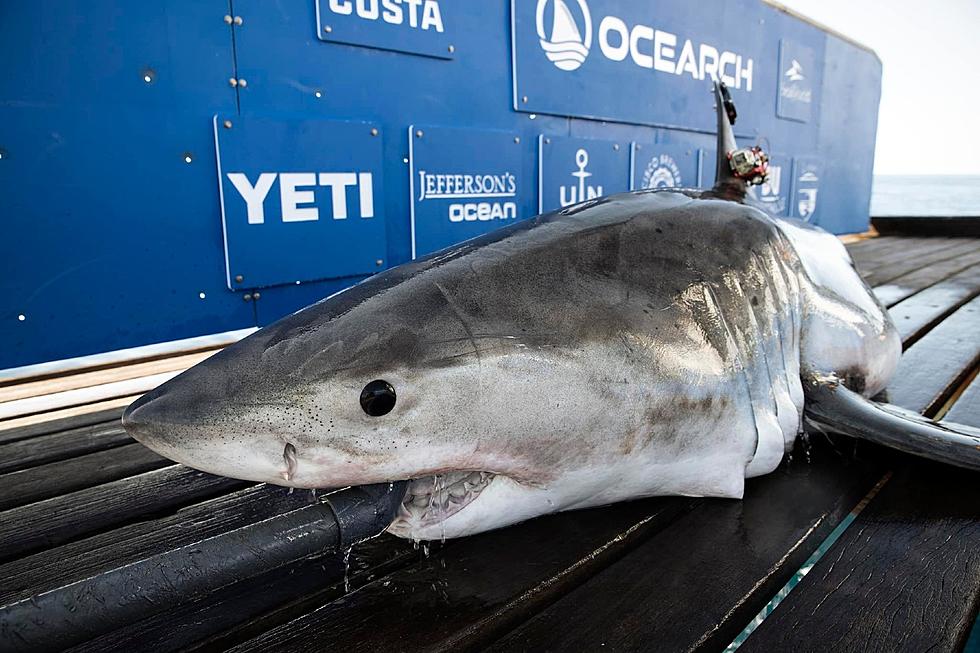 A 10-Foot, 500-Pound Great White Shark Spotted Off the Coast of Portland, Maine
Facebook via OCEARCH (Chris Ross)
There was a time not long ago where the idea of several great white sharks roaming the waters off the coast of Maine didn't seem real. With advanced technology tracking shark movements, not only has it become a reality, it's starting to feel almost commonplace.
Shared on Facebook, OCEARCH shared that another juvenile white shark had found her way to northeastern waters, this time off the coast of Portland, Maine.
The shark is named Penny, and while she's a juvenile, she's no small fish. When OCEARCH met her back in April, Penny was already more than 10 feet long and weighed over 500 pounds. With a prime feeding season ongoing, Penny is likely even larger right now.
Weeks ago, a great white shark named Anne Bonny was spending some serious time perusing the waters of the northeast, and had a close encounter with a popular New Hampshire beach. Her path was tracked by OCEARCH, a non-profit organization that helps collect and share data involving ocean species, including sharks.
Anne Bonny has spent the majority of August in Maine waters, where she "pinged" off the coast of Cape Elizabeth, Sheepscot Bay, and Vinalhaven. Her latest activity has been tracked all the way into the Bay of Fundy. Eventually, Anne Bonny is likely to make her way back down the eastern seaboard.
As for Penny, OCEARCH hasn't had any new "pinging" from her since the end of July. If she follows a similar feeding path to Anne Bonny, Penny is probably still in or around Maine waters. There's also three other great white sharks OCEARCH is tracking in deeper waters further off the coast of Maine.
---
20 Greater Portland, Maine, Restaurants That Have Been Featured on National Television Shows
Here's a list of 20 prominent Greater Portland, Maine restaurants that have been featured on national television shows. This is a great representation of the region's incredible food scene.
LOOK: 30 fascinating facts about sleep in the animal kingdom