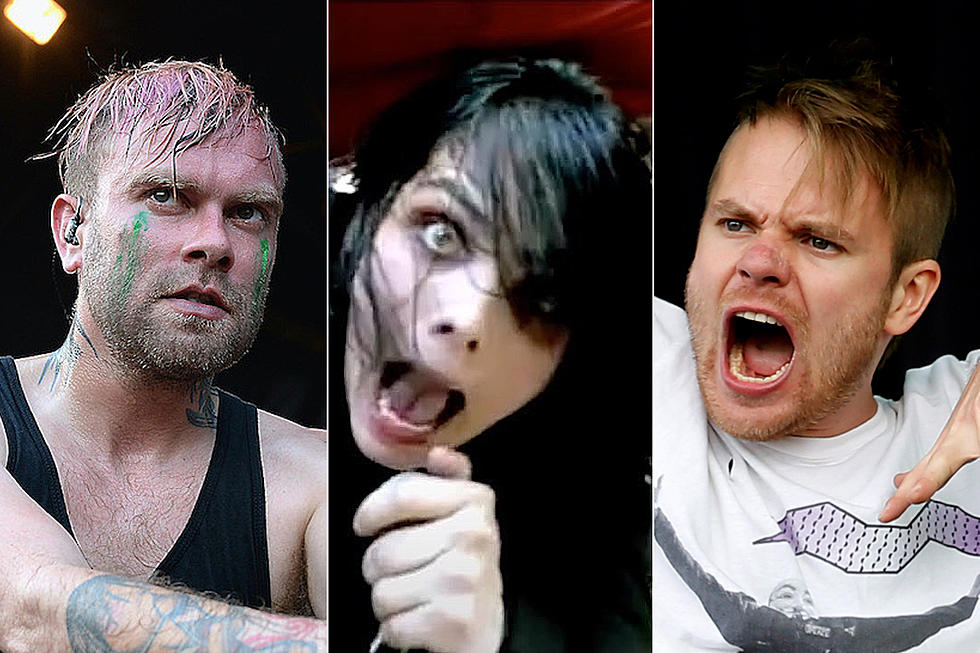 10 Emo Songs That Are Actually Really Heavy
Theo Wargo, Getty Images / YouTube: My Chemical Romance / Simone Joyner, Stringer/Getty Images
Emo is, of course, the most emotional of genres. From big-hitters such as My Chemical Romance to contemporary proponents of the sound such as Ice Nine Kills, emo bands have always performed music characterized by emotive angst and lyrical openness.
But when it comes to their music, the criticism from die hard rock and metal lovers is that things get too sappy, with not enough crunch present in the instruments to balance out the poetic despair. Sometimes, that may be the case, but so too can emo bands go hard, and draw influence from some of metal's biggest and heaviest acts.
READ MORE: 25 Amazing Pop-Punk + Emo Albums With No Weak Songs
Here, in celebration of emo's connection to the heavier side of rock and metal, we've picked 10 Emo Songs That Are Actually Really Heavy for you to enjoy….
My Chemical Romance, "Our Lady of Sorrows"

Before taking over the world as the flag bearers for mid-2000s emo, My Chemical Romance's early years were characterized more heavily by the band's metal influences. Case in point: "Our Lady of Sorrows," taken from debut LP I Brought You My Bullets, You Brought Me Your Love, finds the four-piece at their scrappiest and most raw. The vocals of Gerard Way in particular are up there with some of the most gnarly the MCR frontman has put his name to, his demonic screams bringing "Our Lady of Sorrows" to a harrowing conclusion.

Escape the Fate, "The Guillotine"

The first in a series of Escape the Fate songs titled "The Guillotine" (there's four in total, the last of which was performed by ex-frontman Ronnie Radke's new outfit Falling in Reverse), this cut from much-loved 2006 LP Dying is Your Latest Fashion is filled with the kind of riffs and breakdowns more often associated with metalcore than the emo scene.

Those metallic moments oscillate throughout with Escape the Fate's more melodic qualities, as Radke jumps between saccharine singing and rugged growls, while the guitars of Monte Money and Omar Espinosa deliver some impressive shredding.

The Used, "Sound Effects and Overdramatics"

The album to which "Sound Effects and Overdramatics" belongs — 2004's In Love and Death — features some of the Used's most melodic moments, but across the band's catalog, there aren't many tracks that match this one at its heaviest.

Vocalist Bert McCracken's words are strained and tortured throughout, while the breakdown that precedes the song's climax is a delightful dose of heavy-hitting emo.

Fans of the Used at their heaviest are well advised to check out 2009 LP Artwork, which finds the four-piece going at it with a chaotic and seriously heavy attitude.

Enter Shikari, "Sorry You're Not a Winner"

Brit heroes Enter Shikari's sound has continually evolved throughout their career, and the four-piece has garnered a reputation as one of modern rock's most innovative bands. They got their start very much in the emo scene, though, and early fan-favorite "Sorry You're Not a Winner" remains a scene kid classic to this day.

Combining the band's love of electronica with more traditional screamo fare, it's a unique track whose influence continues to be felt almost 20 years on from its release.

Underoath, "Everyone Looks So Good From Here"

"Everyone Looks So Good From Here" features a terrific vocal performance from Underoath frontman Spencer Chamberlain, who puts in one of the best examples of screaming to come out of the mid-2000s emo boom.

The breakdown, meanwhile, goes hard, as the band brings in some doom metal overtones to drive things to a thunderous conclusion.

The Blackout, "I'm a Riot? You're a Fucking Riot!"

British rock outfit the Blackout split back in 2015, but in their 12 years as a band, the sextet brought plenty of emo offerings to the table that lay at the heavier end of the genre's sound.

Early cut "I'm a Riot? You're a Fucking Riot!" is a fine example of the love of all things heavy that lay at the heart of the band's sound, as screamer Sean Smith's cries trade off with the groovy riffs of guitarists Matthew and Bob Davies. Those who like what they hear will be pleased to know Smith and Bob Davies are still making music with new band Raiders, who dropped their latest track "Animal" toward the end of 2021.

Ice Nine Kills, "Assault & Batteries"

One of the most barnstorming acts in contemporary emo, Ice Nine Kills produced some of their best ever material on their LP Welcome to Horrorwood: The Silver Scream 2, which dropped in late 2021.

Spencer Charnas and co.'s grasp on emo's heavier qualities is best demonstrated by "Assault & Batteries," which contains both the dramatic qualities associated with scene classics such as My Chem's The Black Parade, but also the chugging guitars and hell-raising growls that are firmly the property of heavy metal.

There's no-one out there doing things quite like Ice Nine Kills right now.

Bullet For My Valentine, "Tears Don't Fall"

Some might argue "Tears Don't Fall" is more of a metal track than an it is an emo one, and while it probably sits somewhere in between the two, there's no denying Bullet For My Valentine's early hit contains many of the hallmarks of any good emo song — emotional heft, impassioned delivery and that indescribable quality that hits you right in the feels.

Paired with that emotive weight, though, is a large helping of metallic thunder, courtesy of Matt Tuck and Michael Paget's guitars, and the meteoric drumming of Michael Thomas.

Pierce The Veil, "Dive In"

The modern era of Pierce the Veil has seen the band lean more toward the melodic side of their sound, and that's something you can hear on "Dive In," and the album to which it belongs, 2016's Misadventures. But despite popular tracks such as "Circles" showcasing the band's potential to be a radio-rock-bothering proposition, "Dive In" demonstrates that they haven't forgotten the heavier side of their roots.

The main helping of heaviness here comes by way of the breakdown, where chugging guitars and an in-your-face solo drive things home with plenty of power.

From First to Last, "Ride The Wings of Pestilence"

Echoing the bloody, graphic style of emo made popular by MCR and the Used, From First to Last were another bright hope for emo to emerge in the mid-2000s, with classic LP Dear Diary, My Teen Angst Has a Bodycount featuring some seriously heavy moments.

"Ride The Wings of Pestilence" is the pick of the bunch in that regard, and there are moments of serious crunch throughout its 3-and-a-half minutes. Like all the best heavy emo songs, the breakdown goes hard, as vocalist Sonny Moore screams the titular lyrics before proceedings come to an abrupt, chilling end.