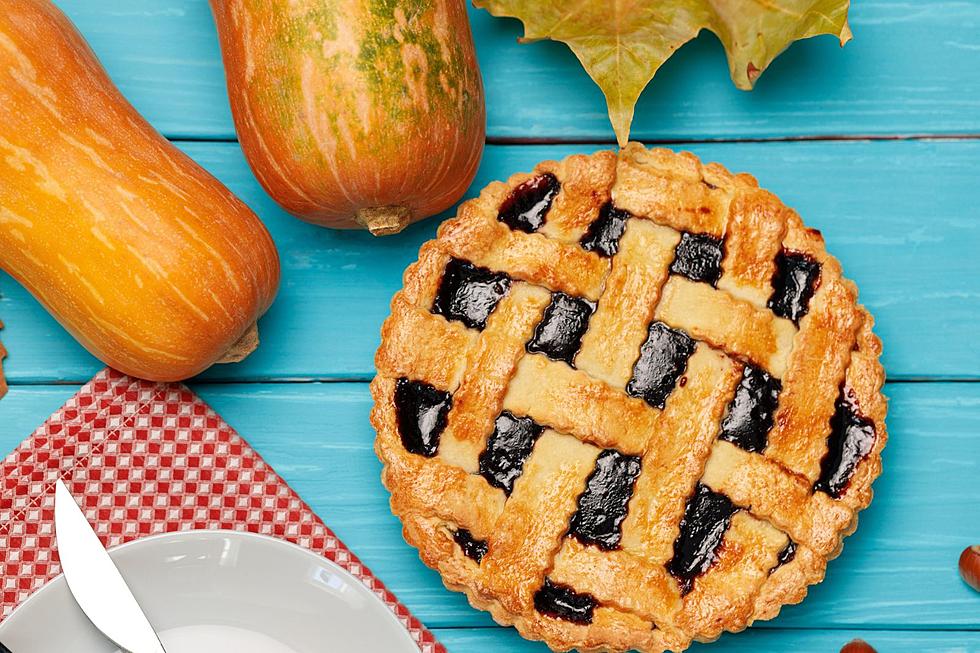 Maine Blueberry Pie is Easily the Top Choice on Thanksgiving
Getty Images
Thanksgiving is a Tier 1 holiday. It's right up there with Christmas, Easter, and of course, Arbor Day.
Who doesn't love getting together with family and friends and indulging on 25,000 calories, while watching (or napping through) some bad football and perhaps a parade or two.
It seems everyone has an opinion on what's the best part of a Thanksgiving meal. Is it the turkey? Perhaps the stuffing? How about that weird tube of cranberry sauce? However, everyone really knows it's pie.
Nothing beats a slice (or two) of fresh, homemade pie on Thanksgiving. We may have no room for it in our stomach, but it doesn't stop us from engulfing it.
My family is very lucky, because they have a pretty great pie baker: me. Nothing makes me happier than spending a few hours of quality time in the kitchen, cranking out some delicious, homemade morsels.
Now, I'll make any pie that is asked, but there is one that truly reigns supreme. It's not apple, pumpkin, pecan, or even chocolate cream. As delicious as those all are, none of them compared to amazement of the Wild Maine Blueberry Pie.
I can already hear you saying, "Wait. This is ridiculous, Chris. A blueberry pie is for Easter and summertime."
Au contraire.
The blueberry is a perfectly acceptable fruit for all seasons. In fact, the delicious little things have become stuff of legend for their incredible health benefits.
According to verywellfit.com, blueberries are loaded with antioxidants to help improve brain function, fight inflammation, decrease cancer risk, and even potentially lower the risk of a heart attack.
And the wild Maine blueberry is even more impressive.
According to wildblueberries.com, these little wild Maine guys have up to twice as many antioxidants than cultivated blueberries.
Just think about that. You are literally eating health food, while consuming them in a pie (on a related note, I really hope my doctor doesn't read this).
Also, the idea that blueberry pie only belongs in the warmer months is preposterous. Thanksgiving is loaded with fruit. There's that weird cranberry tube. Some folks include fruit in their stuffing. Citrus is often used to help brine or flavor turkey. Apples and pumpkins dominate the dessert tray. I can keep going, but I think you get the point.
There's simply no logic behind limiting your blueberry intake just because some lame magazine or old tradition tells you it's not what the cool kids do.
Do yourself a favor and bake a Wild Maine Blueberry Pie this Thanksgiving. Your family will love it. And don't worry that the season has passed. You can get frozen Maine blueberries in basically any grocery store in the nation.
'Tis the season for hammering calories. You might as well throw in a superfood to go along with it.
20 Greater Portland, Maine, Restaurants That Have Been Featured on National Television Shows
Here's a list of 20 prominent Greater Portland, Maine restaurants that have been featured on national television shows. This is a great representation of the region's incredible food scene.
Gallery Credit: Chris Sedenka
Fame and Fortune: These Are the Richest Celebrities in the World
Stacker
compiled a list of the world's richest celebrities using data collected from
Celebrity Net Worth
's rankings by current net worth.
Gallery Credit: Stacker