Our CYY 25 Artist of the Day Will Fire You Up for Election Night
YouTube
If you think we picked Rage Against the Machine as our CYY 25 Artist of the Day on Election Day for a reason, you would be 100% right. No band gets you more fired up than Rage. For a country built on revolution, this is the band you want to hear on a day like today. It's a bummer that the band reunited but was not able to play this summer. Hopefully, it happens next year. We need this band more than ever.
Oh, and also because this awesome Rage album was released on this date 28 years ago today. It's is one of the best "angry" albums we have ever heard.
If you haven't voted today, just watch this clip and run as fast as you can to your polling place!
RAGE is CYY.
In honor of CYY's 25th anniversary, we are giving away 25 Bose SoundLink Color speakers.
All you have to do is download our mobile app to enter. Once you open the app, on the main page in the center black bar will be a button that says "Win Bose Speaker." Click on that and you'll be taken to a page where you can enter the contest.
It's that easy!
One entry per person. Contest ends November 20.
Prizes courtesy of Q Prime, Concord Music Group, Warner Bros Records, Interscope Records, and Atlantic Records.
And while you're at it, be sure to send us a message through the app telling us how long you've been CYY! We may even play your recording on the air. (If you're on the app, click here.)
Ladies and gentlemen, we proudly unveil some pretty cool merch to celebrate our 25th anniversary of being Portland's Alternative Rock Station. Since that moment in 1995 when we played "Smells Like Teen Spirit" by Nirvana as our very first song, we've always been here at One City Center playing Alt Rock and nothing BUT Alt Rock. We've never changed formats, and because of that, we're proud to be one of the longest-running Alternative stations in the country. There's not many of us left! (unfortunately)
That's all just a big lead up to....we have new kick-ass I AM CYY 25 T-shirts, hoodies and stickas for you.
We got Men's and Women's styles for T's and Hoodies. Pretty damn reasonable too. The T's start at $20 and the hoodies at $40.
No matter how long you've been CYY, here's a great way to show the world that you have excellent taste in both radio stations and fashion. Break it in over the Fall and Winter so it can be your go-to concert wear next summer when we can start going to CYY shows together again! Thank YOU for being CYY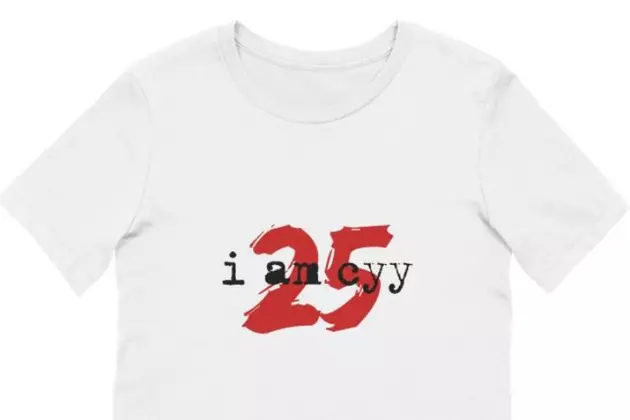 8 TV Shows That Take Place in Maine And Aren't From Stephen King