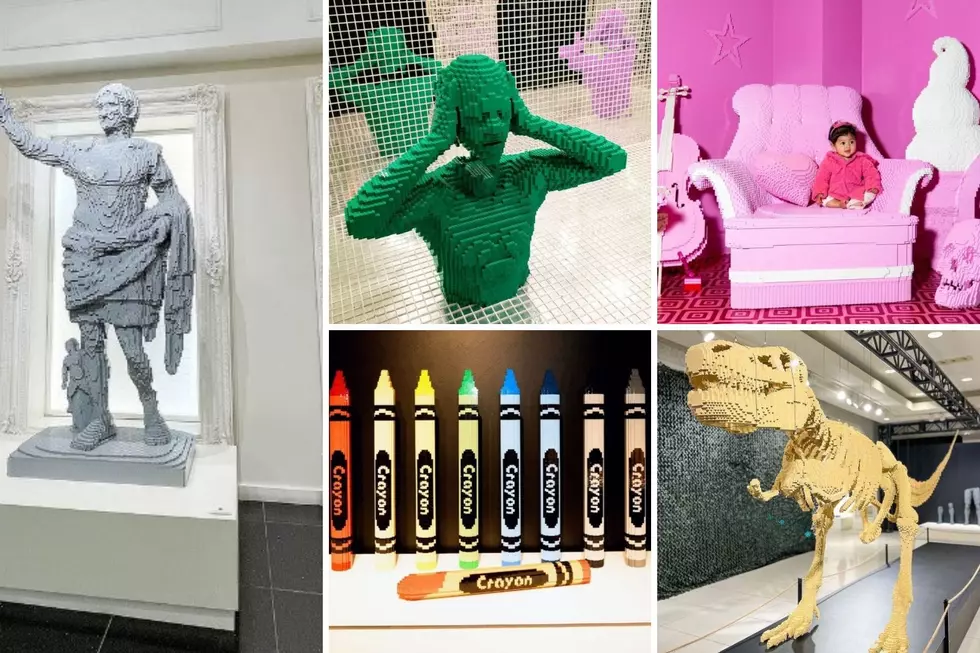 World's Largest Works of Art Made Completely Out of Legos on Display in Boston
Art of the Brick via Instagram
Talk about entering an awe-inspiring experience of creativity.  It's the world's largest display of art made entirely out of Lego's, and it's in Boston Back Bay on Newbury Street and it's coming to an end on February 27th.
From originals to classic paintings like 'The Scream' and the 'Mona Lisa', famous sculptures like 'The Thinker', and interactive art, this is truly like no other experience, and brings out the kid in all of us.
Seeing anything life-size, pint size, and gigantic size made entirely out of Lego bricks is always mesmerizing, so here's your chance to see some incredible pieces that will make laugh, smile, and think.  Of course, have your camera phones ready for interactive selfies, group shots with your besties, or one-on-one's with the exhibits.
Here's the deal behind this ultimately cool experience that takes around 45 minutes to view.  The artist is award-winning Nathan Sawaya according to the Art of the Brick website, who creates these magnificent and playful works of art out of Lego's.  His global touring exhibitions features large-scale sculptures using only those toy building blocks.  His work is obsessively and painstakingly crafted, so be prepared to be amazed.
Nathan Sawaya has earned a top position in the world of contemporary art and has created a new dimension by merging Pop Art and Surrealism in awe inspiring and ground breaking ways. His art consists of playing with the material, color, movement, light and perspective.
Now whatever you do, don't let the word "art" scare you away with this family-friendly and fun experience.  The imagination behind this, just knowing each piece is made out of this fabulously famous and fun-loving toy, is everything children and adults will love.
KEEP READING: Check out these totally awesome '80s toys
Here Are 15 of the Best Places to Get Cookies in New Hampshire
These are the bakers, cafes and restaurants Granite Staters recommended for getting the best, fresh-baked cookies.