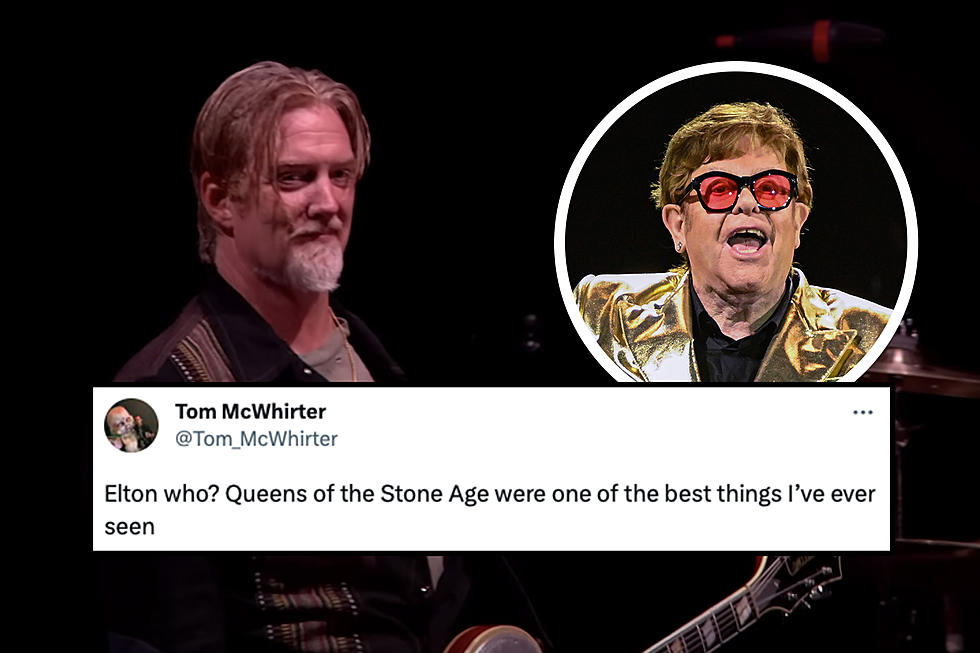 Queens of the Stone Age Hailed for Outstanding Glastonbury Set Up Against Elton John
YouTube - BBC Music / Leon Neal, Getty Images / Twitter - @tom_mcwhirter
Queens of the Stone Age were one of the many performers at this past weekend's Glastonbury Festival, and they're being praised for putting on a stellar show, despite playing at the same time as Elton John.
QOTSA closed out the Other Stage at the festival Sunday night as John performed his headliner set on the Pyramid Stage. It was the Rocketman's final U.K. performance ever, so there was an absolutely massive crowd surrounding his stage. However, those who chose to watch Queens of the Stone Age's set apparently have no regrets. Setlist.fm notes that the rockers played a 15-song show, ending the evening with "A Song for the Dead."
"I've said it before and I'll say it again. The Queens of the Stone Age are the best live rock act of the last 30 years. If you've never seen them I strongly suggest you correct that. Quickly," a fan wrote of the band's performance.
"Elton who? Queens of the Stone Age were one of the best things I've ever seen," another individual wrote.
READ MORE: 28 of the Most Memorable Rock Music Festival Performances of All Time
As mentioned by another user on Twitter, the band dedicated the Rated R track "In the Fade" to the late Mark Lanegan during their set.
See some more reactions to their set and videos below.
According to some accounts on Twitter, the band had an 11PM curfew at a recent show in Margate, England, but they persisted beyond that time, with frontman Josh Homme telling the crowd, "We're gonna pay a $10,000 fine but we don't fucking care."
QOTSA just released their eighth studio album In Times New Roman... on June 16, which debuted at No. 9 on the Billboard 200 and is their first full-length release since 2017's Villains. Their current tour is also their first since 2018, as they only played a handful of shows in 2020, 2021 and 2022. See the rest of their upcoming tour dates here.
Queens of the Stone Age - 'No One Knows' (Live at Glastonbury 2023)
100 Best Rock and Metal Albums of the 21st Century
Loudwire's picks for the best rock and metal albums from 2000 to present.