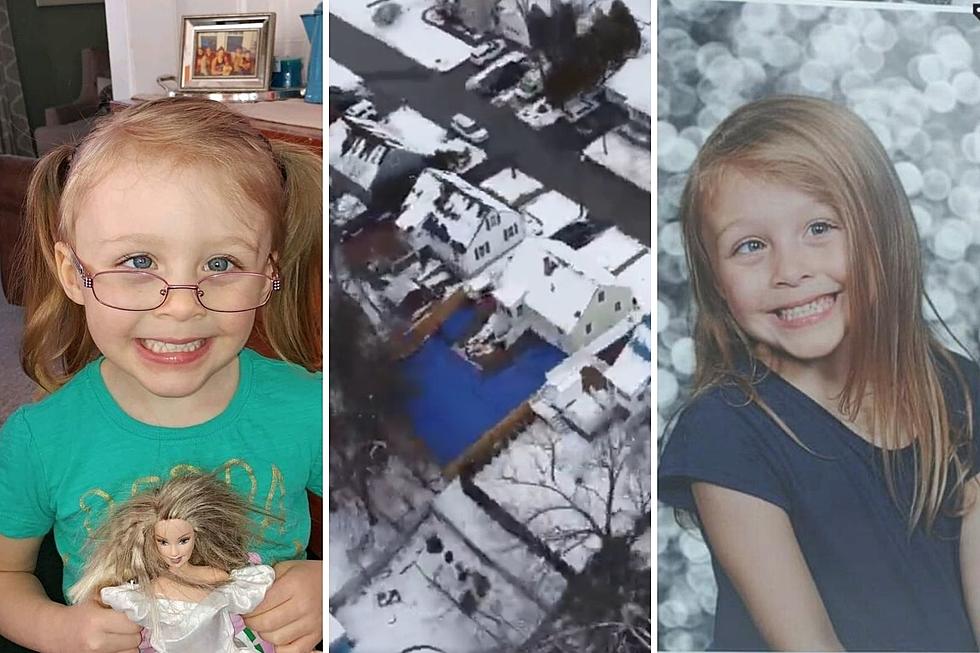 Search Ends at NH Home Where Missing Manchester Girl Last Lived
Harmony Montgomery (NH Dept. of Justice), Backyard of Gilford St house (Nerdy Addict via Twitter)
Police ended their three-day search on Monday at the Manchester home where 7-year-old Harmony Montgomery was last known to live in 2019.
Attorney General John M. Formella did not disclose what detectives found during the search of the home on Gilford Street, but continued to ask for the public's help in trying to locate the girl. Formella also asked for privacy for the current resident of the home, as they are not connected to the case.
Drone footage showed a blue tarp in the back of the fenced-in yard, and special equipment that was brought in to thaw the frozen ground. WHDH TV reported that investigators were digging outside of the house.
Family Tried to Find Harmony
Family members were in the area during the weekend search, putting up "missing" signs on utility poles. Harmony's aunt, Erin Montgomery, told CBS Boston that they tried communicating their concerns about Harmony to the New Hampshire Department of Children Youth and Families.
"My family made numerous reports of concern for her safety, and the system did nothing," Erin told CBS Boston.
Crystal Sorey, Harmony's mother, spoke with Boston 25 News criticizing the DCYF as well as child adoption officials in Massachusetts during a candlelight vigil in Manchester.
Sorey told CBS Boston that New Hampshire's DCYF wouldn't respond to her complaints until she threatened to go to the media. DCYF got in touch with Manchester Police, which started the current investigation.
Montgomery is described as approximately 4 feet and 50 pounds with blonde hair, blue eyes and glasses. She is blind in her right eye. Anyone with information about her whereabouts is asked to call a special number that is manned 24/7: 603-203-6060.
Contact reporter Dan Alexander at Dan.Alexander@townsquaremedia.com or via Twitter @DanAlexanderNH
Remember the Immortal Bob Saget in These Photos From the 2000s
America's Dad may be gone, but he surely will never be forgotten for all the funny he brought and the good he did.