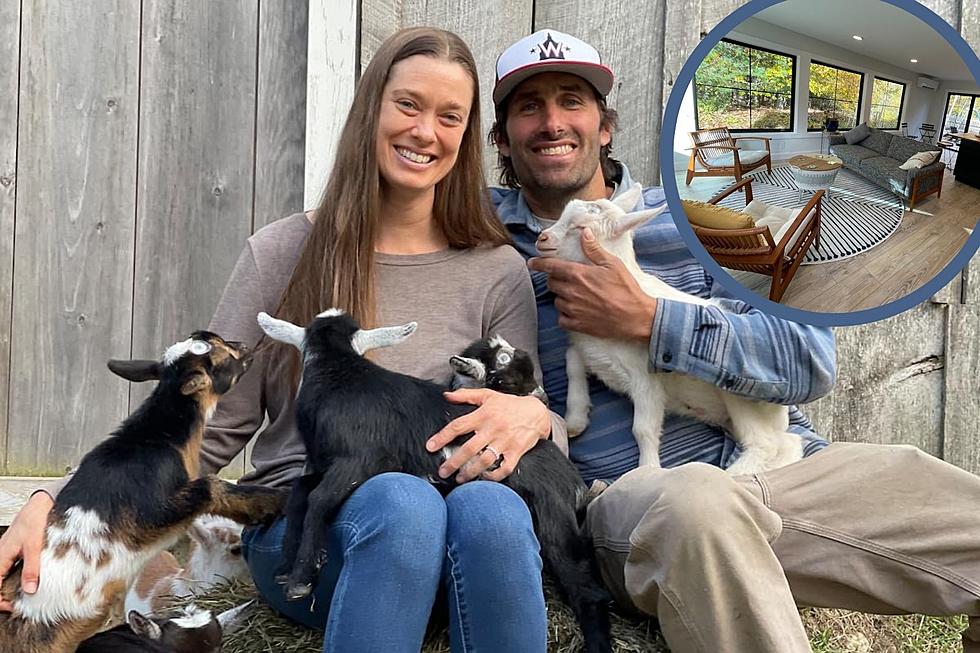 Peek Inside the Cumberland, Maine Airbnb Where You Can Snuggle Cute Baby Goats
Airbnb, hosts Hope and Chris
Sunflower Farm
Sunflower Farm is located in beautiful Cumberland, Maine. From May through October they're a local favorite (as well as a tourist favorite) for tasty cheeses, fudge and more. They also offer lip balm and goat soap. In addition to the goods, they also have opportunities to snuggle their beloved baby goats, participate in goat yoga, and learn more with one of their educational workshops.
With so much already to offer, where do they go from here? Well, they're not planning on slowing down anytime soon.
If you're lucky you may get to catch a baby goat being born...
Live Cams
Wishing you could snuggle a goat? See what they might be up to on any given day? Sunflower Farm has installed some 24/7 goat cams for us to either see the goats in their barn or in the pasture.
More cams will be available for your viewing pleasure in April of 2022, when the baby goats are expected to arrive.
Check out the goats live here!
Farm Airbnb
Airbnbs are all the rage these days. To stand out, one must have something truly unique to offer and Sunflower Farm definitely delivers.
A few months back, they explained their plans for Spring 2022.
Now they have started booking their special farm stay on Airbnb. Book your stay, and if you're lucky you may get to catch a baby goat being born, get some extra snuggle time in, help out around the farm, milk a goat or two, and more. This is truly an unforgettable experience.
Need help picking the time for your stay? According to the listing, the babies will start being born around April 13th. If you wait until the warmer months, you can take advantage of the pool.
The space you'd be staying in can host up to three people. There's a queen-sized bed and a pull-out couch.
Sunflower Farm goes above and beyond with opportunities to experience goat farm life from the live cams to an afternoon stay, to an overnight. See all they have to offer on their website here.
Peek Inside The Cumberland, Maine Airbnb Where You Can Snuggle Baby Goats
Do yoga with baby goats and get a ton of goat snuggles in too! This one-of-a-kind Airbnb can be booked
here
.
OH NO WE DIDN'T: 12 Photos That Prove That Alpacas Are Cuter Than Llamas