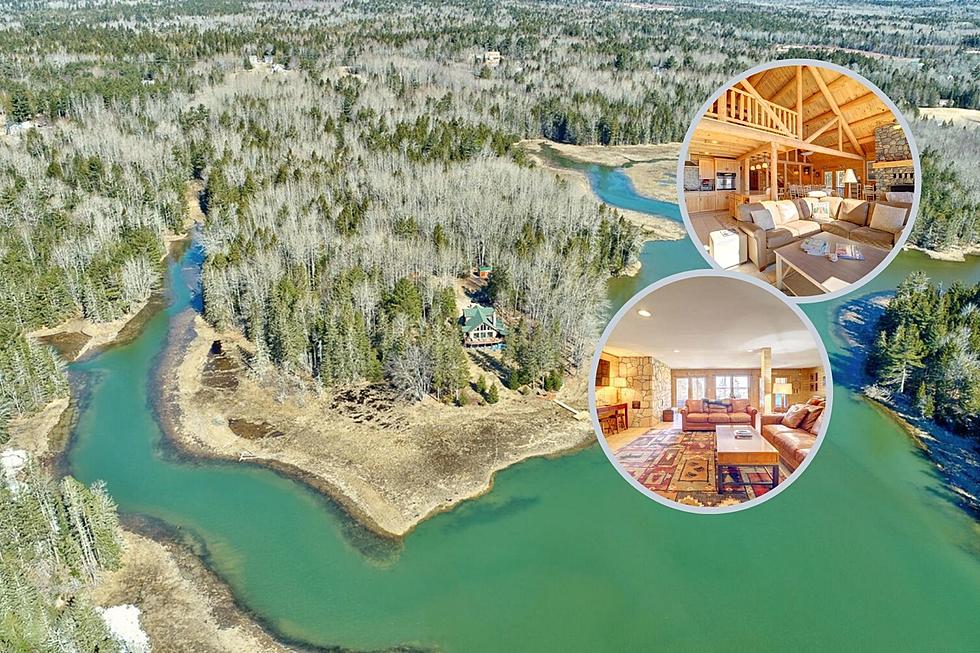 This Incredible Gouldsboro, Maine Home is Equal Parts Stunning & Private
Joe Wardwell, The Christopher Group, LLC
Who didn't grow up and want to live in a log cabin? Heck, I used to make them all the time as a kid with my Tinker toys and Lego sets.
There's something special about the idea of living in a log cabin. Maybe it's the connection to our nation's past or just the simple fact that log cabins are beautiful. I mean, who doesn't love watching the Maine Cabin Masters make them absolute masterpieces?
If you are in the market for a log cabin. then there's a property in Gouldsboro that's an absolute gem.
Located on West Bay in the heart of Downeast, Maine, is an 8+ acre property in need of new owners. The log cabin-style home has 4 bedrooms and bathrooms, and is loaded with all the creature comforts needed for Maine living.
It features an open-concept first floor, two great rooms, monstrous deck, built-in gazebo, giant hearth, full wet bar, exposed beams, state-of-the-art kitchen, and some of the best views in the state.
The location isn't too shabby either. The property is just a few miles from Winter Harbor, and a short drive to Mount Dessert Island. Gouldsboro is also right on Route 1, which makes it ideal for getting around the state.
The asking price for this incredibly stunning and private home is $879,000. The home is listed with Joe Wardwell from The Christopher Group, LLC. You can find out more info by clicking here or checking out the home below.
Stunning and Private Gouldsboro, Maine Residence for Sale
Maine has its fair share of private areas, especially by the water. This home in Gouldsboro is no exception.
The 8+ acre log cabin has 4 bedrooms, 4 baths, two great rooms, and every amenity needed to live an amazing life of luxury.
The Most Expensive Home in Maine is a Private Waterfront Oasis Listed for $10M
If you've ever wanted your own personal compound, this is the place.