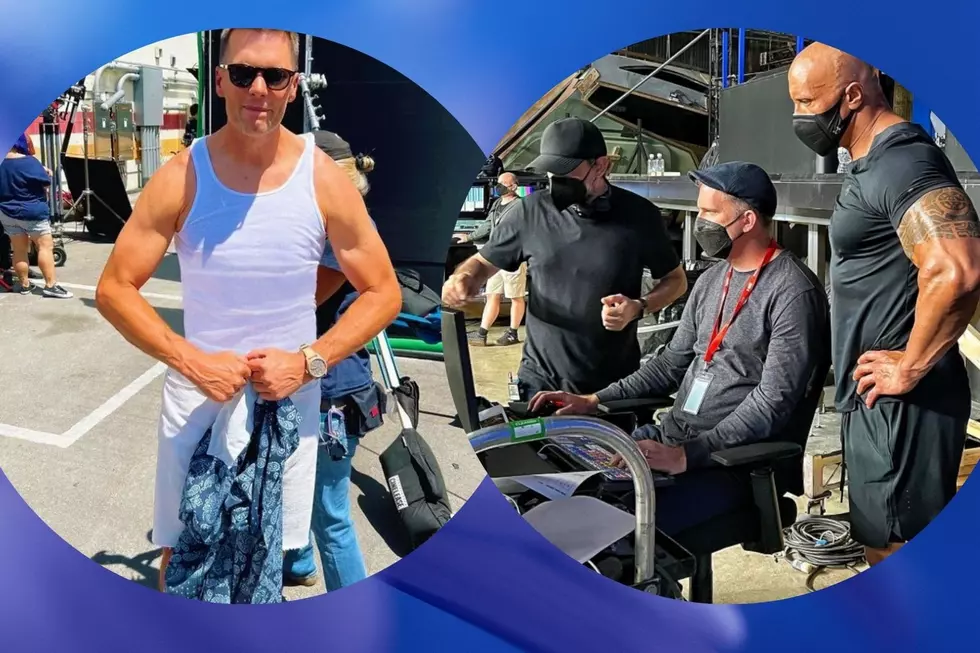 Tom Brady and The Rock Joke With Each Other on Instagram From Different Movie Sets
Tom Brady Instagram/The Rock Instagram/Canva
Tom Brady is having quite a bit of fun in Hollywood, from making fun of himself to having fun with Dwayne "The Rock" Johnson, all on Instagram.
As you know, Tom is in Los Angeles producing his very first film ever, 80 for Brady.  He is also starring in it as himself, according to the Hollywood Reporter.
Tom says the film is about four friends, played by Hollywood legends Jane Fonda, Lily Tomlin, Sally Field, and Rita Moreno, who take a trip to the 2017 Super Bowl where the New England Patriots beat the Atlanta Falcons 34-28 in the most epic comeback, from 25 points down.
80 For Brady! So grateful for these legendary women and the entire team that's working to bring this story to life. How many times do you think I had to call for my lines?

 
Tom's latest photo from the 80 for Brady set is a picture of himself flexing those fantastic, powerful arms and telling The Rock, who is on a different set filming his latest movie, Black Adam, that he's free to help him with stunts, but only until August.
Clearly the August deadline is because that whole "I'm a Buccaneer" thing is still happening.  But I digress.
Anyway, The Rock, of course, replied to Tom telling him he looks like a perfect specimen by jokingly saying he is Ryan Reynolds and Kevin Hart rolled up in one.
Tom then wished Dwayne "The Rock" Johnson a happy birthday.
As you may know, The Rock has been in lots of movies with Kevin including the Jumanji franchise, and just came off of an incredible first Netflix movie, Red Notice, with Ryan.
PS: WOW look at The Rock's arms.
I love that two of my most favorite celebrities are total buddies.
This Real Estate Listing Went Viral for Featuring 'Halloween' Character Michael Myers in Photos
Mainers listing their homes should take a page out of this listing's book and feature Pennywise from 'IT' since the movies are set in Maine!
25 Not-So-Magical Incidents at Disney Theme Parks
From ride malfunctions to guest outbursts and Animatronic fails, these incidents at Disney theme parks were so not Mickey Mouse-approved.