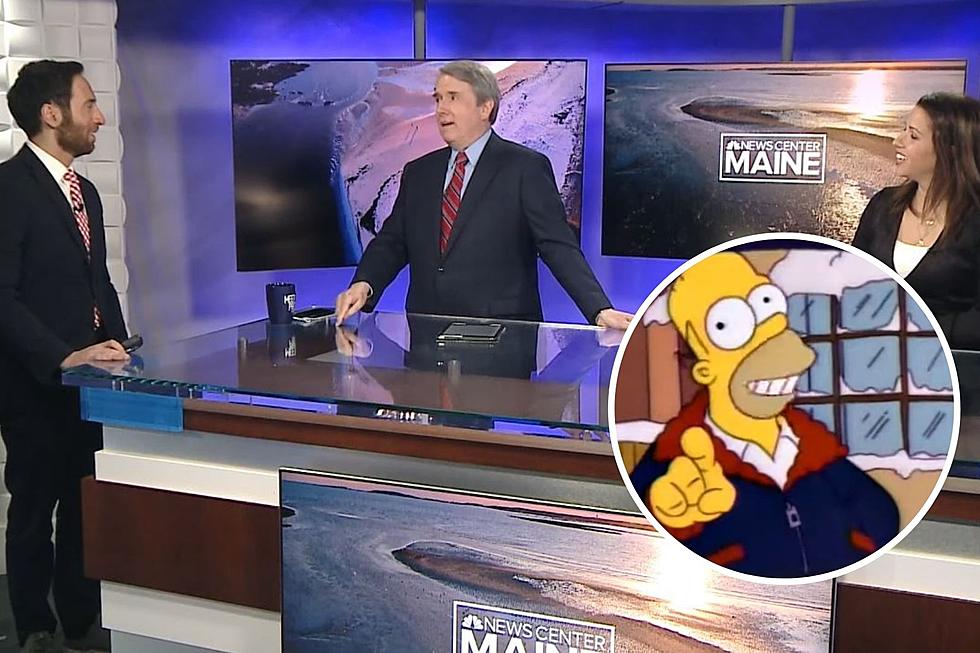 Apparently News Center Maine's Pat Callaghan is a Fan of 'The Simpsons'
News Center Maine and 2013venjix via YouTube
Pat Callaghan is a household name. He has been with News Center Maine since 1979 and anchoring the 6 p.m. newscasts since 1989. He has been a fixture on Maine television at 6 p.m. longer than Johnny Carson was a fixture on The Tonight Show or Bob Barker was the host of The Price is Right. That's impressive.
In addition to his skills as a news anchor and reporter, he's got a terrific sense of humor that you'll often see on his Twitter account, like this tweet when both Samantha York and Sam Rogers were on the newsdesk together.
I also learned something this week while watching News Center that I never knew about Pat. He's a fan of The Simpsons, judging by what gem he dug up from a 1992 episode just before Keith Carson gave the lowdown on our latest snowstorm. Check out the video.
The Simpsons episode Pat was referring to originally aired on November 19, 1992 during the fourth season and was called, you guessed it, "Mr. Plow."
In the episode, Homer starts his own plow business because he needed a new vehicle and was convinced by a car salesman that a plow truck would pay for itself. So he bought it and his marketing wasn't bringing in any business until Lisa convinced him to make a TV commercial.
The business took off until Barney started his own plow business. Spoiler alert! Homer's plow business fails and his plow truck is repossessed. I guess that's not much of a spoiler since we all expect Homer to fail.
Why didn't I realize Pat was a Simpsons fan until now? I guess I need to pay more attention to his Twitter. He posted this one not long ago.
Fun fact: The Simpsons debuted on Fox in 1989 and is now in its 33rd season.
Pat Callaghan debuted on the 6 o'clock newscast on News Center Maine in 1989 and is in his 33rd year doing so.
That seems perfectly appropriate.
Here Are 45 Places Mainers Say You Should Visit During the Winter
As the temperature dips lower and the days grow shorter, Mainers begin looking for their winter 'happy place'.
20 Best Fried Chicken Sandwiches in Portland Recommended by Mainers on Facebook
As an avid fried chicken consumer, I have pulled together a list of the 20 best fried chicken sandwiches in Portland all recommended by Mainers on Facebook.