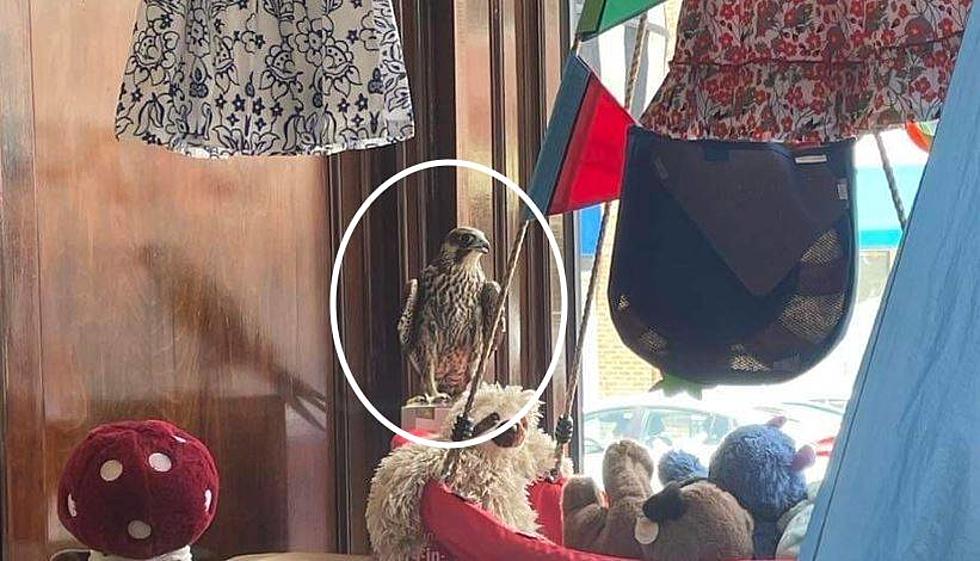 Feathers and Fun: Falcon's Unforgettable Day in a Maine Toy Store
Ellsworth Police Dept Facebook
It was pretty unforgettable for the rescuing cop too!
The Ellsworth, Maine police department phrased it perfectly.
You never know what a ringing phone brings.
On Saturday, July 22, the phone ringing was a call from Kiddo Toy store in downtown Ellsworth. The call was about a 'big hawk' that flew into the store and was stuck inside. It apparently was chasing a pigeon.
It was a stressful situation trying to not stress out the falcon. Two of Ellsworth's finest went to Kiddo to see how they could help.
Everyone is so grateful to the officers for their gentle release of the falcon. One person on Facebook suggested that it was a super smart falcon who could read. I mean, the sign has a bird on it and it says open!
April Poulin caught this amazing shot of Hans van der Does releasing the falcon.
The falcon flew off and appeared unhurt from the adventure. The only person who was super stressed out was the officer. The Facebook post said there was a solution found.
One of the officers was so concerned to not stress the falcon that he became stressed himself, so, dispatch offered him $5 to go buy himself a milk shake. Both the officer and the falcon are now both calm and happy.
The police jacket was used to capture the falcon. The pigeon however who was also trapped in the toy store, got a basic jacket to carry him out to freedom. The good news is that both birds and officers are okay. Thank you to the Ellsworth Police Department for taking such good care of everyone. By the way, milkshakes are the perfect stress buster!
How Many of These Iconic Mall Food Court Restaurants Do You Remember?
From retro favorites to the icons that are still serving customers today, take a walk down memory lane with our roundup of the most iconic mall food court restaurants of the '80s and '90s.