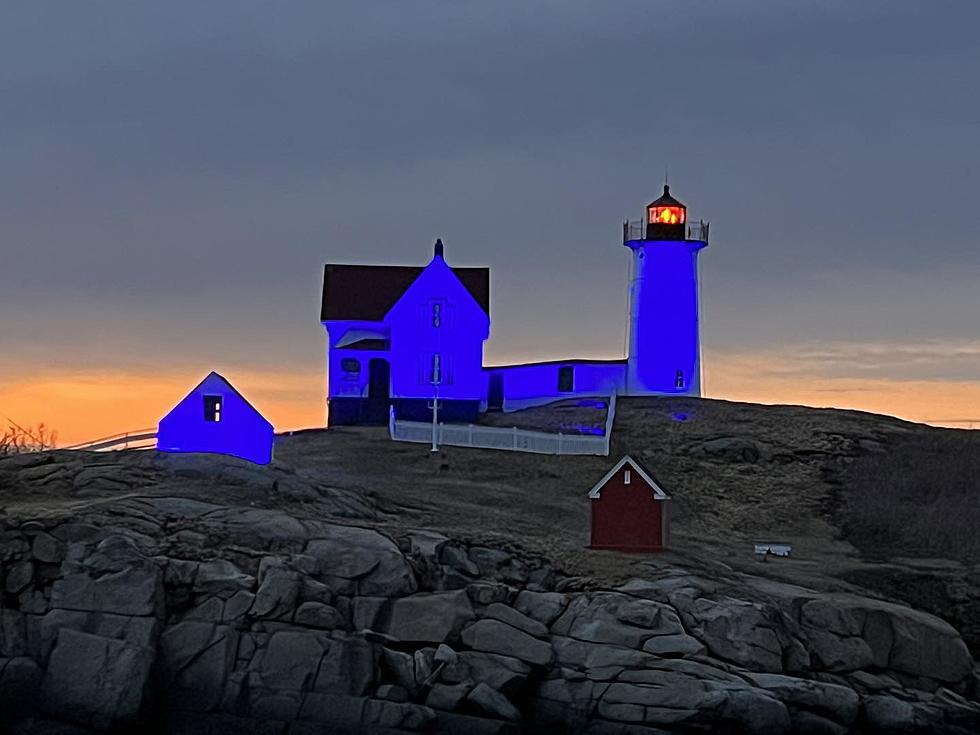 Nubble Lighthouse in York, Maine, Is Lit Up Blue, and Here's Why
York Maine Police Department via Facebook
Hey, the Nubble Lighthouse high atop the rocks of York, Maine has a new color for the month of April.  The historic lighthouse is lit up in bright blue, and it's for a special reason.
In fact, you can be part of the reason and the impact too.
April is World Autism Awareness Month, with businesses, residents, and community groups coming together to create awareness and understanding of autism.
The Nubble Lighthouse became a beacon for autism awareness thanks to two teachers at York High School.  According to YorkSchools.org, high school teachers Mr. Rosenberg, who also happens to be the lighthouse keeper, and Mrs. Mace, arranged for the blue lights to be installed to transform the Nubble Lighthouse to a beacon of awareness in York, and around the world.
The York Recreation Department and Griffin & Griffin Lighting made the magic happen.
You can participate too, through the Light Up Blue initiative created by Autism Speaks 13 years ago.  The international autism community is all in too, with " hundreds of thousands of landmarks, buildings, homes and communities around the world light blue...in recognition of people with autism", according to AutismSpeaks.com.
Residents can go to a local Home Depot and buy a Phillips Blue Autism Speaks lightbulb, or go to homedepot.com to order one online for the month long awareness campaign.
Autism Speaks says autism is:
Autism, or autism spectrum disorder (ASD), refers to a broad range of conditions characterized by challenges with social skills, repetitive behaviors, speech and nonverbal communication. According to the Centers for Disease Control, autism affects an estimated 1 in 36 children in the United States today.
1 in 36 children in the USA.  Wow.  Why wouldn't you want to be part of this awareness and donation campaign?  Chances are pretty good you know someone who is challenged with autism.  The slogan is "there is no one type of autism, but many", and it's so true.
Find out more at AutismSpeaks.org.
Get an Education at These 22 New Hampshire Colleges and Universities
Test Your Knowledge With Trivia at These 16 New Hampshire Restaurants