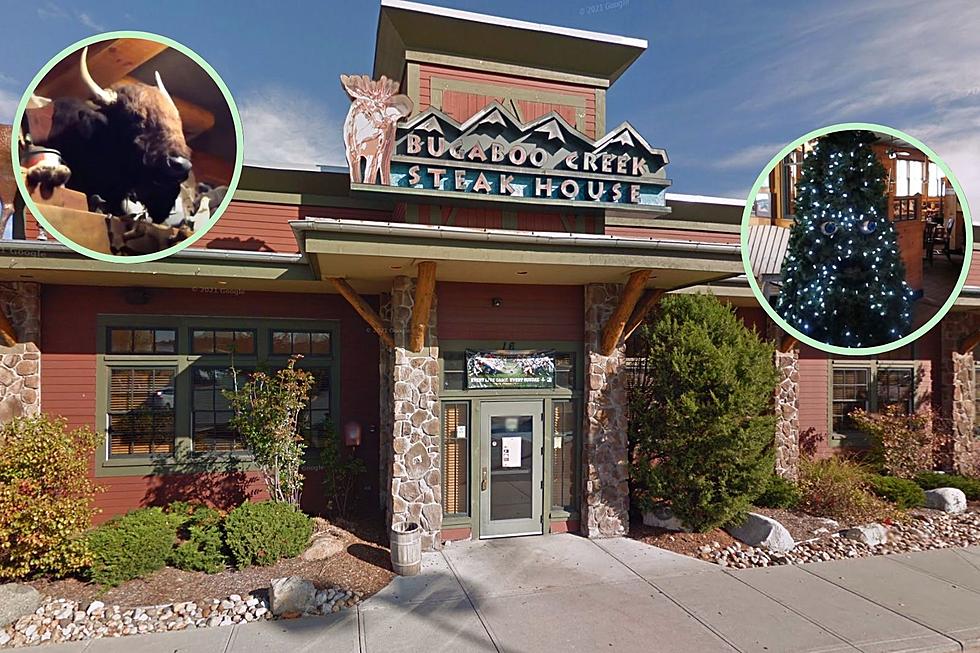 Remember Bugaboo Creek Steakhouse in New England?
Google Street View
Did you really grow up in the Northeast if you weren't startled by a talking, light-up Christmas tree suddenly coming to life inches away from you?
That wouldn't be an unusual occurrence if you were visiting Bugaboo Creek.
What was Bugaboo Creek?
Bugaboo Creek Steakhouse opened its first location in Rhode Island in 1993, according to FSR Magazine. It was a restaurant chain that operated in multiple Northeastern states including New Hampshire, Maine, and Massachusetts.
Does Bugaboo Creek Still Exist?
According to The Patriot Ledger, the company filed for Chapter 11 bankruptcy protection in 2010, and many of its restaurants closed in that timeframe.
While FSR Magazine mentions a revival in 2012 with new ownership, it still wasn't enough to secure the chain's survival. By 2016, Bugaboo Creek was no more.
What made Bugaboo Creek special?
At first glance, Bugaboo Creek may have seemed like your typical everyday steakhouse that was also Canadian-themed. But as for the interior? Well, it could speak for itself...literally.
Scattered throughout the restaurant were animal animatronics that came to life in different ways. There was Bill the Buffalo....
....Moxie the Moose...
...and other critters such as fish flapping on the wall and furry woodland creatures peeking out of barrels.
Then of course, there was Timber the light-up Christmas tree, who would tell interesting facts about nature in Canada. The Timber in this video has a bit of a wonky eye, but let's be honest, he was creepy regardless.
The entire shebang was an entertaining spectacle for kids and adults alike, and coming to this restaurant was always something to look forward to growing up. It truly was a favorite.
And can we talk about the bread? It was heavenly.
Bugaboo Creek even had a special birthday song for guests (as many restaurants do), only this one involved kissing a stuffed animal moose.
For more throwback videos of Bugaboo Creek, check out this YouTube playlist.
And speaking of restaurants, remember these great Maine dining experiences from the '80s and '90s?
Remember These 80's and 90's Maine Dining Experiences?
It's always fun to look back and remember some of the wonderful experiences we had in the past. And, if you're like me, you absolutely love reminiscing about food and great meals.
Here is a list of 20 great restaurants and dining experiences that many Mainers likely shared with me from the 1980's and 1990's.
30 Celebrities That are Red Sox Fans
There are many celebrities that are a part of the Red Sox Nation! Some have season tickets while you may see some at only a couple of games every year.
Gallery Credit: Chantel