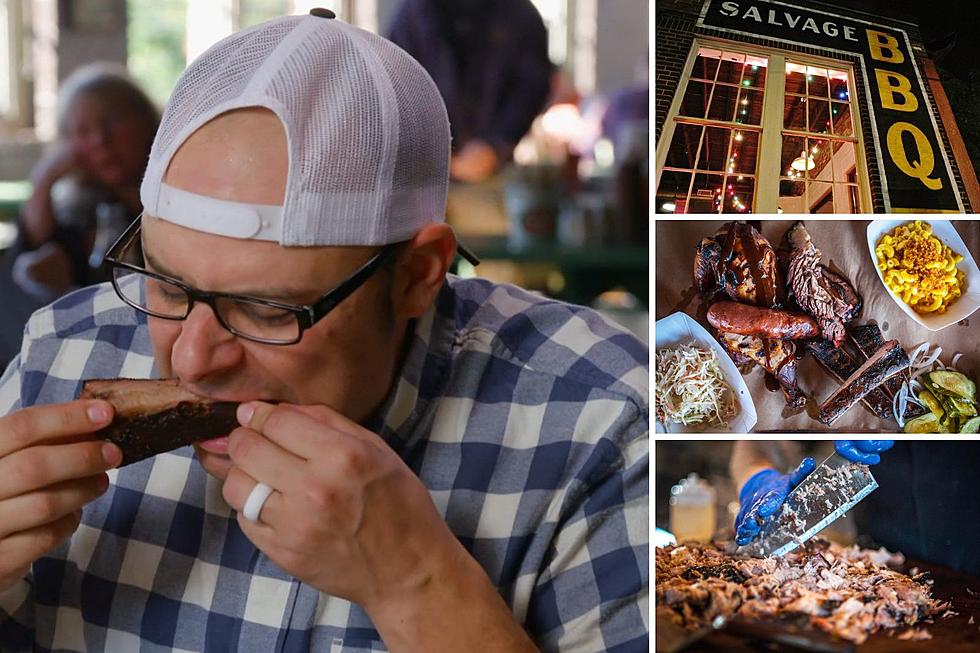 The Truth Behind My Exciting Time Filming a 'Food Paradise' Episode in Maine
Salvage BBQ via Facebook, 'Food Paradise' via Discoery+
I can't tell you how many hours I have wasted devoted my life to food-oriented television programming. Realty shows, game shows, travel shows, holiday shows, the concept doesn't matter. If it's about food, I'll give it a shot.
It's also a wonderful way to discover restaurants in towns or places of travel interest.
However, nothing beats when a restaurant or chef from Maine is featured. I don't know if it's the collective chip on Mainers' shoulders, but the level of proud can't be measured. And it's extra special when you have a bond with one of those restaurants or chefs.
This is exactly what happened to me with Salvage BBQ. The popular Portland BBQ joint is one of my favorite haunts in town. It's a great place to house a few pounds of meat and enjoy a creative cocktail or two.
I should also mention that I'm friendly with the owner, Jay Villani. I have gotten to know Jay a little over the years, and have always enjoyed his cooking at Local 188, Black Cow, and of course, Salvage.
This friendship led to a text from Jay one day telling me that the television show Food Paradise was coming to shoot a feature on Salvage. Jay invited me to stop by, and possibly get included on the feature. To say I was excited was an understatement. I had always wanted to see a restaurant production.
I arrived at Salvage and was immediately amazed by the professionalism of the crew. I can't imagine how difficult it is to run a set when it's in the middle of lunch rush. However, these guys were on it.
I sat down at the bar and started chatting with Jay, and he immediately told me to go sit down at a particular table. I got my wish. I was about to be interviewed while eating delicious BBQ. A bucket list event was about to be checked off, folks.
I didn't hesitate and sat down at the table with another gentlemen. We then preceded to stuff our faces with brisket, pork, ribs, mac and cheese, chili, and probably a little bourbon.
While we ate, we answered a plethora of questions from the producer. There were also three cameras around us, making us feel like we were the stars of the show. Man, I felt so important.
I remember it being very hot. The production lights made it feel like an interrogation room (not that I would know what that's like...). It was also odd eating while numerous people watched you. Here I was, stuffing my face with numerous sets of eyes watching. I felt like I was being judged. Or maybe they were amazed by how messy of an eater I am.
Huge credit also needs to go to the producers. They did an excellent job asking the right questions to make sure the conversation was natural. Here I was eating BBQ with a total stranger, and we were just chatting it up like we were long-lost friends.
And then, just as quickly as it started, the food was gone, and the interview was over. Now it was just a wait and see if our segment made the final cut.
Salvage's episode was titled "Meaty Madness," and released in 2022. Right there in one of the first shots is yours truly just stuffing my face. It was awesome to see.
I finally made it to the big time...at least in my mind.
Big thanks to Jay. And if you haven't tried Salvage BBQ yet, what are you waiting for?
Congrats to Salvage BBQ on the national attention, and to all the other great Portland spots that have done the same. You can take a closer look at them below.
20 Portland, Maine, Restaurants That Have Been Featured on National Television Shows
Here's a list of 20 prominent Portland, Maine restaurants that have been featured on national television shows. This is a great representation of Portland's incredible food scene.
31 Bucket List Restaurants in Maine
Here are 31 Maine restaurants that folks told us are bucket list worthy. They are very diverse can be found across the state.