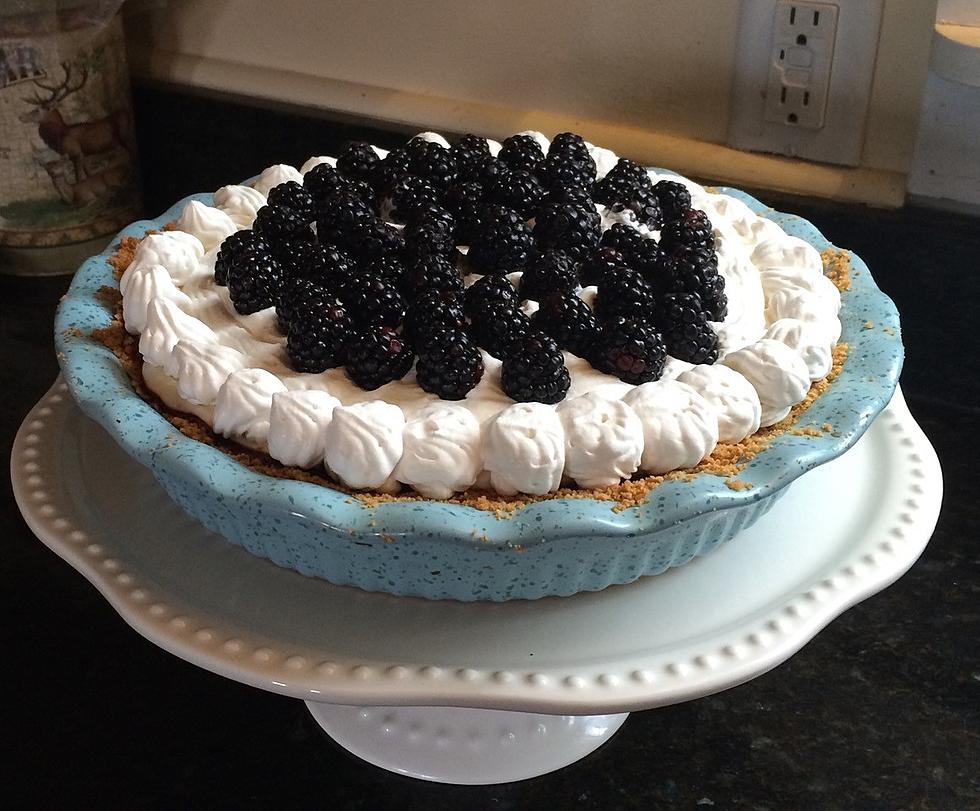 New Hampshire Woman Unexpectedly Created a Scrumptious Online Pie Business Straight From Her 200-Year-Old Home
Lauren Collins Cline with Slightly Crooked Pies
It's always fun to have self-discoveries.  For many, it happened during stay-at-home.
While my self-discoveries included ordering foreign language apps I barely used and missing people I never liked anyway, this woman actually turned hers into a deliciously successful pie business that took off during the pandemic and continues to soar. She actually just won Best Pies in New Hampshire from WMUR-TV.
Meet Lauren Collins Cline in Bedford, New Hampshire.  She told me her love of baking pies in the crooked kitchen of her 200-year-old home started out as simple fun for family and friends.
"My very first pie, Pumpkin, came out lopsided. I was like, how can I make this work, and Slightly Crooked Pies was born. I figured I have to work with this, not against it, because clearly, I don't plan to renovate my kitchen."
Then, just mere months before the pandemic shut the world down, Slightly Crooked Pies morphed into a tiny online business on Facebook, and eventually had its own website.
We can also find Lauren's Slightly Crooked Pies in Angela's Pasta and Cheese Shop, a specialty grocer in Manchester, New Hampshire.  How cool is that, not just for locals in that area but the overall excitement of unexpectedly creating a small business?
Don't worry, they're still online, too.  After all, these handcrafted pies have become an unexpected hit.
"I handcraft every pie with as little added sweetener as possible and make sure when I can, I'm using. fresh, locally sourced ingredients.  This makes them taste pure and lively."
Are you drooling yet?  And of course, Lauren says everyone has favorites among her 11 pies and numerous seasonal concoctions.  She even has pie bites.
"My best-selling pies are maple blueberry and chocolate bourbon pecan. Christmas pie is incredibly popular in season, but it's only available for a tiny window of time because fresh cranberries are only around for a few weeks.  I do custom orders, too."
I must be honest, they don't look crooked to me, but mouthwateringly addictive. So, of course I asked Lauren if some still come out ever-so-slightly lopsided.
"Ha!  Oh no, they're still crooked, but you can make up for a lot with a well-woven crust.  Just this Thanksgiving I had to scrap a pecan pie because the filling slid off one side and got all over the oven!"
Okay, are you ready for the menu?  Click here to begin your crookedly scrumptious culinary journey.
LOOK: See what Christmas was like the year you were born
These 30 New Hampshire Restaurants Are Worth Making the Trip for