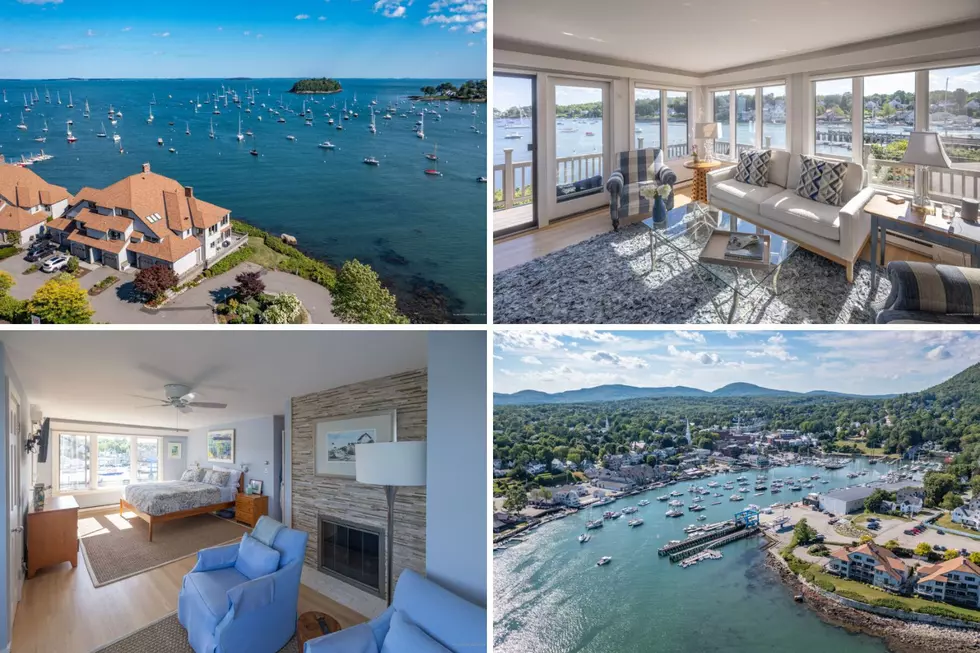 Camden Condo on the Market Might Have the Greatest Location Ever
Camden Coast Real Estate
If living in Camden wasn't attractive enough, just imagine if this was your home.
Sitting right on the point of Camden Harbor and the Megunticook River, is this incredible condominium complex. One of those condos just hit the market and it just so happens to be on right corner of the building. This gives it quite possibly the best views in all of Camden, with clear sight-lines of both the harbor and the beautiful Penobscot Bay.
The condo itself is pretty darn special. The location is one thing, the interior is another. The unit sparkles with coastal Maine themes and charm. Hardwood floors, panoramic views, and sleek angles all help create a mecca by the sea.
The condo has 4 bedrooms and 4 baths. The 3,000+ square foot unit features an open concept, state-of-the-art kitchen, master suite, fireplaces, wrap-around decking, quartz countertops, private garage, radiant heating, heat pump, and yes, those absolutely amazing views.
It's also right in the heart of one of Maine's most desirable regions, Midcoast Maine. Camden features great dining and pubs, beautiful houses, perfect sailing, and first-class hiking. It's an absolute gem here in Maine. And this condo would be the ideal to spend your time in the region.
This amazing condo is listed for $2.1 million. The listing agent is Camden Coast Real Estate. You can more images of this incredible property below, or you can click here for more info.
Camden Condo Shines with Coastal Themes & Impeccable Views
On a perfect point in a perfect town lies this condo unit for sale. The Camden condo is over 3,000 square feet, and features 4 bedrooms and 4 baths.
LOOK: Stunning vintage photos capture the beauty of America's national parks
Today these parks are located throughout the country in 25 states and the U.S. Virgin Islands. The land encompassing them was either purchased or donated, though much of it had been inhabited by native people for thousands of years before the founding of the United States. These areas are protected and revered as educational resources about the natural world, and as spaces for exploration.
Keep scrolling for 50 vintage photos that show the beauty of America's national parks.